If you followed the Healthy Lunchbox 2012 series, undoubtedly you are familiar and slightly enamored with my friend Dawn Allen's bento boxes.
I mean seriously, how cute is she?
Recently, Dawn wrote a cookbook that goes way beyond the bento.
Way beyond.
Excited to know that every recipe is 100% gluten-free and dairy-free, I was honored to have the opportunity to review Culinary Creativity: Let your restrictions set you free.
As explained on her cover, Culinary Creativity has over 110 recipes from breakfast to dessert without gluten, dairy, soy, cane sugar, nightshade or baker's yeast.  105 of these recipes can also be corn free, and many of them are naturally grain-free or can easily be converted to grain-free.
Dawn does a fantastic job of listing alternative ingredients that work well in her recipes, for instances when you are either sensitive to a specific ingredient or have little or no access to the items she chooses.
While we have been able to try a couple of Dawn's recipes since receiving her book, I am far from finished in my experimenting and look forward to trying things like her plum ketchup and her banana bread which is naturally grain-free and looks positively delicious!
Of the recipes we have tried, there was one that really stood out for me.
Maybe it's because I have been aching for a bit of goat cheese (the upcoming holidays make me miss that most!), maybe it's because it is such a simple yet delicious recipe…any way you look at it, this Herb Crusted Soft Cheese has quickly become a favorite in my home.
Use it as a vegetable dip, over crackers or spread a dollop on your smoked salmon and fried egg breakfast (my favorite) and you have a delicious addition to any meal.
Because we do not use rice milk, I can tell you coconut milk works fine in its place.  That being said, this is a beautiful recipe and I am grateful Dawn is letting me share it with you tonight.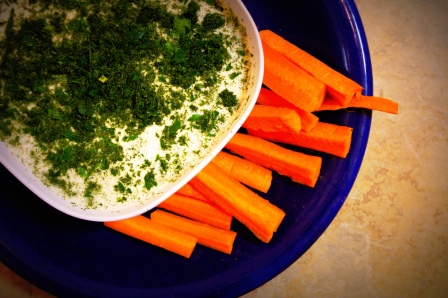 Herb Crusted Soft Cheese (pg 110-111, Culinary Creativity)
2 tablespoons finely chopped parsley
2 tablespoons finely chopped dill
2 tablespoons finely chopped chives
2 tablespoons finely chopped walnuts (optional)
¾ c raw cashews
½ cup water
½ cup rice milk
1 teaspoon agar agar powder
¾ cup canned coconut milk
¾ teaspoon salt
1 teaspoon rice vinegar
For the herb mix, combine the parsley, dill, chives and walnuts in a small bowl.  Find two storage containers to use as molds for the cheese, each about 4-5 inches in diameter (round or square, plastic or glass). Sprinkle on fourth of the herb mix in the bottom of each.
Grind the cashews to a powder in a blender (or coffee grinder or food processor).
Combine the water, rice milk, and agar agar in a medium saucepan and bring to a boil over medium-high heat. Lower the heat and simmer for 5-7 minutes, whisking frequently. Add the coconut milk and whisk for 3-4 minutes. Pour the contents into the blender or food processor with the cashews, salt and vinegar. (It is necessary to blend this while it is warm before it solidifies, but use caution when blending hot food). Blend until mixture is completely smooth. Allow the liquid cheese to cool for about 5 minutes and then transfer half the cheese into each prepared container. Sprinkle the remaining herbs over top of each.
Refrigerate for a few hours until solidified.
Serve chilled with toast or crackers.
Are you ready to have your own copy of Dawn's fabulous book?   Now through October 6, 2012 you can receive a discount of 15% off the cover price by using promo code: sunny0926 over at dawnallen.net.
What a great deal!
Even better though? How about a free copy?!?
Dawn has offered to send one lucky US or Canadian And Love it, Too! reader a copy of Culinary Creativity!
To enter, simply do any of the following (one entry for every action completed as listed below, please be sure to comment on each action separately):
1. Follow And Love it, Too! on Facebook, comment below
2. Follow Cuter than Gluten on Facebook, comment below
3. Follow And Love it, Too! On Twitter, comment below
4. Visit the photographic Culinary Creativity Table of Contents on Dawn Allen.net and tell me which photo (using the page number as a reference) intrigues you most, comment below.
All entries must be received by September 29, 2012 at 11:59pm CST. Winner will be announced on September 30, 2012.
Good luck to all of you!
xoxo