Today on Healthy Lunchbox 2012, Dawn Allen from Cuter than Gluten. 
Dawn is, what I consider to be, a gluten-free/dairy-free bento box expert.  I knew when she joined this year's Healthy Lunchbox series that we were in for a treat! I love her cookie-cut fruits and veggies, the recipe below is a great alternative to more traditional grain-filled breads and who doesn't love waffles? 
After you read her post below, be sure to visit Cuter than Gluten and learn more about Dawn's soon to be released cookbook: Culinary Creativity: Let your restrictions set you free. For more great ideas, you can also follow Dawn on facebook.

Thank you Dawn! xoxo
________________________________________________________________________________
Thank you Sunny for inviting me to talk about lunches for kids.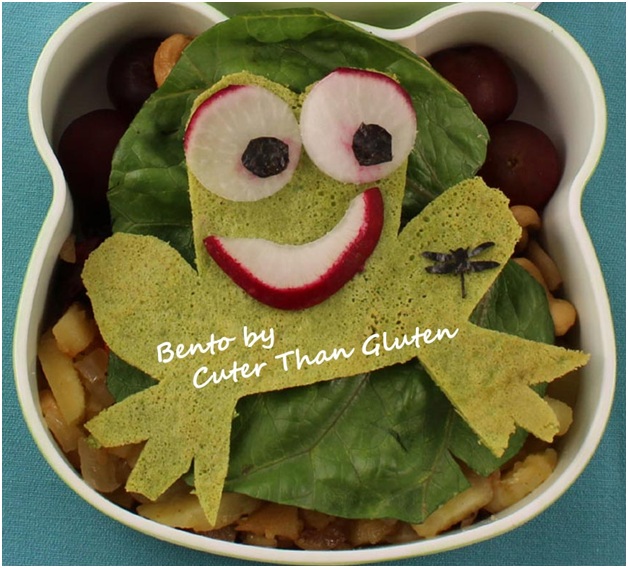 When I was in second grade in rural West Virginia, the lunch my (hippie) mom packed for me got a lot of strange looks. She often packed her thick homemade bread in repurposed bread bags (to reuse/recycle). My vegetarian lunch was always full of carrot sticks and red peppers—not common fare at the lunch table. Now I am proud of my mom for packing healthy lunches. Back then I liked my lunch but I didn't like all of the attention it drew. Everyone else was eating bologna on white bread with potato chips. I pleaded with her to purchase sandwich bags.
Fast forward 30 years and now I am the alternative mom packing the different lunches …
A few years ago, when my daughter started preschool, I discovered the Japanese tradition of decorative bento lunches for kids. It looked like tons of fun to do little art projects made of food. It also seemed like a great way to send my daughter to school with gluten- and dairy-free lunches without drawing attention to her special diet. It worked, all of the attention goes to the cute boxes and fun food themes, and no one notices she doesn't have food coloring or sugar in her lunch. (Best of all she doesn't notice!) And as a bonus there is no waste, so in the tradition of my mother, I don't need to purchase sandwich bags!
Getting started with bento is easier than you might think. I will share some of the basics here and you can always visit my website to see more bento lunches or check out my book which offers more details on how to create the lunches.
1)      Start with a container that will contain enough food to fill up your child. This might take a bit of experimenting. You don't need a special bento box (although they are fun); you can just use food storage containers. Stainless steel bento boxes are available too.
2)      Be sure to use nutrient dense food (no potato chips or space consuming sweets and snacks).
3)      Try to provide some balance nutritionally. (Of course we all go about nutrition from our unique perspectives. The great thing about bento is that it works for gluten-free, paleo, raw, vegan, etc.)
4)      Make it fancy, keep it fun, and stop before it feels like a burden.
5)      Save aside foods as you prepare dinner for the next day's lunch. I generally don't make lunches that require additional cooking (to save time in the mornings).
6)      Pack lots of raw fruits and vegetables. They add color, nutrients, and require very little preparation.
7)      Cookie cutters, food picks, small sauce containers, and other fun accessories can make a simple lunch a little bit fancy.
8)      Kids like to help, and that can be a great, fun project. And sometimes it is quicker and easier to do it yourself. We take it day by day.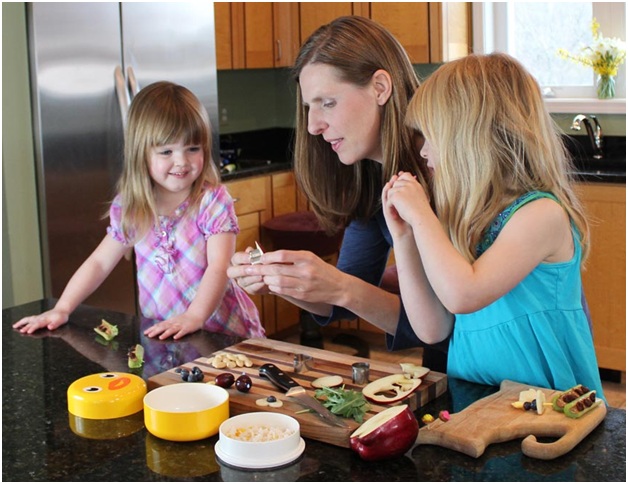 I thought it would be fun to take a pile of ingredients from my refrigerator and show you three different ideas of how to make cute bento lunches. I didn't plan these designs in advance and I just used what I had on hand. Sometimes I plan my fancier bento lunches but I wanted to show you how this can be a fun simple project that can be done any day. The simplest took about 3 minutes and the most complicated took less than 15 minutes. I don't really time the work and my kids interrupt a lot … so who really knows how long it takes? In each bento the lunch is centered on leftover Grain-Free Waffles prepared as almond butter and jelly sandwiches.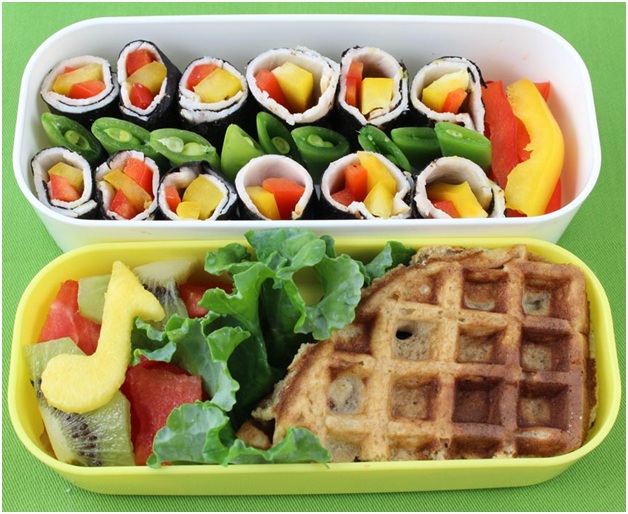 For this abstract bento I simply cut the sandwich to fit the box. I made "turkey maki"; rolled up nori paper, turkey, red and yellow peppers with mustard to hold the roll closed. I filled in the remaining spaces with sugar snap peas, watermelon, kiwi, and a peach musical note (I used a cookie cutter).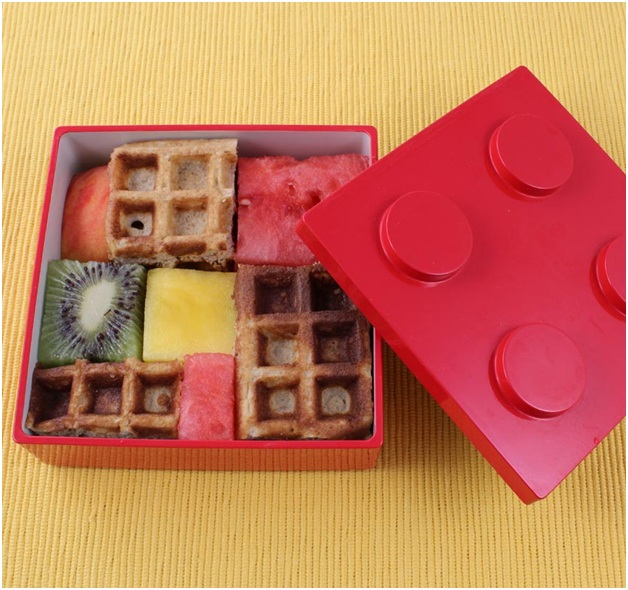 This building block box actually has a second level but I was just making a small breakfast bento for my daughter so I didn't need the extra food. This bento couldn't be easier. I simply cut the sandwich and fruits into blocks and stuffed them in. If I were making a lunch I would be sure to get some vegetables in there.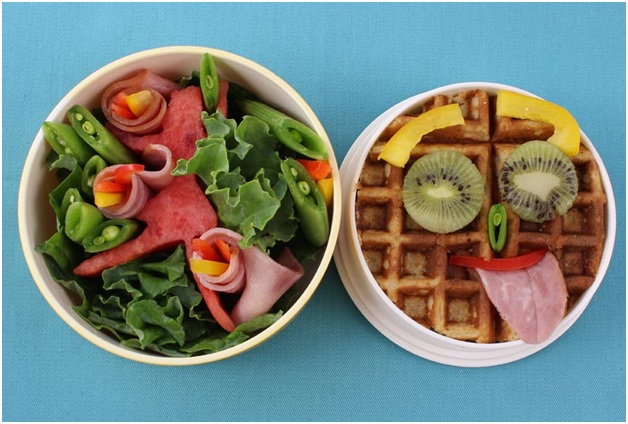 I wanted to show you what a more elaborate bento can be like, but typically kids are happy with just one cute element, so you could easily do a simple salad on one side to accompany the face.
For the face, I used the bento box to cut the sandwich to size (like a cookie cutter). Then I made a small slit for the mouth and inserted a ham tongue and a red pepper lip. (Vegetarians could use a thinly sliced beet.) Then I simply added a few other facial features and the top of the box held everything in place on the way to school.
I used a cookie cutter to make the watermelon dancer and rolled peppers in ham. The rest is filled with raw vegetables. It is doubtful that my daughter will eat the greens, but I persist in offering them just in case she gets curious.
I hope you give bento a try, and remember to keep it simple and fun!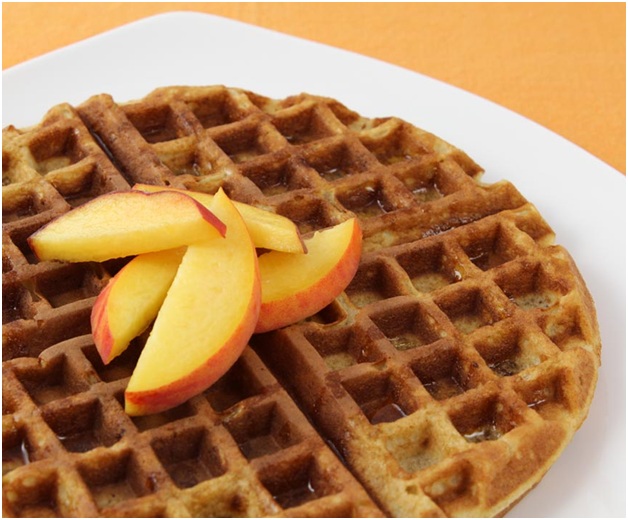 Grain-Free Waffle Recipe
Dry Ingredients
2 tablespoons coconut flour
½ cup almond meal/flour, packed
½ teaspoon baking soda
½ teaspoon cinnamon
¼ teaspoon salt
Wet Ingredients
4 large eggs
1 tablespoon honey
¼ cup full fat canned coconut milk
½ teaspoon vanilla extract
Combine the dry ingredients in a small mixing bowl.
Whisk together the wet ingredients in a large mixing bowl. Sift the dry ingredients into the large bowl with the wet ingredients (sifting really helps here). Whisk to combine thoroughly.
Cook in your waffle maker according to the manufacturer's instructions. If your waffle maker has settings; I recommend using low browning.
Yields 4 standard waffles or 2 Belgian waffles