This dip is a twist on my Easy Vegan Ranch Dressing.
A little less coconut cream and a few drops of essential oil make a world of difference in flavor and texture. This mix goes together quickly and has fast become our favorite dipping sauce for veggies, topping for taco salads and more.
To keep this recipe vegan, I highly recommend Melissa Joulwan's Egg-less Homemade Mayo, although we often use her original homemade mayo recipe which she shared in this Healthy Lunchbox post back in 2012.
Using only the purest essential oils not only makes this dip absolutely delicious, it also increases the nutritional benefits of eating naturally healthy and naturally delicious foods!
Whichever way you choose to serve this, we hope this recipe brings you as much delight as it has brought us!
Enjoy!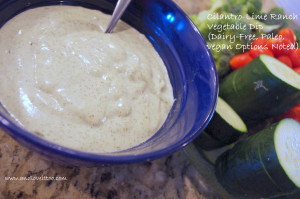 Cilantro and Lime Ranch Vegetable Dip (Dairy-free, Paleo, Vegan alternatives noted)
Ingredients
2 c Mayonnaise
½ c Coconut Cream (from full-fat canned coconut milk)
1 tsp dried chives
1 tsp dried dill weed
1 tsp dried parsley
½ tsp garlic powder
½ tsp onion powder
4 drops lime essential oil*
1 drop cilantro essential oil*
salt and pepper to taste
Instructions
In large glass mixing bowl, bring together all ingredients. Refrigerate for at least 1 hour before serving. Store remaining dressing in glass mason jar for up to 3 weeks.
Makes 2 ½ cups
Copyright And Love it, Too! May not be published or duplicated without written permission.
*Please note that not all essential oils are safe for ingestion. To learn more about why and how to purchase, please visit my essential oils page.
Full Disclosure/Disclaimer: Statements have not been evaluated by the FDA and are not meant to diagnose, prevent, treat or cure any disease or replace traditional medical attention. Your doctor treats symptoms and fixes broken parts. Your body cures disease. Always consult your medical professional before changing any existing medications or treatments. If you purchase products through the links provided, your cost will always be the same but I will receive a small commission. Thank you for your support!