There is just something about the combination of cilantro and lime that makes me happy.
My cilantro-lime ranch vegetable dip is made and enjoyed weekly in our home.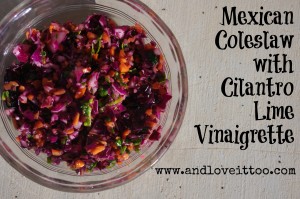 I love the combination of cilantro and lime in cauliflower rice, on my paleo tacos and more…
So when I had several heads of cabbage needing to be used and a hankering for some Mexican food, I decided it was high time to come up with some sort of salad or coleslaw that would meet this need.
Instead of slicing every vegetable super thin or using a hand shredder, I make this with my food processor, bringing the time to prepare this salad down to mere minutes.
When we make this salad at home, we prefer to make the vinaigrette with essential oils both for their flavor profile and supplemental benefit. As purity is a huge concern with essential oils, please visit this post and feel free to contact me directly to learn more, or follow the directions using spices and herbs in place of the oils.
Using the essential oils mentioned here can bring multiple benefits including:
Lime: A powerful, aromatic internal cleanser, lime is also popular for aiding the joints and/or seasonal threats.*
Cilantro: Has many diverse therapeutic benefits including digestive, antioxidant and stimulating.*
Cumin: Beneficial to the digestive system and promotes oral health. Cumin essential oil is purifying to the body's systems and helps to relieve occasional digestive discomfort.*
Quick to come together, filled with beautifully vibrant vegetables and a flavorful dressing, this Mexican Coleslaw with Cilantro-Lime Vinaigrette is just one of the many foods we eat on a regular basis!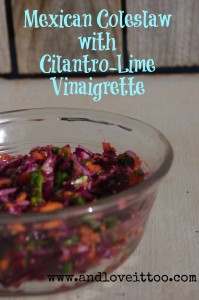 Enjoy!
Mexican Coleslaw with Cilantro-Lime Vinaigrette
2015-07-27 16:47:35
Serves 10
Nutrition Facts
Amount Per Serving
* Percent Daily Values are based on a 2,000 calorie diet. Your Daily Values may be higher or lower depending on your calorie needs.
Ingredients
½ c olive oil
1/3 c apple cider vinegar
2 cloves garlic, minced
2 drops lime essential oil (or 2 tsp lime zest) or more to taste
1 drop cilantro essential oil (or ½ cup cilantro finely chopped) or more to taste
1 drop cumin essential oil (or 1 tsp cumin) or more to taste
1 large or 2 small heads of cabbage, any color, finely chopped/shredded
1 bunch or 6 leaves of kale, stems removed and finely chopped/shredded
1 red onion, finely chopped
3 large carrots finely chopped/shredded
A few dashes of your favorite hot sauce (optional)
Salt and Pepper to taste
Instructions
In medium shaker container, mix olive oil, apple cider vinegar, garlic, lime, cilantro and cumin. Set aside.
In large salad bowl, mix together chopped/shredded cabbage, kale, onion and carrots.
Pour vinaigrette over vegetable mix and toss to spread evenly. Add hot sauce if using, then salt and pepper to taste.
Refrigerate for 15-20 minutes and serve.
And Love it Too! http://andloveittoo.com/
*Full disclosure/disclaimer: Statements have not been evaluated by the FDA and are not meant to diagnose, prevent, treat or cure any disease or replace traditional medical attention. Your doctor treats symptoms and fixes broken parts. Your body cures disease. Always consult your medical professional before changing any existing medications or treatments. If you purchase products through the links provided, your cost will always be the same but I will receive a small commission. Thank you for your support!