I was first introduced to Melissa Joulwan late one night, when amid a weight-loss contest at work I decided it was high-time to make the final leap into a Paleo-centric lifestyle and wanted a cookbook that would support this effort.
As you know from my March review of Well Fed: Paleo Recipes for People Who Love to Eat, Melissa's recipes quickly became a staple in our home.
During the two Whole30's I have completed since March, my children grew to appreciate Melissa as much as I do, as all of her Well Fed recipes are Whole30 approved, so if they wanted to make something from her book, chances were mom would say "yes!".
Even though Melissa stays busy with her blog, The Clothes Make the Girl and as she works through the rigors of writing her next cookbook, she was kind enough to take a moment and share her Healthy Lunchbox suggestions with us today.
The final installment to our Healthy Lunchbox Series (save the final recap which will be up tomorrow), I am so grateful for Melissa and her beautiful post below.
Thanks Melissa! xo
_________________________________________________________
Truth: Restaurant salads always seem so much better than salads made at home.
Here's why: Restaurants know that the way to make a delightful salad is to jettison the lettuce and arrange beautiful ingredients on a big ol' plate. At least in my house, I can sometimes get a little lazy about what does into the salad. And who are we kidding? A big bowl of lettuce isn't the most exciting thing you can cram into your well-deserving mouth in the middle of the day. But a big platter of fresh veggies and irresistible nibbles isn't boring — it's exhilarating!
Not only is a composed salad platter simple to throw together quickly, it's loaded with nutrition and taste satisfaction — and it's easy to pack the individual components separately, then arrange them just before you're ready to eat them. And if your day at work or school (or at home) flies out of control, a deconstructed antipasto plate is easy to eat on the run. (Although I don't recommend that. It's so much more fun to sit down and savor every bite!)
MEDITERRANEAN ANTIPASTO PLATTER

My go-to is a Mediterranean Antipasto Platter because it instantly makes me feel like I'm on holiday, along the sunny shores of the Mediterranean, enjoying a light lunch before a jaunt along the coast on a scooter (wearing a really cute sundress, giant sunglasses, and a scarf on my hair).
Ahem.
I usually build my antipasto plates around a scoop of tuna salad with homemade mayo, but grilled chicken, egg salad, and chicken salad work equally well. Then I surround the protein with fresh, raw veggies and other little nibbles, like pickles, olives, artichoke hearts, pickled peppers, and a few fresh basil leaves. There's usually some kind of dipping sauce involved — a little fat makes it easier for your body to absorb the vitamins and minerals in the veggies, plus it tastes so good! And for dessert: lovely fresh fruit. Like this: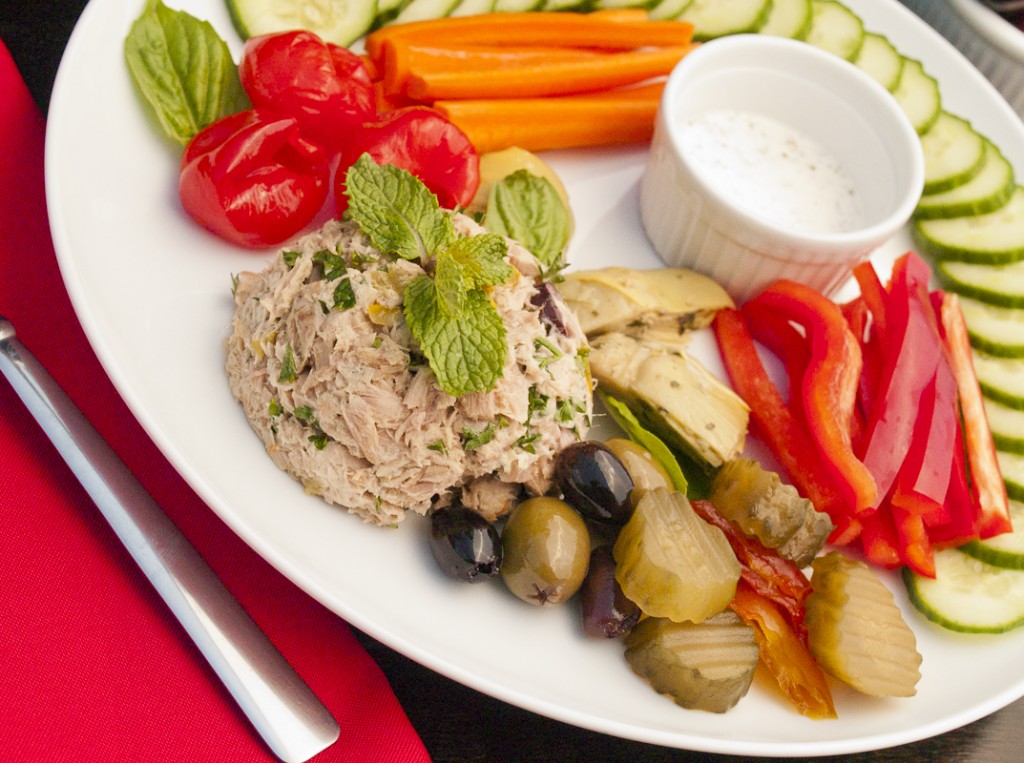 Mediterranean Tuna Salad Recipe
Ingredients:
2 cans tuna, preferably packed in olive oil
10 pitted black olives, sliced into rings
2-3 banana peppers, sliced into rings
10 fresh mint leaves or 1/2 tsp dried mint
1 tablespoon lemon juice
salt & pepper to taste
1-2 tablespoons homemade may
Directions:
1. Place tuna in a small bowl and break up with fork.
2. Add everything except the mayo and mix 'til well-blended. Taste to see if you need to adjust the seasonings.
3. Add the mayo and gently stir 'til just combined.
Homemade Mayo Recipe

Ingredients:
1 egg
2 tablespoons lemon juice @ room temp
1/2 teaspoon dry mustard
1/2 teaspoon salt
1/4 cup plus 1 cup olive oil (light, not extra virgin) @ room temp
Directions:
1. Place the egg and lemon juice in a blender or food processor. Let them come to room temperature together, about 30-60 minutes. Add the dry mustard, salt, and 1/4 cup of the oil. Whirl until well mixed – about 20 to 30 seconds.
THIS IS THE IMPORTANT PART!
2. The only remaining job is to incorporate the remaining 1 cup oil into the mixture. To do this, you must pour very slowly… the skinniest drizzle you can manage and still have movement in the oil. This takes about three minutes or so. Breathe. Relax. Drizzle slowly.
If you're using a blender, you'll hear the pitch change as the liquid starts to form the emulsion. Eventually, the substance inside the blender will start to look like regular mayonnaise, only far more beautiful. Do not lose your nerve and consider dumping! Continue to drizzle.
NOTE: For more details on making homemade mayo, see this post.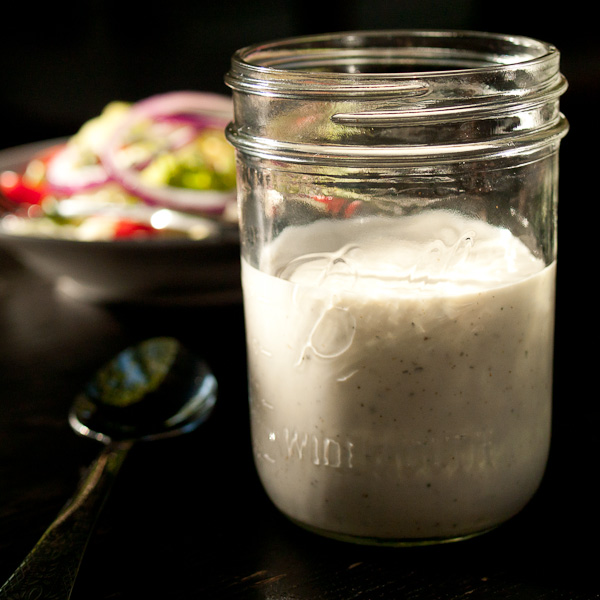 Creamy Italian Dressing Recipe
Ingredients:
2 tablespoons homemade mayo
1 tablespoon vinegar: balsamic, wine, or cider
1 clove garlic, crushed
1/8 teaspoon Italian herb blend (or pick one: dried oregano, rosemary, or basil)
salt & pepper, to taste
Directions:
1. Crush the dried herbs with your fingers, then add to mayo, along with garlic. Blend well with a fork.
2. Mix in the vinegar, then taste and season with salt and pepper. If your dressing is too thick, add either vinegar or water – a 1/4 teaspoon at a time – until it's the right consistency. Keep in mind that it will get slightly more liquidy as you toss it with your salad ingredients.
NOTE: I've given instructions for making the dressing "to order." I don't recommend making a big batch in advance because I think the texture will suffer. Plus, it really takes no time at all to blend together. Your taste buds will thank you.

Plate-Filling Ideas
Choose a few or all of these to build your beautiful plate:
Bell Pepper (raw or roasted)
Broccoli (steamed and cooled)
Carrots (raw or roasted)
Cauliflower (raw, roasted, or steamed and cooled)
Cucumber (raw)
Green Beans (steamed and cooled)
Jicama (raw)
Snap Peas (raw)
–
Artichoke hearts
Olives
Hard-boiled egg
Pickled Peppers
Pickles
OTHER ANTIPASTO PLATE OPTIONS
Why limit yourself to the sunny Mediterranean when there are so many fun places your taste buds can take you? Here are a few more Antipasto Ideas that are just as easy and delicious.
Southwest Antipasto Plate
Serve Firecracker Tuna Salad with bell pepper strips, jicama sticks, carrot and cucumber coins, along with Southwestern Cumin Lime Dressing for dipping.
Asian Antipasto Plate
Serve cold or hot grilled chicken (or rotisserie chicken) with bell pepper strips, snap or snow peas, carrot and cucumber coins, along with Sunshine Sauce for dipping. Bonus if you have some Caramelized Coconut Chips on the side.
Middle-Eastern Antipasto Plate
Serve cold or hot grilled chicken (or rotisserie chicken) with cold steamed green beans, cucumber coins, broccoli and/or cauliflower florets, along with Tahini Dressing for dipping. If you want to invest a little more prep time, you can also round out the plate with gluten-free, paleo dolmas; Lebanese Onion & Parsley Salad, or Baba Ghanoush.