To my readers on Facebook who were expecting this recipe earlier today, my apologies. An impromptu date with my husband took priority, although I am excited to be able to get this recipe to you tonight.
I first created this sausage back when I did my first Whole30 and needed something that was quick yet nutritional, easy to put together yet delicious, and would last all week long.
Because my initial recipe included both eggs and nightshades, I have adjusted and played with this recipe until it met the needs of an autoimmune protocol while still meeting all of the requirements above.
If your system does not allow for seed-based seasonings, I can tell you this recipe is positively delicious without the caraway or fennel; even so, I still prefer the licorice and floral undertones these seasonings offer and didn't want to leave these out for those who can have them.
This recipe also works well with most any type of ground meat. While, because of ease of access and affordability thanks to my local rancher, I typically pair it with grass-fed beef; this recipe is also delicious with ground pork, lamb, chicken or turkey.  Most often I sub ½ pound ground meat for an equal amount of organ meat. Kidney or heart seem to work well, liver is a bit overpowering to us although it is worth playing in that direction if your family enjoys liver.
A great solution for egg-free breakfasts, a delicious addition to most any dinner and a great substitute for the traditional meatball recipe, I hope you enjoy this sausage as much as we do!
xoxo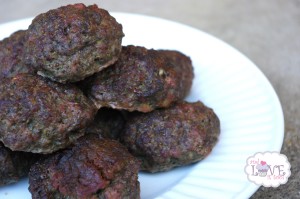 Autoimmune-Friendly Paleo Apple Sausage
Ingredients
2 lbs ground meat (as high-quality as you can afford, any combination of beef, pork, turkey, organ, etc).
1 large onion (red or white)
1 apple, cored and sliced
2 Tbs dried sage
2 Tbs caraway seeds*
1 Tbs fennel seeds*
1 Tbs granulated garlic
1 Tbs morjam
½ Tbs allspice
2 tsp sea salt
2 tsp pepper
Instructions
Preheat oven to 400f.
Place ground meat in large mixing bowl, set aside. Using food processor or blender, puree remaining ingredients until approximately the same texture as baby food. Add spice mixture to ground meat and mix thoroughly.
Using your hands, shape the meatballs into golf-ball sized rounds, placing each, evenly spaced, on a parchment lined cookie sheet.
Bake for 15-20 minutes or until sausage is cooked through. Serve warm. Store remaining sausage patties in the refrigerator for 8-10 days or freeze for up to six months.
Makes 2 pounds
*Omit caraway and fennel if your autoimmune protocol does not allow for seed based seasonings
http://andloveittoo.com/autoimmune-friendly-paleo-apple-sausage/