I've mentioned a number of times how much I love Bountiful Baskets; not only have they reduced our produce costs by hundreds of dollars, every month…I have also been introduced to a number of fruits and vegetables previously unknown to me!
Most recently, we received several heads of something called Salad Savoy. Having no clue what this vegetable was, I turned down the opportunity to grab a couple of extra heads in favor of doing a bit of discovery first.
I have been kicking myself ever since.
I should have grabbed more while I had the chance!
To my surprise these beautiful green, white and purple leaves are not some simple salad green. This vegetable is described as being somewhere between cauliflower and kale. The flavor is light and delicious, steams well with a squeeze of lemon and a touch of garlic, cooks like kale, freezes well.
While flipping through Bountiful Basket ideas and suggestions, a number of people suggested using Salad Savoy in an Olive Garden-type Zuppa Toscana.
With a sick husband at home and cool winter nights, making a large batch of a nice hearty soup sounded like a perfect idea.
Using a pre-mixed batch of my auto-immune friendly paleo apple sausage helped make this soup quick, easy and over-the-top delicious.
Enjoy!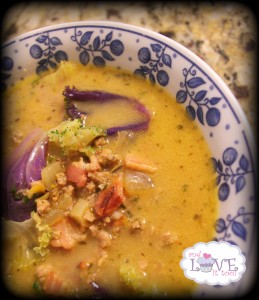 Zuppa Toscana (Dairy-Free, Gluten-Free, Whole30, Paleo Autoimmune Protocol Friendly)
Ingredients
2 tbs coconut oil
2 large sweet potatoes, cubed
2 large onions, diced
4 garlic cloves, minced
12 oz uncured sugar-free bacon, diced
1 qt chicken broth (I use homemade)
1 qt water
4 c kale or salad savoy, stems removed and cut into large chunks
1 can whole-fat coconut milk
Instructions
In large dutch-oven, melt coconut oil over medium-high heat. Add in cubed sweet potatoes, diced onions and minced garlic cloves. Cook until onions become translucent but not caramelized. Crumble in sausage and diced bacon, continue to cook until bacon and sausage has browned. Add in chicken broth and water, bring to full boil over medium high heat then reduce heat to medium and allow soup to simmer for 20 minutes. Mix in kale or salad savoy and coconut milk. Serve hot.
Makes 10-12 servings
http://andloveittoo.com/zuppa-toscana-dairy-free-gluten-free/