Meatloaf.
Love it or leave it, undoubtedly your mom had some version of meatloaf that would occasionally grace your table growing up.
I've had many guests through the years raise an eyebrow when I offer them a dinner of this traditionally dry, often unpleasing hunk of meat…these same guests seem surprisingly pleased when they take their first bite into a flavorful, moist and juicy slice that has the tendency to turn their memories of meatloaf upside down.
In my pre gluten-free lifestyle, my secret ingredient included pre-seasoned croutons. More recently, I discovered almond flour to be a great replacement for the traditional bread crumb; although after my most recent Whole30, following the auto-immune protocol where I also eliminated eggs, nuts and nightshades, I discovered (much to my surprise) that I am slightly sensitive to nuts.
I suspected that I suffered a sensitivity to nightshades and quite possibly was sensitive to eggs as well…not once did I suspect nuts would be the issue.
Alas, I have no trouble with nightshades. Tomatoes, peppers and eggplant all sit well with me…
Eggs are still as delicious as ever and amazingly do nothing to upset my gut or my skin.
But when I reintroduced nuts, my acne flared slightly and my tummy gave me some trouble.
Nothing like dairy, and certainly nothing like gluten…but the sensitivity is undoubtedly there.
Walnuts and pecans seem to cause me the greatest upset, though I will be cautious with my use of all nuts from here on out.
So when Food Network brought forth their Comfort Food Feast and meatloaf was on the list, I knew I wanted to perfect an auto-immune friendly version that everyone could enjoy.
Somewhere between my Autoimmune Friendly Paleo Apple Sausage and a more traditional ranch-style meatloaf; weaving the bacon over the top not only makes for a lovely presentation, it seals in the natural juices and ensures a deliciously moist and tender loaf unlike any other.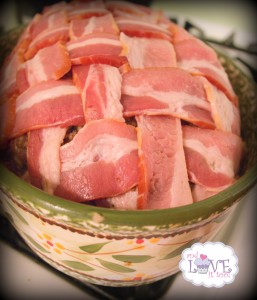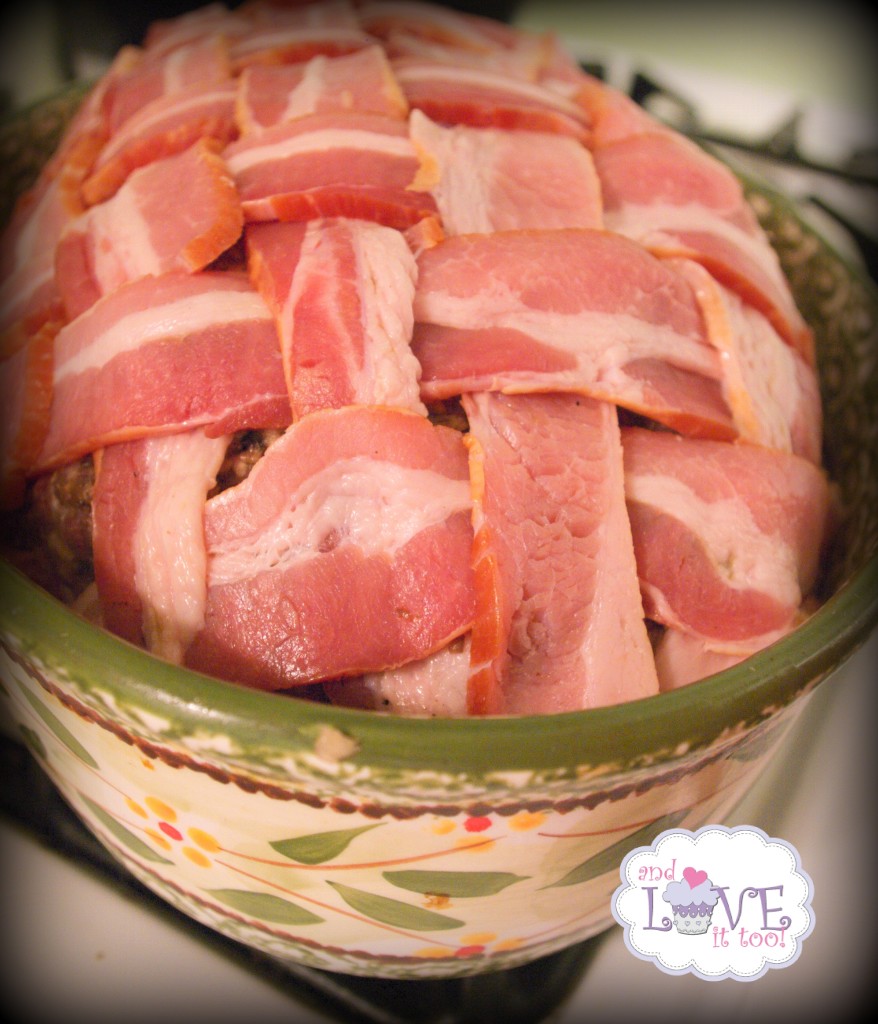 Delicious when served with my Bacon-Infused Wilted Spinach this moist, egg-free, gluten-free, nightshade free, nut-free and dairy-free version is far from your momma's recipe but undoubtedly will become a classic in your home.
Enjoy!
Not Your Mamma's Meatloaf (Bacon-Wrapped Sausage-Spiced Meatloaf. Gluten-Free, Dairy-Free, Nightshade-Free, Dairy-Free, Nut-Free and Egg-Free)
Ingredients
3 lbs ground beef (or 2 lbs beef, 1 lb ground organ meat)
2 lbs ground pork
8 oz mushrooms, chopped
1 large onion
1 apple, cored and sliced
2 Tbs dried sage
2 Tbs caraway seeds
1 Tbs plus ½ tsp garlic powder
1 Tbs fennel seeds
1 Tbs marjoram
½ Tbs allspice
2 tsp smoked sea salt
2 tsp pepper
1 tsp dried chives
1 tsp dried parsley
1 tsp dried dill weed
½ tsp onion powder
12 oz sugar-free uncured bacon
Instructions
Preheat oven to 375f.
In large mixing bowl, mix together ground beef, pork and chopped mushrooms using your hands to ensure even mixing.
Using food processor or high-speed blender, blend together onion, apple, sage, caraway seeds, garlic powder, fennel seeds, morjam, allspice, smoked sea salt, pepper, chives, parsley, dill weed and onion powder. Pour herbed mixture over meet and mushroom mixture; continue mixing with your hands until herb mix is completely incorporated.
Using large 2-quart casserole dish, shape meat into preferred loaf shape. Layer bacon slices over loaf, alternating to get desired basket weave. Tuck any loose bacon edges underneath loaf to secure.
Bake at 375f for 1.5-2 hours or until bacon is cooked thoroughly and meat has reached an internal temperature of 170f.
Allow loaf to rest 5-10 minutes before slicing.
Serves 10-12
Copyright And Love it, Too! May not be published or duplicated without written permission.
Looking for more versions of this beloved comfort food?
Be certain to stop by and visit my FoodNetwork friends over at this week's Comfort Food Feast!
Jeanette's Healthy Living: Balsamic-Glazed Roasted Vegetable Meatloaf
The Cultural Dish: Classic Meatloaf
Red or Green?: Meatloaf With Green Chile
Napa Farmhouse 1885: My Mom's Meatloaf (Connie's)
Made By Michelle: Turkey Meatloaf
The Heritage Cook: Succulent Gluten-Free Meatloaf, The Ultimate Comfort Food
Feed Me Phoebe: Smoky Meatloaf With Three Paprikas
Virtually Homemade: Bacon Wrapped Meatloaf With a Spicy Sweet Ketchup Glaze (Gluten-Free)
Devour: Pick Your Meat (Loaf): Beef, Pork or Turkey
Dishin & Dishes: The Ultimate Southwest Meatloaf
FN Dish: For the Love of Meatloaf