This is not my prettiest cake by any means, and I thought about remaking it in a number of different pans, but my daughter was so thrilled when she saw the final product that I decided if it was good enough for her, then it was good enough for me.
So many of my projects stem from the creative minds of my children.
After I had pressure canned 6 quarts of squash puree, used some of the leftover puree to make some Pumpkin Spice Steamers for the family, my oldest daughter decided that she wanted a pumpkin cake for her birthday.
She made it clear, however, that she did not want just any ole pumpkin cake… Nope, what she asked for was very specifically a vanilla pumpkin swirl cake, "you know, like the chocolate vanilla marble cakes you make, mommy."
Now how could I resist that?
Despite the lackluster of the cake itself, my family raved over the result.
And my daughter? A genius for conjuring this up in her head.
Free of grains, nuts, dairy and refined sugar, I hope you enjoy this cake as much as we have.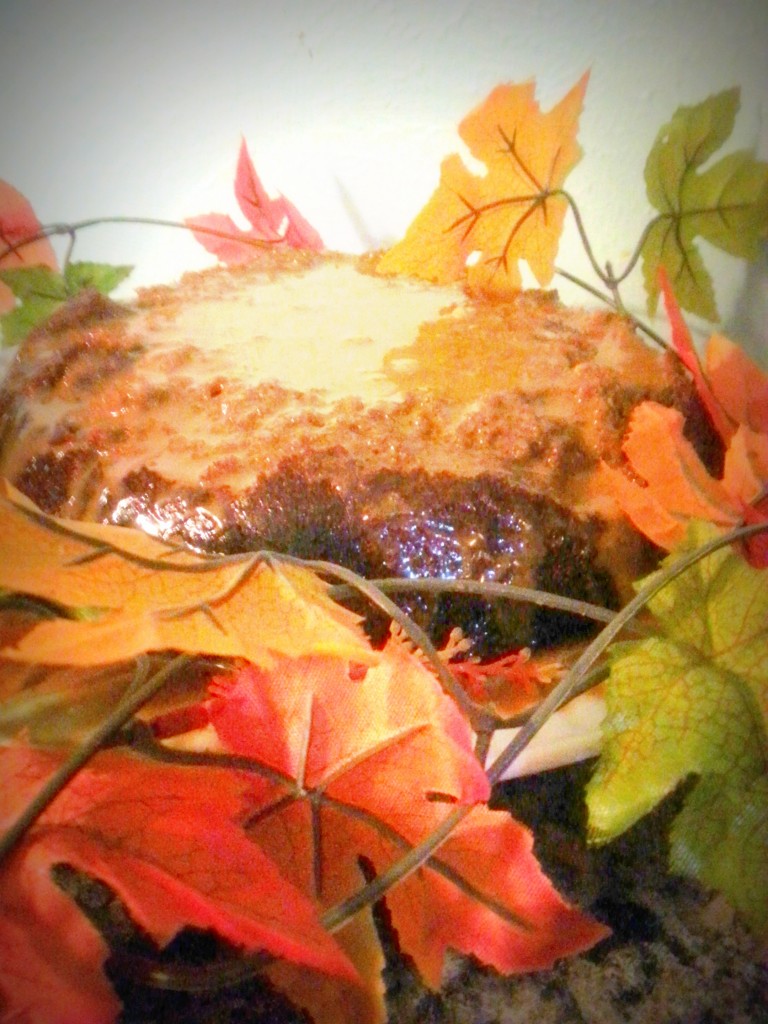 Vanilla Pumpkin Swirl Cake with Vanilla Palm Sugar Glaze (Grain-Free, Dairy-Free, Refined Sugar-Free, Paleo)
Ingredients
Vanilla

½ c Coconut Flour
¼ tsp Baking Soda
¼ tsp Sea Salt
4 Large Eggs
1/3 c coconut oil
½ c Palm Syrup
2 Tbs Vanilla Extract
Pumpkin Spice

6 Large Eggs
½ c Palm Syrup
½ c Coconut Oil
½ c Coconut Cream (from a well refrigerated can of whole-fat coconut milk)
1 tsp Vanilla Extract
1 TBS Pumpkin Spice
1 tsp Cinnamon
1 tsp Baking Powder
½ c Coconut Flour
½ c Pumpkin Puree
Vanilla Palm Sugar Glaze

1 c Arrowroot Powder
1 c Palm Sugar
¼- ½ c Canned Coconut Milk (full-fat, preferred)
1 tsp Vanilla Extract
Instructions
Preheat oven to 375f.
Grease and flour (using coconut flour) bunt pan, set aside.
Prepare vanilla cake by mixing together coconut flour, baking soda and sea salt. Whisk in eggs, coconut oil, palm syrup and vanilla extract, set aside.
Prepare pumpkin spice cake by mixing together eggs, palm syrup, coconut oil, coconut cream, vanilla, cinnamon and pumpkin spice. Quickly whisk in coconut flour, pumpkin puree and baking powder.
Slowly layer each cake ½ c at a time throughout the bunt pan. Use a knife to gently mix the batter without completely incorporating the mix, creating a marbleized look.
Bake at 375f for 35-40 minutes.
Prepare the glaze by adding arrowroot powder, palm sugar and vanilla extract to your blender. Over low setting, slowly drizzle in coconut milk until the glaze has achieved the desired thickness (I used less than ½ cup but more than ¼ cup to achieve this). Set aside.
Remove cake from oven, invert and allow to cool to room temperature. Pour glaze evenly over the top and serve.
Makes approximately 16 servings.
Copyright And Love it, Too! May not be published or duplicated without written permission.
Need more pumpkin inspiration? Be sure to visit (and enter) this month's Ingredient Challenge Monday, and check in with my favorite Food Network Fall Fest Bloggers and their delicious inspiration below. Have a wonderful week. xoxo
Jeanette's Healthy Living: Gluten-Free Pumpkin Spice Pancakes
Chez Us: Pull Apart Pumpkin-Pecan Bread With Maple Bourbon Frosting
Haute Apple Pie: Creamy Pumpkin Penne With Italian Sausage
HGTV Gardens: Garden-to-Table: Pumpkins
From My Corner of Saratoga: Chocolate-Pumpkin Cake
Made By Michelle: Pumpkin Scones
Napa Farmhouse 1885: Roasted Pumpkin and Black Bean Stew With Chorizo and Pepitas
Devour: 5 Delicious Ways to Use Pumpkins After Carving
Virtually Homemade: Pumpkin Pancakes With Maple Cream and Candied Vanilla Pecans
The Heritage Cook: Gingery Pumpkin Mousse With Whipped Ginger Cream
Thursday Night Dinner: Chocolate Chip Pumpkin Pie
Cooking With Books: Pumpkin-Bacon Brussels Sprouts
FN Dish: Primping Up Pumpkin
Feed Me Phoebe: Roasted Pumpkin Wedges With Chili, Lime and Cotija