With cold mornings and a plentiful squash harvest, my mouth has been watering at the thought of pumpkin bread, pumpkin pies and more; but sometimes I just want something warm and sweet that will satisfy my pumpkin craving without taking a lot of time.
This Pumpkin Spice Steamer is a delicious solution to those sugar-laden and dairy-filled drinks popping up at local coffee shops all over. Only, this drink is 100% dairy-free, 100% natural and not an ounce of refined sugar to be found.
While I chose to use the honey gifted me by my friend Shirley Braden from Gluten-Free Easily to sweeten our batch, please know that palm syrup, agave nectar, maple syrup or even stevia alone are all great ways to sweeten this drink.
Because the puree does cause this drink to thicken over time, it is suggested that you drink this shortly after it is made.  If you are not serving a crowd (like I do!), feel free to cut the recipe in half, or even ¼ for you and your love or just an extra large serving on your way out the door!
My entry into this month's Ingredient Challenge Monday, I hope this drink warms you from within and look forward to seeing what Winter Squash recipe you have to bring! xo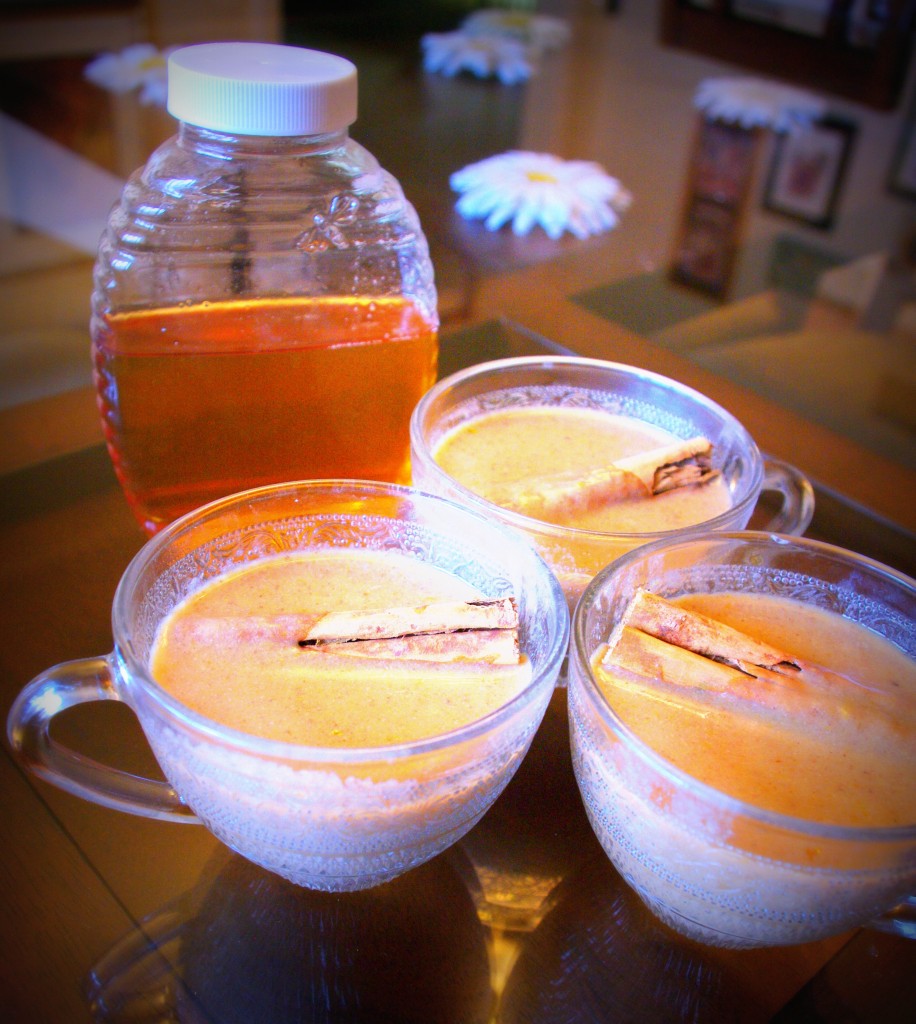 Pumpkin Spice Steamer (Dairy-Free, Refined Sugar-Free)
Ingredients
4 c Unsweetened Coconut or Almond Milk (homemade is best)
2 cans Full-Fat Coconut Milk
1 c Pumpkin Puree (canned or home roasted)
½ c Honey (Palm Syurp, Maple Syrup, etc)
4 tsp Cinnamon
2 tsp Ginger
1 tsp Allspice
1 tsp Nutmeg
Stevia to taste (optional)
Instructions
In large sauce pan or small Dutch-oven, whisk together all ingredients except stevia and slowly heat up over medium-high heat. Once light simmer has started, add in stevia, 5 drops at a time, until ideal sweetness has been achieved. Serve right away.
Makes 8-10 servings
Copyright And Love it, Too! May not be published or duplicated without written permission.
Ready to share your Winning Winter Squash Recipe?
It's easy! Simply link your recipe back to this page, come back and link in with the linky tool below.
Because this blog is a gluten-free and dairy-free blog, I do ask that your recipes also be gluten-free and dairy-free.  Please also keep in mind that I want to try your creations in my own home and do my best to make each and every item you share…that being said, as the main cook in the home, the more Paleo-Friendly your recipe is, the more likely I will be able to taste it.
What do I mean by Paleo-Friendly? Well, it must be free of grains (including corn and quinoa), dairy (already a given), legumes (beans and peanuts), and free of refined sugars.
Many naturally gluten-free and dairy-free recipes fit nicely into the paleo lifestyle. Gluten-free vegan foods are welcome, as are gluten-free non-vegan foods.  As long as it is free of gluten and dairy, it is welcome here!
That being said, if there is something (like sugar or peanuts) that can easily be substituted without changing the nature of your recipe…and if you are okay with me throwing my own minor tweaks in when I give your recipe a try, please share! I promise to keep my changes minimal as I aim to taste YOUR recipe, not create my own.
So are you ready to have the next ICM featured recipe??
Link it up and have a wonderful week! xoxo