Christmas in our home means warm ovens and full bellies.  Two years into a gluten-free lifestyle, it seems as if I will never quite catch up with the memories this season brings.
Recently, I shared my treasured Chocolate Pecan "Toll House" Pie; previously I have shared newly "tweaked" versions of dairy-free fudge, eggnog, and all sorts of pie.
Just recently though, I realized that my site is missing one key holiday ingredient…
Cookies!
How is it that I have gone this long and not shared any holiday cookie recipes with you?
Fortunately, Food Network is hosting a Cookie Swap as part of their Fall Fest celebration!
What a great opportunity this was to perfect refine, 'tweak' and perfect a newly revised grain-free, dairy-free and refined sugar-free version of one of my favorite holiday treats…
"Snowballs!"
Snowball cookies are melt-in-your-mouth pecan sandy-type cookies covered in powdered sugar.
While we always made these during the holidays growing up, as an adult I have come to know these delicious cookies are enjoyed year-round under the names: Russian Tea Cakes, Mexican Wedding Cookies or even Pecan Fingers.
Whatever name you know these by, I hope these nutty delights bring you many reasons to celebrate all year long…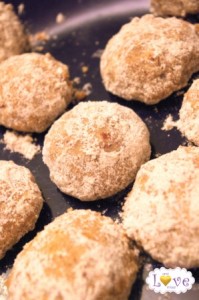 Snowball Cookies (Grain-free, Dairy-Free, Vegan)
Ingredients
Instructions
In large mixing bowl, mix together blanched almond flour, arrowroot flour and salt. In separate mixing bowl, cream together palm shortening and palm sugar. Mix in dry ingredients until smooth, fold in crushed pecans.
Refrigerate dough for 30 min – 3 hours (I'm sure longer will be fine, just haven't tested it past that).
In blender, combine remaining arrowroot powder and palm sugar. Pour into small mixing bowl and set aside.
Preheat oven to 350f. Roll 1 inch balls by hand, placing each onto parchment lined cookie sheet. Bake for 15 minutes and allow cookies to cool completely while still on cookie sheet. (These cookies are crumbly if you remove them while they are still hot yet they hold firmly once room temperature/cool to the touch).
Roll cooled cookies in powder sugar and serve or store in air-tight container in the refrigerator.
Makes 2 ½ dozen.
Copyright And Love it, Too! May not be published or duplicated without written permission.
For more Christmas Cookie inspiration, pull up your chair and enjoy some of these other Food Network Fall Fest Cookie Swap Creations:
What's Gaby Cooking: Peppermint Bark Chocolate Cookies
CIA Dropout: Walnut Wimpy Balls
Taste With The Eyes: Olive Oil Oatmeal Cookies
Jones Is Hungry: A Cookie for Chocolate Lovers
From My Corner of Saratoga: Gooey Butter Cookies
The Sensitive Epicure: Speculaas Dutch Windmill Cookies
Napa Farmhouse 1885: Salted Chocolate & Dulce de Leche Fudge
Virtually Homemade: Chocolate Mint Snowballs
Sweet Life Bake: Polvorones de Chocolate
Daily*Dishin: Cherry Topped Cream-Drop Cookies
FN Dish: Peanut Butter-Chocolate Chip-Bacon Cookies
Dishin and Dishes: Pecan Sandie Thumbprints With Cherry Frosting
Mooshu Jenne: Biscotti
Cooking With Elise: Sweet and Salty White Chocolate Cranberry Oat Cookies