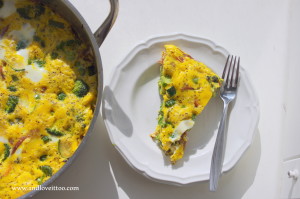 As we prepare for our New Year, New You, Naturally cleanse, I am doing my best to get back in the habit of making high-protein, vegetable rich breakfasts.
I find that my week flows a lot easier when I plan ahead, and I stick to my plan much more effectively when I make one or two big breakfasts and eat on those breakfasts throughout the week.
For this, I have found that frittata's are an easy go-to meal that is just as good when reheated as it is. Super easy to mix and match, if you have an oven-safe 11 inch skillet, you can literally do everything in one pan.
As mentioned in our popular BLT Frittata recipe, because these are perfect for breakfast, lunch or dinner, I have no doubt this will quickly become a family favorite!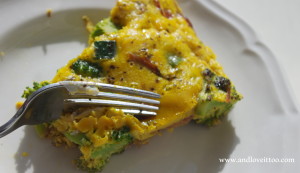 Simple Frittata (mix and match!)
Ingredients
1 Tbs coconut oil
1 small onion, diced
2 cups diced vegetables (zucchini, broccoli florets, squash, kale, spinach are all good choices)
6-8oz pre-cooked/leftover meat, chopped (optional) (chicken, ham, bacon, are all good choices)
12 eggs, whisked
½ tsp garlic powder
¼ tsp salt
¼ tsp pepper
Instructions
Preheat oven to 425.
In large 11-inch oven safe skillet, melt coconut oil over medium heat.
Sauté diced onion until clear. Add in diced vegetables and sauté until cooked through. Add in chosen meat and cook until warm. Remove from heat.
Whisk together eggs, garlic powder, salt and pepper.
Pour eggs over vegetable mixture and cook in oven for 15-18 minutes or until a knife, when inserted in the center, comes out clean.
Serve warm.
Makes 8-10 servings
Copyright And Love it, Too! May not be published or duplicated without written permission.
*Full Disclosure/Disclaimer: Statements have not been evaluated by the FDA and are not meant to diagnose, prevent, treat or cure any disease or replace traditional medical attention. Your doctor treats symptoms and fixes broken parts. Your body cures disease. Always consult your medical professional before changing any existing medications or treatments. If you purchase products through the links provided, your cost will always be the same but I will receive a small commission. Thank you for your support!