One day, my husband looked at me lovingly and said those five little words many of us never expect to hear:
"Honey, I miss your salad."
Yes, my salad.
I guess it had been a few weeks since I had made one of my nutrient-packed salads and my husband had a craving.
Now if only I could get my oldest child to say the same thing…
Funny thing is, my salads are never the same salad twice.  I rarely focus on what specific ingredients to put in my salad and instead focus on color.
As mentioned way back when in my Rainbow Smoothie recipe, more color = more nutrition.
This time of the year, when greens of all sorts are in season, mixing and matching salads is one of my favorite things to do.
To keep my rainbow strong, I always have some home-dried plums, blueberries and other seasonal fruits on hand that can be difficult to find later in the year but are a must-have when it comes to one of these colorful mixes.
So play with your food! Fill your color palette and enjoy all of the nutrition nature has to provide.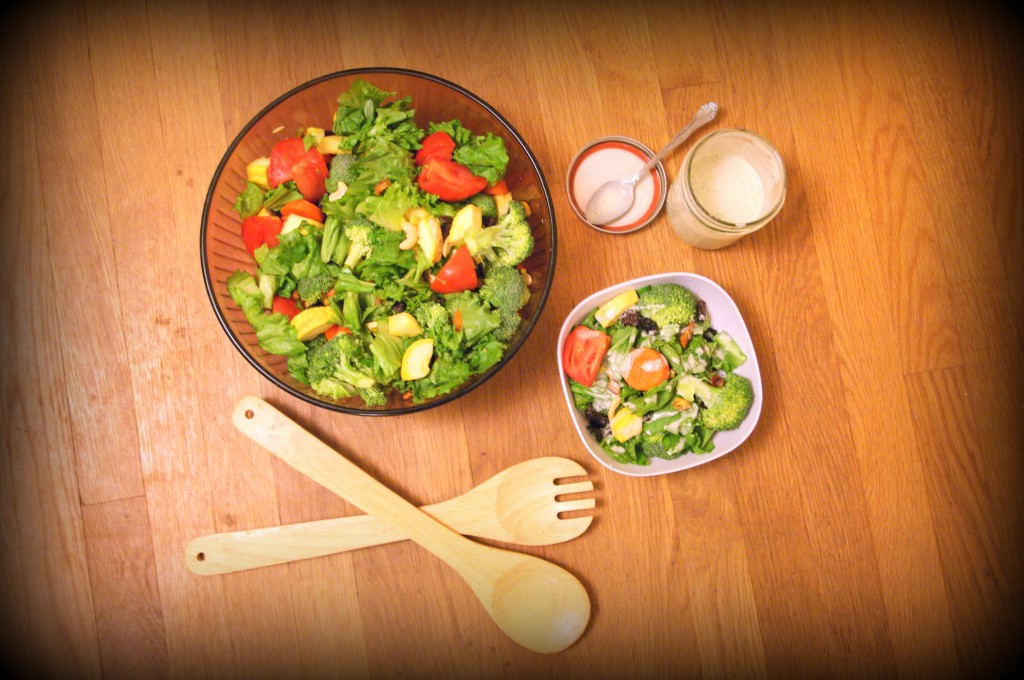 Rainbow Salad
Ingredients in this salad can vary by taste.  The goal here is to achieve optimum nutrition and flavor by using as many colors as you can find to include in your salad.  Top with your favorite dressing; make a meal out of it by including eggs and/or lean meat!
Ingredients:
16 oz mixed greens (romaine, spinach, kale, etc)
1 c Mixed Nuts (pistachios, cashews, pecans, sliced almonds, etc)
To this, add any combination of the following ingredients:
Red: Strawberries, Tomatoes, Radish, Raspberries, Beets, Blood Oranges, Cherries, Pomegranate, Red Apples, Red Bell Peppers
Orange: Carrots, Mangoes, Oranges (Clementine's are delicious in salad!), Apricots
Yellow: Squash, Yellow Tomatoes, Onions, Yellow Apples, Pineapple
Green: Zucchini, Broccoli Cucumbers, Green Beans, Green Apples, Artichokes, Avocado, Celery
Blue: Blueberries, Elderberries
Purple: Blackberries, Onions, Grapes, Dried Plums, Purple Asparagus, Purple Cabbage, Purple Carrots, Purple Figs, Purple Grapes, Purple Peppers, Raisins
Serves 4-6
So what are your favorite salad ingredients?
Today is the last day to vote for the Circle of Mom's Top Food Allergy Mom Blogger, and while I am nowhere near the top, it would still be an honor to have you vote for me!  Voting is open until 4pm PST, October 17…so please hurry, and please share with your friends! xoxo
Also, don't forget to stop by my friend Kate's site, Eat, Recycle, Repeat to sign up and adopt your favorite Gluten-Free Blogger! We want to keep this event strong while Sea is still in Japan finishing her dissertation.
Need more ways to enjoy your winter lettuce harvest? Be certain to visit all of my friends over at this weeks FoodNetwork Fall Fest for more!
Jeanette's Healthy Living: Quinoa and Black Lentil Salad With Mixed Salad Greens
Cooking With Books: "Chopped" Salads
Haute Apple Pie: Roasted Butternut Squash Salad With Warm Bacon Dressing
Dishin & Dishes: Beet Salad With Garlic Vinaigrette
Thursday Night Dinner: Mixed Lettuce, Caramelized Onion and Goat Cheese Pita Pizza
And Love It Too: Rainbow Salad
Made By Michelle: Bacon, Lettuce and Tomato Sandwiches
Feed Me Phoebe: Hearts of Romaine With Beets, Pistachios and Roasted Garlic Vinaigrette
HGTV Gardens: Garden-to-Table: Mixed Lettuce
Virtually Homemade: Mixed Fall Greens With Dijon Chive Vinaigrette
Devour: Lettuce (Hold the Salad)
Daily*Dishin: Almond Chutney Chicken Lettuce Wraps
Delicious Lean: Chiffonade of Mixed Greens
FN Dish: Top 12 Lettuce Wraps
Happy Wednesday, y'all!