I haven't done a blog in over a week.  After the busy holiday schedule where I was posting 2-3 times a week, this seems like a big lull.  Having lost my grandfather the night of my last post, frankly, I just wasn't up for another post last week. 
The service was beautiful and it was nice to reconnect with cousins I haven't seen in years. 
Now, it is time to get back to work. 
Since my husband started back at school yesterday, and given a schedule that will normally keep him at school until 10pm Tuesday evenings, I thought this would be the perfect time to make my next post…
Of course, he would have to come home early.  It is the first week of school and classes rarely go their full length of time the first week…but still! 
So as I hurried to get the last of our children to bed and work on my post, my sweet husband calls to inform me that he is on his way home. 
Sigh. 
I just can't win! 
No worries…he likes to humor me and really should be reading his textbook anyway. 
In my time away, I have noticed a number of my favorite bloggers sharing their favorite smoothie recipes in connection with a blogging event known as Detox January which is being hosted by Nicola, the G-Free Mom over on her site.  While I am not part of this event, I certainly felt inspired to share my favorite smoothie recipe as this fits right in with my New Year, New Me resolution. 
This recipe is not only delicious; it is smooth, creamy, vegan and loaded with fruits and vegetables. 
Leafy greens to be exact.
Huh?
🙂 
Funny thing is…there seems to be a trend towards including greens in smoothies (just look at the number of green smoothies already posted for Detox January). 
For me, this is nothing new.  I have been making variations of this smoothie for many years. 
Dubbed the "Rainbow Smoothie" because of the many colors that go into it, I have used anything from green beans to kale to satisfy the need for something green in this recipe.  The version I am sharing today has spinach in it, mainly because it is what I had on hand…but I assure you, it is just as good, just as creamy with any number of leafy greens in its place. 
Even better…once mixed, this smoothie renders a beautiful shade of purple. (See)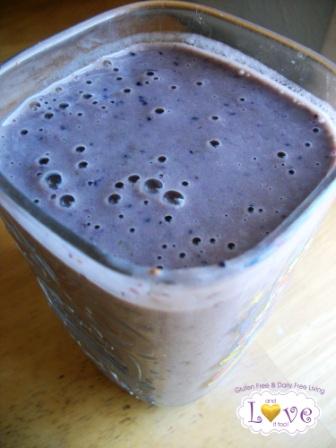 My husband, as wonderful as he is, felt it necessary to correct me on a couple of items…
While I see mango as a light shade of orange, he tells me it is yellow.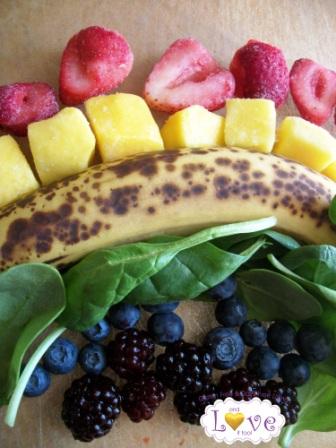 I guess you could use oranges, but I have always used frozen mango for this drink and can tell you, it is worth a smudge in the color chart.
Oh, and the banana…of course the peel is yellow, but he is correct in saying that the fruit itself is truly white.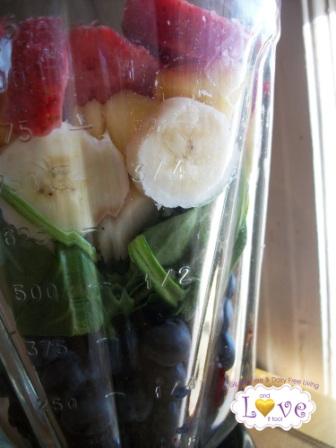 Sigh.
Regardless if you see the Rainbow of colors in this drink the same way I do, no doubt you will enjoy every last sip!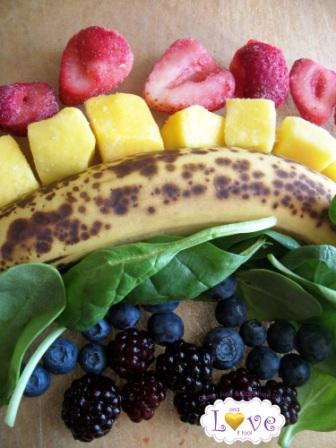 Rainbow Smoothie
Red- ½ c Frozen Sliced Strawberries
Orange- ½ c Frozen Diced Mango
Yellow- 1 Whole Ripe Banana, peeled and sliced
Green- 1 c Well Packed Spinach (Kale or Greenbeans)
Blue- ½ c Blueberries
Purple- ½ c Blackberries
3 heaping Tbs Vegan Protein Powder (I prefer Nutribiotic Rice Protein, Plain)
3 c Non-Dairy Milk (Almond, Rice, Coconut)
Stevia to taste (optional)
Layer fruits and chosen vegetable in blender.  Add in protein powder and non-dairy milk.  Blend on highest setting until completely liquefied.  Taste.  Add stevia (1-3 servings) if desired, blend. 
Makes 3 servings.
It feels great to be back!  I look forward to building this healthy foundation to 2011 together.
Have a great night everyone!