It's officially fall!
Time for all things pumpkin!
From steamers to vegan caramel pecan pumpkin pie in a jar, I've given you many wonderful ways to enjoy this lovely squash.
Today, in true fall fashion, I'd like to share with you what has quickly become a favorite post-workout breakfast for my family and me.
Sweet like pie without all of the sugar, this Paleo Pumpkin Pie 'Oatmeal' is delicious, quick and jam-packed with healthy carbs and gut-healing protein-filled gelatin.  The coconut flakes add an oatmeal-like texture while adding to the healthy fat and fiber content of the meal.
Enjoy!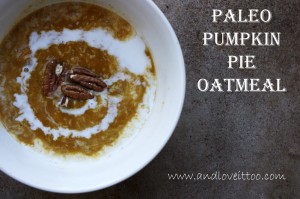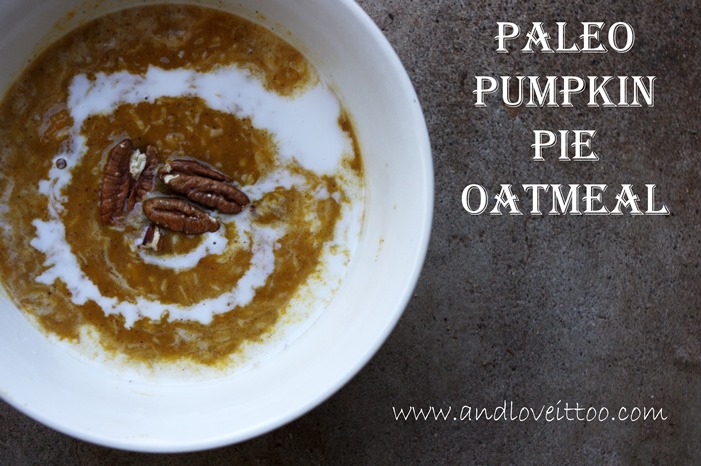 Paleo Pumpkin Pie Oatmeal
Ingredients
2c pumpkin puree (we use homemade)
1 ½ c whole-fat coconut milk + more for drizzle
4 Tbs coconut flakes
2 Tbs coconut flour
2 Tbs unflavored gelatin
2 tsp cinnamon
1 tsp ginger
¼ tsp cloves
¼ tsp cardamom
¼ tsp sea salt
Liquid stevia to taste (we used 10 drops)
Fresh-roasted pecans for garnish (optional)
Instructions
In medium-sized roasting pan, mix together pumpkin, coconut milk, coconut flakes, coconut flour, gelatin, cinnamon, ginger, cloves and cardamom. Allow to cook over medium-high heat until bubbling. Add in salt and stevia, adding more as needed to achieve ideal taste.
Serve warm with additional coconut milk and pecans, if desired.
Refrigerate and store leftovers in air-tight container. Gelatin will cause oatmeal to become more solid but mix will melt when heated.
Makes 4-6 servings
Copyright And Love it, Too! May not be published or duplicated without written permission.
Come join me and the rest of the FoodNetwork Fall Fest bloggers as we celebrate the bounty of the season!

Napa Farmhouse 1885: Thai Pumpkin and Coconut Soup
Red or Green: Pizza with Red Chile Pumpkin Sauce, Black Beans and Fresh Corn
Devour: Easy Pumpkin Cream Sauce
Feed Me Phoebe: Creamy Vegan Pumpkin Soup
Virtually Homemade: Starbuck's Pumpkin Spice Frappuccino
Weelicious: Pumpkin Cinnamon Rolls
The Lemon Bowl: Healthy Baked Mac and Cheese with Pumpkin
The Heritage Cook: Chile-Pumpkin Hummus
Dishing: Pumpkin Browns/ Pumpkin Hash Browns
In Jennie's Kitchen: Pumpkin Scones
Cooking With Elise: Hearty Pumpkin Pasta
And Love It Too: Paleo Pumpkin Pie Oatmeal
Blue Apron Blog: Baked Pumpkin Stuffed with Millet and Caponata
Dishin & Dishes: Pumpkin Pancakes with Maple Cinnamon Pecan Syrup
Domesticate Me: Harvest Pumpkin Soup with Candied Bacon
The Sensitive Epicure: Pumpkin Panna Cotta with Pumpkin Seed Brittle
FN Dish: Cook Pumpkin from the Patch
Taste With The Eyes: Sweet and Spicy Pumpkin Apple Soup with Dried Fruit, Pine Nuts and Ancho Chile
Creative Culinary: Pumpkin Beer Bread with Pumpkin Butter Spread