Welcome to the April Ingredient-Challenge Monday!
As announced yesterday, this month we feature the mouth-watering pineapple as our challenge ingredient.
In spite of its natural sweetness, pineapples are not only low in calories (82 calories per cup of pineapple chunks), they are also a good source of fiber, Vitamin A, Calcium, Iron and Vitamin C.  Most importantly though?  This luscious fruit has a very low glycemic load making it a wonderful way to sweeten almost any dish without the need to add sugar.
The recipe I have to share with you tonight isn't really a recipe.
My husband tells me it is, but there are only two ingredients.
It does come with a few instructions, so I suppose this counts as a recipe…
But it's just so darn easy. And delicious.
In fact, of all the things available at our Easter gathering—cupcakes (from Elana's Pantry none the less), deviled eggs, paleo pizza, veggies, fruits, etc… it was these delicious little bites that won the crowd over.
I have seen pineapple bacon bites floating through the web, yet every recipe I have come across require sugar to be added.
Why?
Pineapple is naturally sweet, and when you cook them pineapple caramelizes into one beautifully candy-like divinity.
It is important to use fresh pineapple for these bites.  The canned stuff just doesn't hold up.  Trust me, it is worth every last bite.
Without further adieu, I am happy to open this Ingredient-Challenge Monday with this simply delicious almost not a recipe, recipe.
Enjoy!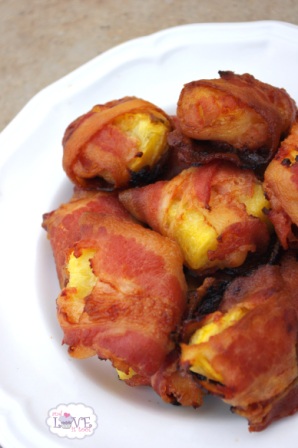 Ingredients
¼ Fresh Pineapple, skin removed
1 package (12 oz) high-quality nitrate free bacon (quality makes all the difference)
Instructions
Pre-heat oven to 425f.
Prepare pineapple by slicing into 1-inch by ½ inch cubes, or would that be a prism? Oh, shucks… cut your slices into 1-inch by 1-inch squares that are ½ inch in depth. This seems to be the ideal wrapping size.
Wrap one entire slice of bacon around each pineapple cube.
Lay each bacon-wrapped pineapple on to parchment-lined cookie sheet with the bacon-flap side down.
Bake at 425f for approximately 30 minutes or until bacon is perfectly brown.
Remove pineapple bites from pan and allow to cool on paper towel lined plate, allowing the bacon to crisp and the drippings to dry.
Serve warm.
Makes approximately 13-14 bites.
Copyright And Love it, Too! May not be published or duplicated without written permission.
🙂 Now, what is your favorite way to enjoy pineapple?
Link up your favorite recipes by 11:59pm April 23, 2012 for your chance to be featured on the next ICM Challenge-Ingredient Announcement.
Don't have a blog?  You still have a chance to enter!
Simply leave your recipe in a comment below for your equal-opportunity entry.
Please note that all entries must be linked back to this post and must feature pineapple as a key ingredient. In order for my family to taste-test, your recipe must also be gluten-free and dairy-free…so please make sure your recipe falls under these requirements as well.
We look forward to seeing all of your pineapple goodness!
Happy Ingredient-Challenge Monday!