Can you believe tomorrow is the second Monday of April?
Do you know what that means?
That means tomorrow is Ingredient Challenge Monday (ICM)!!
🙂 Yay!
Last month we featured healthy Kale, such a diverse and delicious vegetable, it was difficult to select a winner from the entries we received.
And while every entry was positively wonderful (yes, we did try them all!), the one that captured my attention and changed my children's view of cooked greens was among one of the easiest recipes received.
This Sautéed Kale with Caramelized Onions not only works well with Kale, it is delicious when used with Spinach and even Beet Greens.
In fact, we used the big beautiful greens that topped the dozens of beets purchased at our local famer's market with this recipe to enjoy with our Easter Dinner.
They were perfect.
Originally shared by Tessa The Domestic Diva, I have no doubt you'll enjoy this versatile recipe as much as we have.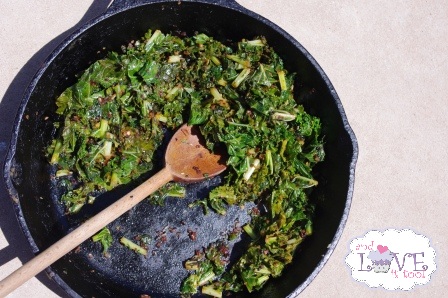 Sauteed Kale w/Caramelized Onions from Tessa the Domestic Diva
2-3 Tbs Olive Oil
1 Onion, halved and sliced thinly (I used yellow, but red would be a delicious choice as well!)
1 head Kale, washed and thinly sliced
1-2 Tbs Water
Salt to taste
1 Tbs Apple Cider Vinegar (optional)
1 tsp Red Pepper Flakes (optional)
Preheat large skillet over medium heat.  Add the oil and heat gently. Add the onion, stir to coat with oil, then turn the heat to low and sauté for 10-15 minutes, stirring occasionally. This slow cooking over low heat sweetens the onions. You know they're ready when you taste one…no pungent onion flavor, just luscious sweetness!  Add the kale on top along w/ 1-2 tablespoons water. Increase the meat to medium and cover. Steam the kale for about 5-10 minutes until the kale is wilted and tender. Remove the lid and stir to incorporate the onions. Add some salt to taste. Sprinkle in the vinegar and pepper flakes and sauté another minute or two to evaporate any leftover moisture…Taste and adjust seasonings. Try not to eat the whole batch all to yourself!
Thank you, Tessa for your wonderful entries and your willingness to share this recipe at our challenge!
Now, I have no doubt each of you are biting at the bit to find out who won the Well Fed Giveaway…
Thanks to Random.org for helping me narrow down the winner to, Kim L!
kim L
Submitted on 2012/04/01 at 12:49 pm
sounds like a great book, can't wait to download and try these recipes!~
Congratulations, Kim!  Please e-mail me your address and telephone number at: andloveittoo (at) gmail (dot) com, Melissa and I will make certain you receive your copy as quickly as possible!
Last but not least…are you ready for the next Ingredient Challenge Monday?? Ready for your chance to be featured here as well??
This month we will be featuring the wonderfully sweet, perfectly tangy Pineapple.
So break out your best pineapple recipes and meet me back here tomorrow night to link in your own delicious pineapple dishes.
Happy Easter!!