This post was originally written for the Celiacs in the House, In My Gluten-Free Kitchen event. Wendy has done a lovely job of compiling a tremendous list of gluten-free bloggers who have been kind enough to let us in their kitchen.  Many live in a completely gluten-free home like mine, and many live in a shared kitchen where the struggle to keep cross contamination to a minimum is a daily reality.
When you have a chance, be sure to stop by Celiacs in the House to see some amazing kitchens from gluten-free bloggers all over the globe.
For now, I hope you enjoy this "peek" into the heart of my home…In My Gluten-Free Kitchen.
________________________________________________________________________
In my home there are five children, one husband and a busy busy wife/mommy/teacher/taxi driver who does her best to feed her family safe foods that are delicious and healthy, too.
I wish I could say I had the perfect kitchen.
I don't.
But what I do have is a kitchen that is constantly in motion, big enough to fit my entire family without stepping on each other's toes, but small enough not to feel overwhelming.
Now that school is out, this is what an average lunch time view of my kitchen is: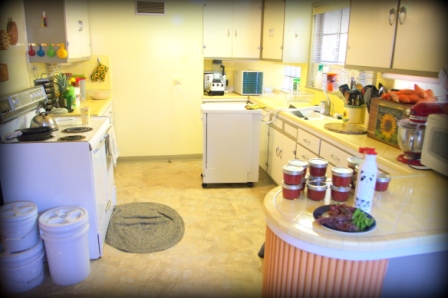 The charming 1950's cabinets, stove and yellow tile are all original to the house. The stove works perfectly and I simply adore the classic features this frigidare model offers.  In the front right-half of the photo, you may notice several jars, which is typical as I usually have some sort of canning project going on this time of the year; and in front of that is my water bottle and lunch.  While I insist that my family and I eat dinner together, especially during the summer, lunch is a time where we are usually all scattered about and I am lucky to get in a nibble of anything.  But I do eat.
Behind all of that you probably noticed a big white box hooked up to our sink.
Yes, this is our dishwasher.  No, we do not have one installed. No, this is not a full-sized portable model…it is half-sized at best, but we make due.  What doesn't go in there gets hand-washed by my children.  For us, it works.
On the counters you will find items I use several times a week, if not daily.  My vita-mix, George Foreman grill and dehydrator are in constant use and fit nicely over in this back corner.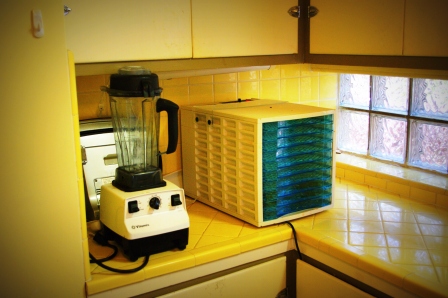 My larger counter holds my utensil canisters, a sunflower box filled with jars of various seeds and nuts, vegetables, mixer and microwave.  This is my prep area, storage area and often acts as our family serving area as well.  Truly, this is the most used counter in the home.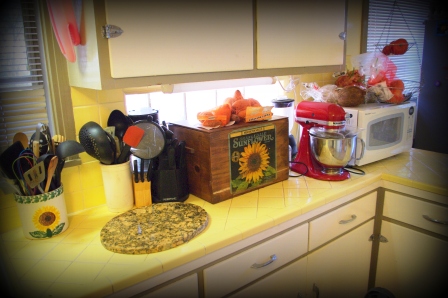 Behind this large counter is our newest appliance, a very well needed 31-cubic foot French-door refrigerator.  While my home is 100% gluten-free, we do live with dairy and non-dairy eaters and always have milk on hand for both.  As you will see, there are lots of fruits and vegetables, pre-made meals and planned-overs, homemade butters, ketchup, mayonnaise and more…most of them stored in mason jars, many stored in recycled canisters which once held more traditional store-bought versions of the same item (like the ketchup over to the right).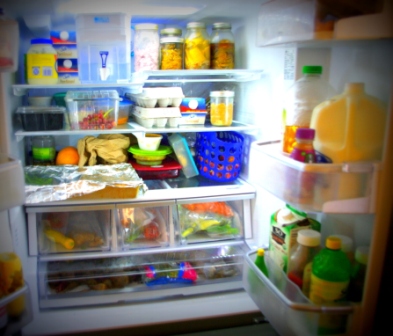 Facing back towards the main part of my kitchen, off to the left is the entry way into my dining room.  Yes, those are jello molds on the wall behind my stove. No, I am not 90. Heck, I'm barely one-third of that.  I have a 1950's kitchen, what do you expect? My jello molds fit in fine where they are.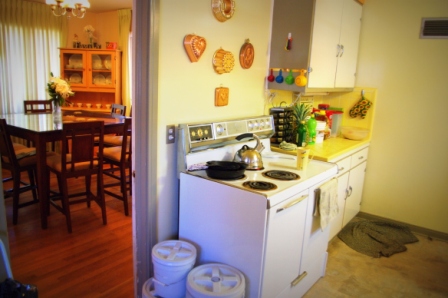 In our dining room, along with our table, china cabinet and built-in hutch, we have what I call our fruit counter.  Here you can usually find apples, pears and bananas.  Seasonal fruit like watermelons are on hand throughout the summer, and before this picture was taken I had that bottom bowl filled with big, beautiful grapes.  It looks like little hands got a hold of them before I could take the picture, but that's okay…we make these items accessible for our kids and they know they can snack on these without any complaint from mom.  It sure beats cookies and candy, doesn't it? 😉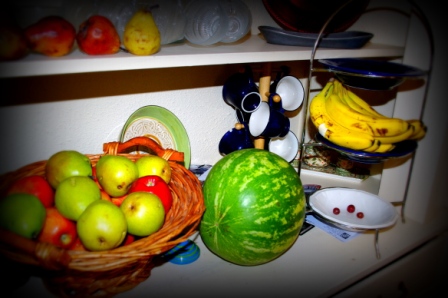 Outside we have one of the more important areas of my gluten-free kitchen…my garden.  Being early June, many of my plants are just now starting to grow.  While some of them look a little frumpy in this 100+ degree heat, they perk up in the evening when the air is moist and the weather is cool.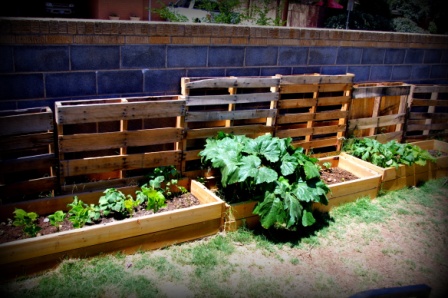 Most importantly, several of these plants are already producing.  This little garden will provide enough fully organic fruits and vegetables to save my family hundreds throughout the year.  I can't imagine feeding my family any other way.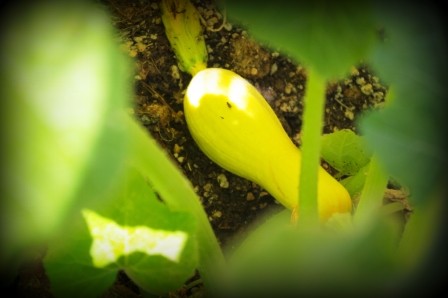 Back inside and downstairs in my basement; we are blessed to have a ginormous pantry which holds our precious food storage, full-sized freezer, canning, decorating, food storage equipment and more.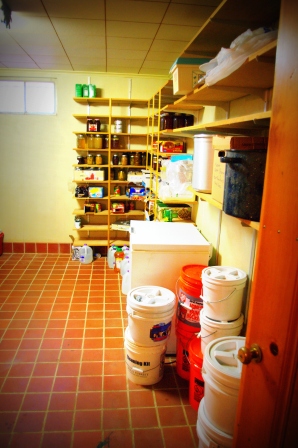 You may have noticed the large grey buckets in the kitchen as well.  Given the size of my family, I buy most everything in bulk.  Lined with BPA free food safe storage liners, these grey buckets hold things like almond flour, coconut flakes, etc. I can't imagine trying to store enough food for my family without them.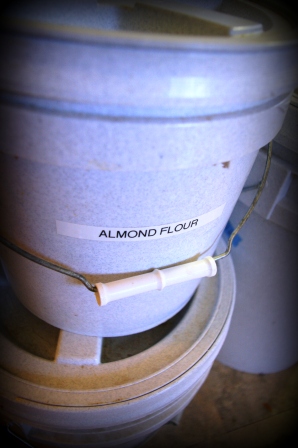 The shelves in my pantry are filled with all kinds of canned goods.  Dozens of jars filled with homemade broth, fruit sweetened jams and preserves, pickles and still room for more.  I love this space!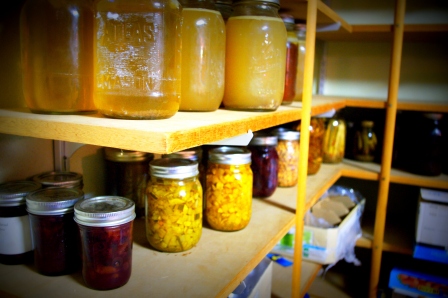 There you have it.  My perfectly imperfect kitchen.  Filled with love, laughter, delicious food and the center of all things good…everything I could ever hope for.
Maybe not so imperfect after all.