When preparing school lunches for children with allergies or food sensitivities, most moms (myself included) stay focused on keeping the food we send with our children as "normal" looking as possible.
There are times though, where sending our kids with something 'outside of the box' is just what they need.
I shared my recipe for Vegan Pesto with Kale several months ago.  This pesto remains one of my all-time favorite dishes.  The perfect complement to gluten-free pasta, a beautiful dip for fresh vegetables, a delicious mix-in for your quinoa, or even use as a coating for your own chicken or tofu dish; this beautiful, rich and creamy pesto sauce is a recipe you undoubtedly will enjoy time and
time again.
This week, Food Network Summer Fest has offered a new challenge to their bloggers…the fantabulous tomato!
Alright.  Now you are asking what on earth does pesto or school lunches have to do with tomatoes?
Well…before I go there; let's talk about food memories for a moment.
Tell me about your favorite meal.
How did it become your favorite meal?
What memories do you have associated with that meal?  Are they happy? Inspiring?
Close your eyes and think about it for a moment.  When your mouth begins to water, come back to me and let's talk.
Now that you have had a moment…how real is that memory for you?  Is it true that your favorite meal is your favorite, not just because it tastes really really good, but also because you have some happy memory associated it with?
My creations are often linked with specific food memories.  I like to create foods that evoke happiness, usually happiness associated with someone who once brought joy into my life by sitting down to a meal with me.
Food memories.
By re-creating this food, I hope in turn to evoke happy memories for all those with whom I share, and thereby create new happy food memories for those near and far.
The dish I share with you tonight is by no means unique in that regard.
True, it may not be something you personally have had before…but the food memories associated with this dish are strong for me.
My Aunt Teena, the same aunt mentioned in my Organic Bread and Butter Pickle Recipe, is at the heart and soul of this recipe. (Food memories)
Several years ago, my Aunt Teena came to me with a jar of pesto sauce and a jar of tomato basil sauce, told me to combine them and make some bruchetta for the family reunion dinner we were having that night.
I remember thinking she was nuts.
I mean, seriously…pesto is great on its own.  Tomato and basil with a little olive oil is all you need for a good bruchetta, right?  Why would I combine the two?
But, I did it.
Aunt Teena may have had some different ideas, but she was a darn good cook.  And you know what?  I loved her creation.
Somehow, the marriage of the thick, hearty tomato basil sauce with the smooth, creamy pesto was exactly what we needed.
For whatever reason, my memory of particular family reunion meal was brought forth the moment I saw tomatoes on the Food Network Summer Fest list.
I knew I had to re-create my aunt's dish…
But what about school lunches?
Here is where thinking outside of the box comes in handy.
Do you know how tired students get of the same ole same ole? There comes a point where many kids simply stop eating their lunch all-together.   Seriously.
When your child is the one who walks in with something completely different but amazingly delicious on a regular basis, other children take notice.  When your gluten-free, dairy-free creations are better than what everyone else is having, well…imagine the boost in confidence your child will experience.
This is one of those lunches that will turn the tides for a child with special dietary requirements.
This is one of those lunches that even the most junk-food loving student will look at and want to take part in.
This is a meal worth sending our kids to school with.
No, your child will not be eating what everyone is eating when you send this dish…but you know what?
Maybe that is just what they need.
May you find as much enjoyment in this beautiful creation as we have.
Enjoy!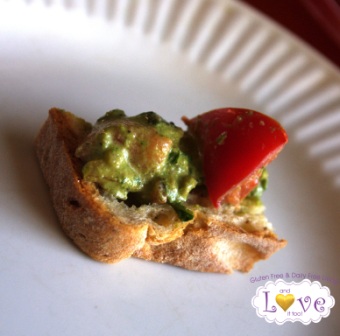 Garlic Tomato Basil & Pesto Bruchetta (Vegan, Gluten Free, Dairy Free)
1 batch Vegan Basil Pesto with Kale
2 ½ lbs Vine-Ripe Tomatoes, diced
2 oz Basil, chopped
1 ½ TBS Minced Garlic
Crispy, Toasted Gluten-Free Bread (like Elana's Paleo Bread, or UDI's Whole-Grain Gluten Free Bread)
Prepare pesto according to recipe directions, refrigerate until ready to use.  Prepare all other ingredients.  In large mixing bowl, combine tomato, basil and garlic. Let sit for approximately 20 minutes.
Drain any juice from the tomato mix and gently fold in prepared pesto.
Serve over crisp, toasted gluten-free bread.
Makes 10 generous servings.
To use in your healthy lunchbox, simply pack up a couple of slices of crisp toast in one container (I like to slice mine into quarters for easy, bite sized chunks), and the sauce in another.  Send your student with a spoon and let them create their own bruchetta at school. 🙂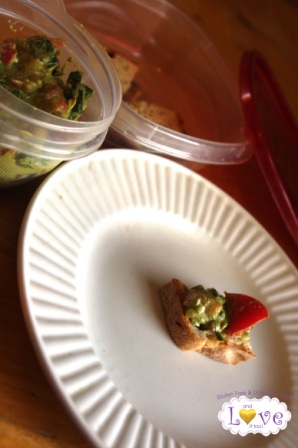 Wait!
Don't just stop there!
This sauce is also great over pasta (which is easily packed up for school lunches)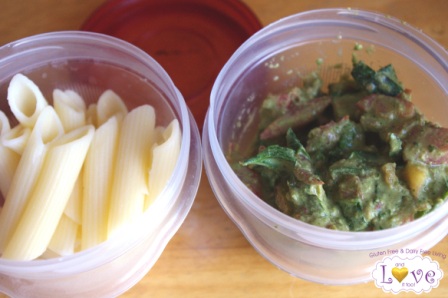 Or even try it with chicken and a side of your favorite gluten-free crackers!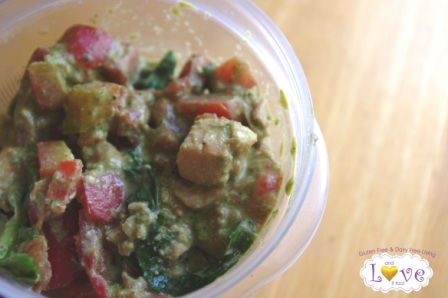 🙂 Get creative with this sauce, your children will thank you!
Need more ideas? Simply click on the Healthy Lunchbox tag over there >>>> and visit each and every beautiful guest-post I have been honored to feature so far.
More tips and fantastic bloggers are coming your way!
Thank you for stopping by.
Happy school days to you. xo
Be sure to visit the other Food Network Summer Fest Tomato Recipes! So many delightful ways to enjoy this beautiful fruit.
Big Girls Small Kitchen: Seared Chicken with Cherry Tomato Pan Sauce
Haute Apple Pie: Heirloom Tomato & Three Cheese Tart
What's Gaby Cooking: Zebra Tomato and Burrata Crostini
Zaika Zabardast: Balsamic Roasted Tomato-Basil Ice
And Love It Too: Healthy Lunchbox – Garlic Tomato Basil Pesto Bruchetta
Chez Us: Roasted Tomato Sauce
Daily*Dishin: Refreshing and Rustic – Tuscan Bread Salad
Glory Foods: Fresh Tomato Salsa
Dishin and Dishes: Tomato Tart Tatin
The Purple Cook: Eggplant Parmesan Caprese Salad
I Am Mommy: Tomato Crudite
Cooking With My Kid: Gluten-Free White Bean Chive Cakes with Heirloom Tomatoes
FN Dish: Easy Tomato Appetizers
Add a Pinch: Simple Caprese Salad Skewers
Sweet Life Bake: Salsa Cruda
Virtually Homemade: Farfalle with Roasted Tomato Sauce, Bacon and Shaved Romano
Dixie Chik Cooks: Tomato, Basil and Olive Bruschetta
The Sensitive Epicure: Yemista – Greek Stuffed Tomatoes & Peppers with Potatoes
Mooshu Jenne: Sun Burst Tomato Pasta
Napa Farmhouse 1885: Book Club, Tomatoes and a Recipe for Chicken Provençal?
Cooking With Elise: Tomato Parmesan Biscuits
From My Corner of Saratoga: Cooking from the Garden – Bruschetta Pizza
Fritos and Foie Gras: Tomato Terrine
Creative Culinary: Fresh and Savory Tomato Pie
Big Apple Nosh: Caprese Salad/Tomato Carnage
Spices and Aroma: Quick and Easy Paneer Curry
Zaika Zabardast: Sun-Dried Tomato Pesto Breakfast Rolls