Before I became a blogger, Lexie's Kitchen was one of the sites I visited most often.  Not only are her recipes family friendly, her story, the fact that her family began their journey towards a whole food, helth-centric lifestyle because of her child seemed all too familiar.
Frankly, if it weren't for my daughter being diagnosed at 17 months old with a severe dairy allergy, I would still be food naive.It's because of my daughter that I engulfed myself in nutrition education, and because of the belief I gained and the education earned regarding the power of food, I was able to recognize when my youngest was having negative reactions to food I was eating while she was being nursed. It was because of this awareness when my own illness became too much that I told my doctor I needed to go on an elimination diet, which inevitably lead to me pushing to be tested for Celiac.  And it was because of all of this that when my son who was on medication for ADD tested positive for glaucoma at 11 years old, I knew it was time to change his path, too. Finally, because of all of this he too has been able to heal. 18 months later, he is not completely out of the hole, but while he is at risk he is no longer testing positive for glaucoma.
And it all started with one child…
So when I reached out to Lexie to see if she would be interested in sharing her tips for packing a healthy lunchbox with you, I as thrilled hear her response! After reading her post, I know you'll be just as thankful as I am that she said yes.
Thank you for joining us, Lexie! xo
________________________________________________________
It's a treat to be here at And Love It Too. Thanks for having me Sunny!
Today I am giving you a peek into my kids' lunch boxes and the home lunch packing "system" that works for us.
I have to say that I admire—and totally envy—moms with bento box super powers (like these). And what about those mamma's whose kiddos gobble down collard wraps and zucchini kabobs? All hail!
I'll admit, the lunches I pack may not be the cutest and could be a tad more nutritionally dense, but I've loosened up a bit. Getting it perfect was stressing me out waaaayyy too much. So I cut myself some slack. I figure I've got breakfast and dinner to load my kids up on green smoothies and quality protein. For lunch, if I can meet these three criteria, I'm happy:
Lunch will include fresh fruit and vegetables—fresh produce should be a part of every meal. I want my kids to lean that at a young age.
Lunch will include a treat—like a piece of dark chocolate, fruit leather or a healthy cookie wrapped in gold foil—to make lunch special and combat any feelings of "how come I can't eat what the other kids eat."
Lunch will be eaten. I try to strike a balance between healthy and tasty. What's the point of packing food the kids won't eat? I want my kids to be focused and have energy at school, not zoned out in the corner because they didn't eat lunch … because they didn't like it.
Before school started I sat down with my kids and we made a list of the foods they like for lunch (we are gluten-, dairy-, egg- and nut-free). The list we compiled is taped to the fridge and provides me with quick inspiration when I'm too tired to think. At the top of this list are quesadillas—PB&J, pizza, and turkey.
Lunchbox Quesadillas
Quesadillas are great finger food and easy to make gluten-free, dairy-free, and egg-free. And when you think outside the box (or the tortilla), you can come up with some pretty tasty variations.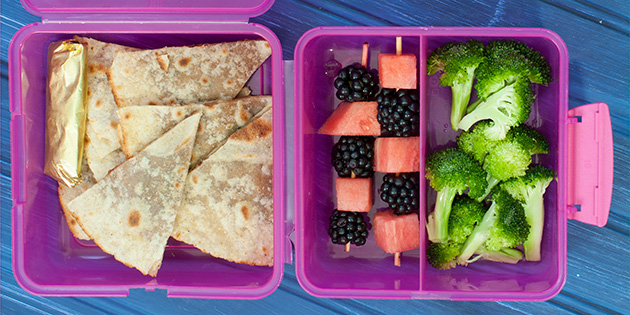 THE TORTILLA
Quesadillas start with tortillas. The two brands we use are Food For Life and Rudi's. Food for Life Brown Rice Tortillas contain minimal ingredients and are thick and stout. Rudi's new line of tortillas come in three flavors, Plain, Spinach, and Fiesta. They are the closest thing I've found to white flour tortillas and work fabulously well for wraps. If you'd like to make your own, here is a tasty recipe.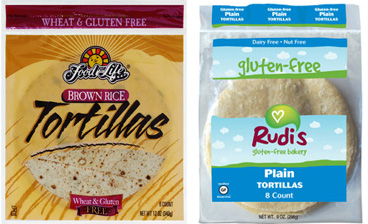 THE FILLINGS
Pizza Quesadillas: Pizza Sauce, Applegate Pepperoni, Black Olives, and Daiya or Galaxy Vegan Style Shreds.
PB&J Quesadillas: Sunbutter sunflower seed spread and your favorite jam.
Turkey Quesadillas: A dab of Veganaise and yellow mustard, Applegate organic roasted turkey breast, and Daiya or Galaxy Vegan Style Shreds.
THE PREPARATION
Layer filling between two tortillas and heat in skillet with a little oil until tortillas begin to brown and crisp up. Slice into wedges.
Our Lunchbox "System"
Finally, a lunch packing "system" that works for us.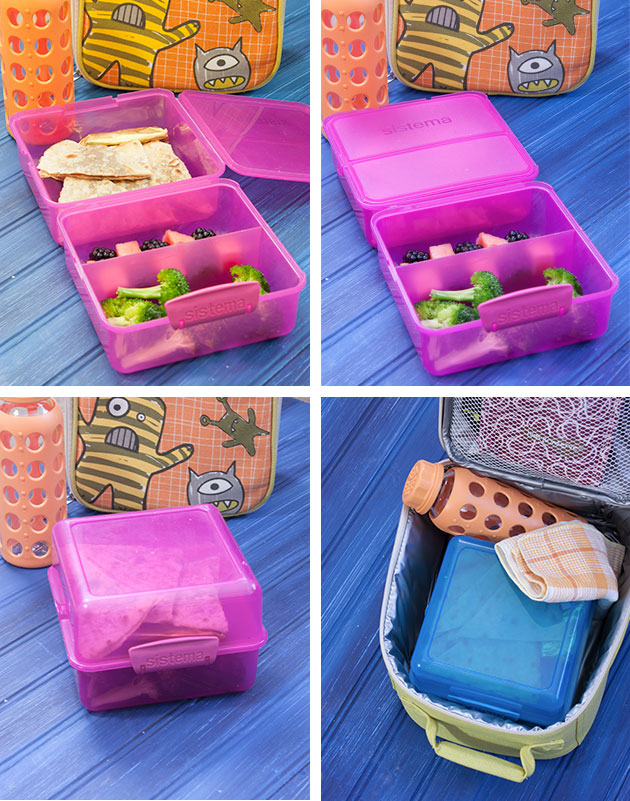 The Sugarbooger Zippee! Lunch Tote line has been a proven winner. It is BPA, phthalate, lead and PVC-free and meets or exceeds U.S., Canadian and European safety standards. They come in a bunch of cute motifs and are priced right. They are insulted to keep food cool and are easily washed by hand or in the washer.
Into the lunch tote I goes:
The food—neatly compartmentalized in a Sistema Klip It Lunch Cube
Herbal tea or water in a 9-ounce LifeFactory Glass Beverage Bottle
An ice pack to keep everything cool (I like this one this one)
A napkin and, of course, a little love note!