Janet from The Taste Space- Steam, Bake, Boil, Shake  is a regular contributor to my monthly challenge, otherwise known as Ingredient Challenge Monday and since I try every recipe entered into the challenge, I am very familiar with how delicious her recipes are.
Imagine my excitement when Janet volunteered to join in on this year's Healthy Lunchbox series!
As always, her recipe does not disappoint. 
Beautiful, simple and easy to transport…this is a salad fit for a queen (or king).
xo
___________________________________________________________________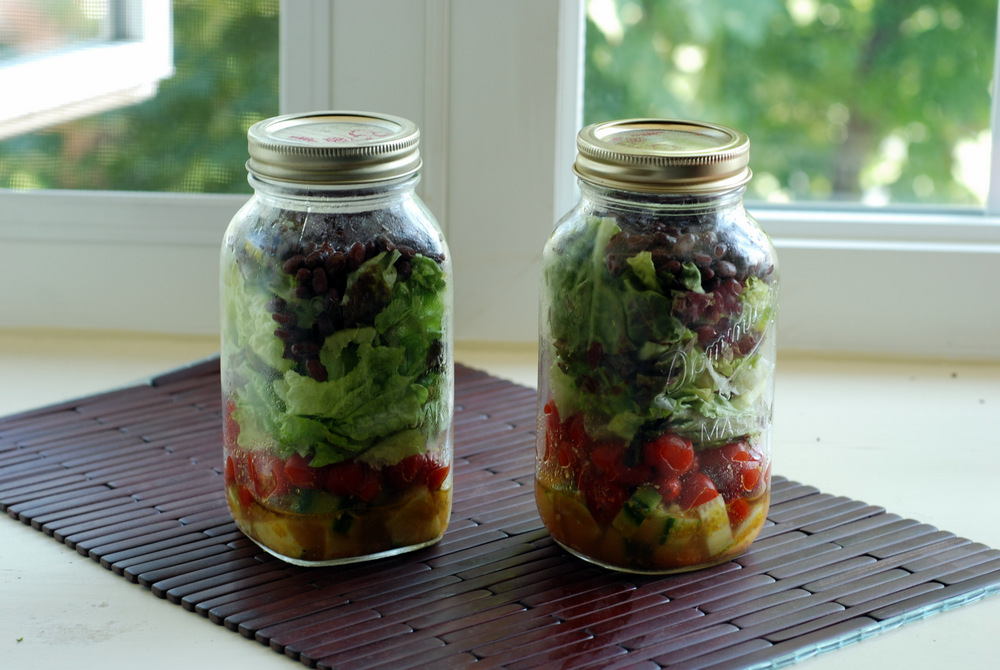 First of all, let me say I am not envious that Sunny needs to make 7 lunches to go every.single.day. I can barely put together my own lunch sometimes, but have figured out a few tricks to make portable, tasty lunch eats. I am so excited that Sunny invited me to join her for this year's Health Lunch Box Series.
I am no stranger to Mason jars, as they line my pantry filled with beans, grains and dried fruit. I have also converted my morning chocolate protein oatmeal to single-servings pre-portioned into smaller Mason jars.  I add a bit of water, throw the oatmeal in the microwave for 2 minutes, top with my toppings of the day and off I go.
In the morning, while rushing out to the gym, I might have 30-45 minutes where I munch on some fruit, drink some tea (if I am lucky) and gather my breakfast and lunch for the road.
Sometimes I have all the right intentions for eating salads, but come morning, the last thing I want to do is rinse and spin my greens and chop some veggies.
My newest solution? Spend some time to make a bunch of salads to go. This is where the taller Mason jars work really well: you can add your dressing to the bottom, place your favourite veggies on the bottom, where they can marinate until you munch through your salad. You want enough veggies so that your layer of greens do not mix with the dressing. After that, though, you can pack in your greens. Next, top with more delicate ingredients that you want to spare early dressing intervention: nuts, seeds, dried fruit, etc. This is also where I will put my beans and cooked grains, because I don't like it when they absorb too much dressing. Once lunch arrives, I turn the jar upside down and shake away! A long fork helps to eat through the monster salad.
I used to bring my salad greens, dressing and toppings all separately to work, but this is much more simple. Just grab and go!
I have made this a few times already and the salads have still been great after 3 days after I made them.. and I hear they are still good after 5 days, too.
I have included a basic salad recipe below, but do not hesitate to use it as a template to create your own portable Salad in a Jar. I am now on a mission to try even more dressings, since this is an easy and healthy lunch. The dressing below is really nice, too, with a perfect blend of lemon, ginger and a hint of sweet paprika. Please share with me your own favourite salad dressing.
Here are a few of my other favourite salads:
Strawberry, Avocado and Mint Salad with a Chocolate Balsamic Vinaigrette
Strawberry and Roasted Chickpea Salad with a Cinnamon Vinaigrette
Blackberry, Avocado and Walnut Salad with a Ginger Lime Vinaigrette
Asparagus Pecan Quinoa Salad with a Maple-Mustard Dressing
Quinoa and Chickpea Salad with a Balsamic-Tahini Dressing
Roasted Beet, Orange and Brown Rice Salad with an Orange Sesame Vinaigrette
Pomegranate-Lime Asparagus Quinoa Salad
Moroccan Barley and Pea Shoot Salad with an Orange-Cinnamon Dressing
Black Bean, Apricot and Spinach Salad with a Mango-Ginger Dressing
Mexican Chopped Salad with a Creamy Tomato Dressing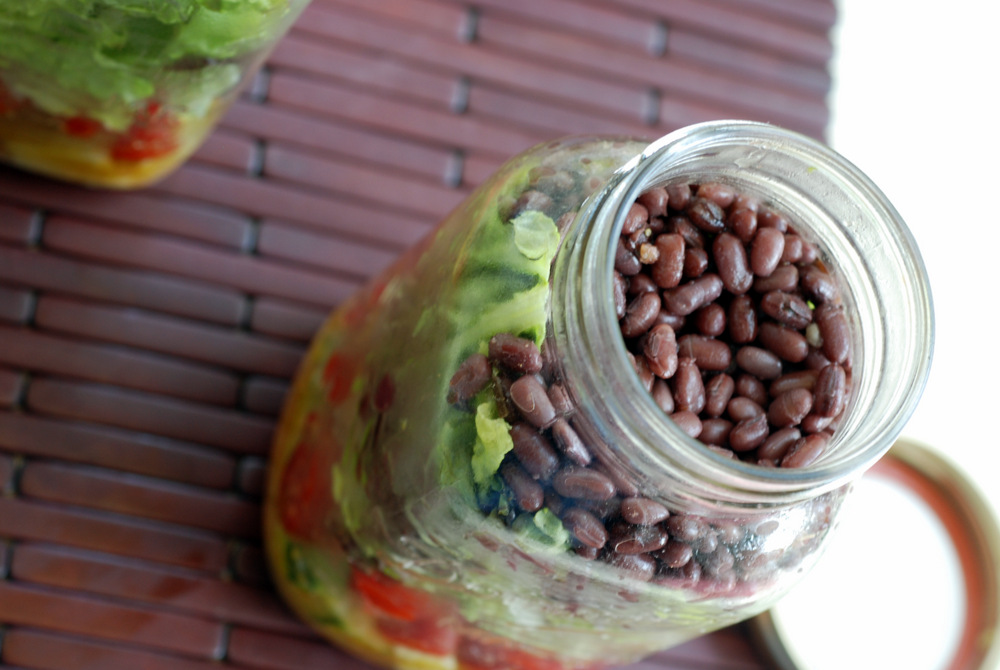 Salad in a Jar (with a Topaz Dragon Ginger Dressing)
Adapted from Healthy Happy Life
1.5 tbsp Topaz Dragon Ginger Dressing (see below)
1/2 cup chopped cucumber
1/2 cup cherry tomatoes, halved (or veggies of choice)
1/2 head red lettuce, torn into bite-size pieces (or greens of choice)
1/4 cup cooked adzuki beans (or beans/grains of choice)
(other toppings – chopped nuts, seeds, dried fruit, etc)
1. Layer your salad with the dressing on the bottom, then the cucumber, tomatoes, lettuce and finally the beans.
2. Store in the refrigerator until ready to eat. Then shake well and eat with a long fork!
Serves 1.
Topaz Dragon Ginger Dressing
Adapted from Rawesomely Vegan!
2 tbsp water
2 tsp agave, or your choice of sweetener
1 tsp lemon zest (I used 1 lemon)
1 tsp minced ginger
1/4 tsp salt
1/4 tsp onion granules
1/4 tsp ground ginger
1/4 tsp ground black pepper, to to taste (I used less)
1/4 tsp sweet Hungarian paprika
1/4 cup fresh lemon juice
2 tbsp flax oil (or oil of choice)
1. Add all ingredients together and mix well. Store in an air-tight container in the fridge and mix well prior to serving.
Makes 1/2 cup.