When grown in the proper environment, zucchini plants can easily produce several dozen squash per plant.   Because zucchini flourishes in an organic environment; preserves well as a frozen vegetable and pickles well, zucchini is often a top choice for home-growers.
Throughout growing season, my husband often asks: "Do you have to put zucchini in everything??"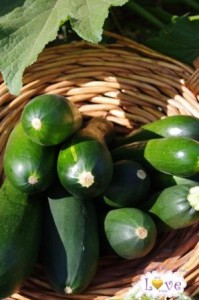 Wellllllll….
I love zucchini in frittata, spaghetti, salad, bread, omelets, meatloaf, lasagna, muffins, shepherd's pie, cake and now, I love zucchini in my brownies, too.
So yes, maybe I do have to put zucchini in everything. 🙂
But you know what?  He doesn't really seem to mind…especially since he doesn't always know what I have included this fabulous vegetable in. 
As I mentioned on Friday, 1 cup of raw zucchini has only 20 calories yet is rich in Vitamin A and C, as well as a good resource for calcium and iron.  As a great filler, food extender and a fantastic way to turn baked goods into magnificent moist masterpieces, why wouldn't you want to use this beautiful green vegetable in everything?
For this Ingredient-Challenge Monday, I am proud to share these delicious zucchini brownies with you.  High in protein, no refined sugars, free of grains and vegan; nutritionally speaking, these brownies are something any parent would be proud to serve their family.
Not your typical brownie, these decadent desserts are so rich and moist, they must be eaten with a fork. 
 My eldest child, who often cringes at the number of veggies included on his dinner plate, gave these "200 thumbs up." 
I wonder though, would he feel the same way if he knew that he just received a heavy dose of vegetables in his dessert? 😉
Doesn't really matter…I am happy to make these time and time again, and given the response received from my husband, MIL and children…I have no doubt they will be happy to devour these time and time again.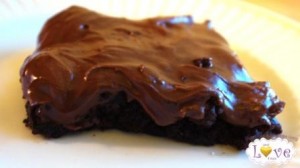 Enjoy!
Zucchini Brownies (Gluten-Free, Casein-Free, Refined Sugar-Free, Grain-Free, Vegan)
½ c Coconut Oil, melted over low heat
1 c Agave Nectar
1 tsp Vanilla
½ c Coconut Flour
½ c Unsweetened Cocoa Powder
1 ½ tsp Baking Soda
1 ½ tsp Natural Sea Salt
2 c Shredded Zucchini
½ c Chopped Pecans or Walnuts
Frosting:
6 Tbs Unsweetened Cocoa Powder
¼ c Coconut Oil, melted over low heat
1 ½ c Arrowroot Powder
¾ c Unsweetened Non-Dairy Milk (Coconut, Almond), divided
½ tsp Vanilla
Pre-heat oven to 350f.  Prepare 9×13 baking pan by generously greasing with coconut oil and dusting with arrowroot powder.  In medium mixing bowl, whisk together melted coconut oil, agave nectar and vanilla.  Set aside.  In large mixing bowl, combine coconut flour, unsweetened cocoa powder, baking soda and natural sea salt.  Combine wet ingredients into dry ingredients, mix well.  Fold in shredded zucchini and pecans or walnuts. 
Bake for 25-30 minutes until a toothpick, when inserted, comes out clean.
Prepare frosting by first blending cocoa powder and melted coconut oil.  Using a hand blender, mix in arrowroot powder, palm sugar and ¼ c non-dairy milk and vanilla.  Once combined, continue to slowly add milk, ¼ c at a time, until desired texture is achieved.  Set frosting aside until after brownies have cooled completely.
Frost brownies immediately prior to serving.
Be sure to visit Shea over at Dixie Chik Cooks to see what masterpiece she has created for this week's challenge. 
We look forward to seeing your zucchini creations as well!  Please link up by 6/19/2011 and do not hesitate to include the blog-hop link on your page so your viewers can more easily follow all challenge recipes.
Have a great week! Xo