When it was decided that this week's Ingredient-Challenge Monday would feature tofu as the secret ingredient, I must admit I was a bit hesitant. 
Don't get me wrong, I have eaten tofu many times in the past.  I have had it fried, enjoyed it in soup, used it in smoothies, etc… I have no doubt there are one thousand and one ways to eat tofu.
But in recent years, my family and I have done all we can to keep our exposure to soy at a minimum. 
Yes, we use tamari soy sauce on occasion (as featured in last week's recipe: Chinese Orange Sauce), but when I say on occasion, I mean less than once a month…
That being said, there are many great reasons to enjoy soy, but it is important that (as with anything), you do so within reason…everything in moderation, right?  For more information, here is a great article regarding the ups and downs of soy.
Back to the challenge…
In scratching my brain as to what I should do for the challenge that laid ahead, I sought the insight of my readers…so many great ideas, so many ways to put this challenge to good use.  Then a new Facebook follower, Amy Yoggev from The Balanced Belly, mentioned tofu chocolate mousse. 
Mmmmmm…chocolate.
Thus, my entire thought process for what to do in this week's challenge changed direction. 
Heck, anything for chocolate, right? 😉
This minty-rich recipe is the perfect high-protein, low sugar and non-fat dessert, and takes only minutes to make.
Enjoy!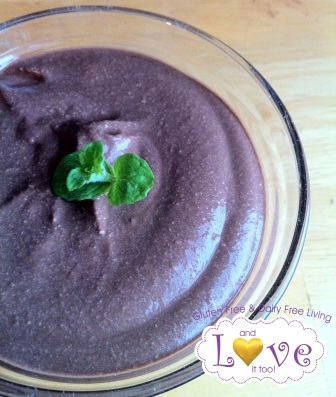 Vegan Tofu Mint Chocolate Mousse
1 lb Firm or Silken Tofu (I used firm, silken will be a little creamier, firm is a bit thicker)
½ c Coco Powder
½ tsp Peppermint Extract
1 tsp Vanilla Extract
7 tbs Agave Nectar
½ c Original, Unsweetened Non-Dairy Milk (Almond, Coconut, Soy)
Mix all ingredients in food processor or blender until smooth.  Serve chilled.
Yeilds 4 servings.
Please keep in mind that my post is a bit early (I do my best to avoid delays, with tomorrow being a work day and all…), early tomorrow, though, the remaining contenders of Ingredient-Challenge Monday will be sharing their tofu ingenuity as well.  Be sure to visit and have a magnificent week!
xoxo
From the Little Yellow Kitchen