I have no doubt that you are looking at the title of this post and are wondering "What in the world are Turnip Pancakes?"
Have you ever had a Potato Pancake?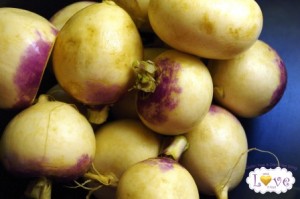 Turnip Pancakes are a lot like that…only, turnips have fewer calories than potatoes.
Significantly fewer calories.
Turnips have more Fiber, Calcium and Vitamin C than potatoes, yet they are lower in carbohydrates by nearly 40%.
Rich in nutrients with a highly unique flavor…turnips are a fantastic addition to most any meal.
Eat them raw, you will notice they bite like a radish.
Cook them; they closely resemble potatoes with a peppery twist.
The flavors in these Turnip Pancakes rival any potato pancake recipe you can find.  The natural tang from the turnips themselves add a level of flavor found nowhere else.
Top these with the traditional apple sauce and replace sour cream with rich and creamy  Plain Greek Style Coconut Milk Yogurt, you have a delicious, naturally Gluten-Free and Dairy-Free dish that is sure to please everyone you serve.
Enjoy!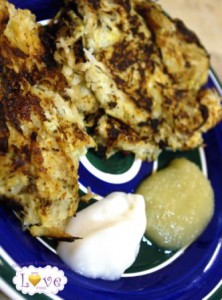 Turnip Pancakes
4 c Shredded Turnips (about 5 small-medium)
1 Medium Yellow Onion, shredded
½  Tbs Herbs de Province
½ Tbs Powdered Garlic
½  tsp Salt
2 Eggs, whisked
2 Tbs Olive Oil
In large bowl, combine turnips, onion, herbs de province, garlic and salt.  Add in whisked eggs, stirring to ensure even coat throughout.
In large skillet, add olive oil and bring to fry point.  Use a wooden spoon to measure out heaping table spoons of turnip mixture onto skillet. Flatten to approximately ¼ inch.  Cook until both sides have browned and pancake is warm throughout.
Serve with apple sauce and non-dairy plain Greek yogurt, if desired.
Enjoy!
Serves 4
🙂 Don't forget to place your vote for your favorite Food Allergy Blogs of 2011 over at The Circle of Mom's.  It would be an honor to have you vote for me! xoxo
Finally, be sure visit these other Turnip inspired Food Network Fall Fest posts for more fantastic ideas!
The Sensitive Epicure: Roasted Turnips With Olive Oil and Rosemary
Virtually Homemade: Turnip Gratin With Parmesan and Nutmeg
Napa Farmhouse 1885: Turnips, Really?
Purple Cook: Vegetable Biryani With Turnips
Glory Foods: Turnip Greens With Potatoes and Mushrooms
Big Girls Small Kitchen: Creamed Turnips With Their Greens
FN Dish: Simply Roasted Turnips