I love this time of the year!
As summer draws to a close, fall produce intermingles with the last of the summer harvest. It is a great time to incorporate your favorite year-round vegetables in new and exciting ways.
It is also the time that everyone seems to be gearing up for all things pumpkin. I know I am!
That being said, there is one vegetable that plays a close second to pumpkin and is easily found year round… Sweet potato!
High in Vitamin A, energy-rich good carbs, sweet potatoes can be found on our table at least once or twice weekly.
This Sweet Potato Soufflé is my Paleo/ACD twist on an old favorite.
Using pre-cooked sweet potatoes makes this dish go together quickly. With a 15 minute prep time and a 30-45 minute cook time, this dish is the perfect solution for a not-too-sweet dessert or a great early morning breakfast dish! However you choose to enjoy this, I hope your family loves this as much as my family does.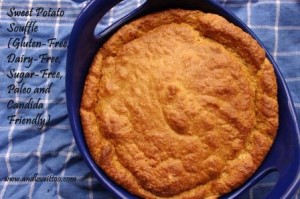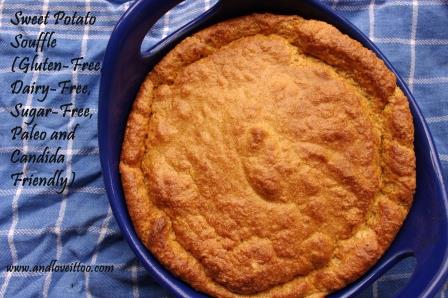 Sweet Potato Souffle (Gluten-Free, Dairy-Free, Sugar-Free, Paleo, ACD)
Ingredients
Sweet Potato Mash

2 small-medium sweet or 1 large sweet potato, cooked and skins removed
1 Tbs coconut oil
3-4 Tbs whole-fat canned coconut milk
Salt and Pepper to taste
Sweet Potato Soufflé

1 Tbs coconut oil, plus more for soufflé dish
2 Tbs tapioca flour
½ c whole-fat canned coconut milk
1 c sweet potato mash
5 large eggs, room temperature and separated
30-40 drops liquid stevia
2 tsp pure vanilla extract
½ tsp ground nutmeg
Pinch of salt
Instructions
Preheat oven to 375f.
In a medium mixing bowl, mash together sweet potato and 1 tbs coconut oil. Slowly add in canned coconut milk until potatoes are creamy and smooth but not liquidy. Add in salt and pepper to taste. Measure and make certain that there is enough mash to equal one cup. If not, add in more cooked sweet potato until it mix equals 1 cup. I do find that two small-medium or one large sweet potato gives me plenty to work with though.
To make soufflé, in medium saucepan over medium heat, cook tapioca flour and coconut oil until lightly golden, whisking the entire time. Gradually whisk in coconut milk and remove from heat. Mix in sweet potato mash and egg yolks, mix until smooth. Stir in stevia, vanilla extract and nutmeg. Set aside.
Using an electric hand or stand mixer, beat egg whites with a pinch of salt until stiff peaks form. Whisk ¼ whites into sweet potato mixture. Using a rubber spatula, gently fold in the remainder of the whites. Pour mixture into prepared dish and place on a rimmed baking sheet.
Bake until puffed, approximately 30-45 minutes.
Serve immediately.
Makes 4-6 servings.
Copyright And Love it, Too! May not be published or duplicated without written permission.
Please join the other Summer Fest FoodNetwork Bloggers as we celebrate this last post of the season!
Blue Apron Blog: Red, Orange, Purple and White: Your Guide to the Potato Rainbow
The Heritage Cook: Fully Loaded Green Chile Potato Skins
Devour: 5 Ways to Prepare Sweet Potatoes
Feed Me Phoebe: Basque Tuna Stew with Peppers and Potatoes
Weelicious: Broccoli Cheese Patties
Domesticate Me: Potato Rosti with Pancetta and Mozzarella
The Sensitive Epicure: Salt Encrusted New Potatoes with Mustard-Mayo Dip
Napa Farmhouse 1885: Sweet Potato and Russet Pancakes with Chipotle Mayo
Red or Green: Roasted Sweet Potato Fries
And Love It Too: Sweet Potato Souffle
Taste With The Eyes: Ensalada de Papas a la Huancaina (Peruvian-Style Salad with Potato Cake, Egg and Yellow Chile)
FN Dish: Ease Out of Summer with Potatoes
What's Gaby Cooking: Parmesan Roasted Potatoes
Dishin & Dishes: Southern Green Beans and New Potatoes