When Shea (aka Dixie Chik Cooks) and I agreed that lemon would be the Ingredient Challenge for this week, my mind started wandering. 
I love lemon.  Lemon bars, lemon meringue, mint lemon julep (sans alcohol), lemon mint cake, lemonade, strawberry lemonade, raspberry lemonade, lemony citrus shortcake cookies, mmmm strawberry lemon cupcakes…so many ways to use this versatile fruit! 
It wasn't until I caught wind of the blogging event being hosted by Brittany over at Real Sustenance, April in the Raw ,that I became determined to perfect a recipe I had been toying with for a while. 
It took several attempts to get this just right.  My kids didn't mind being my guinea pigs, mind you (just look at that face peering over the dish, she can't wait to have a taste!)…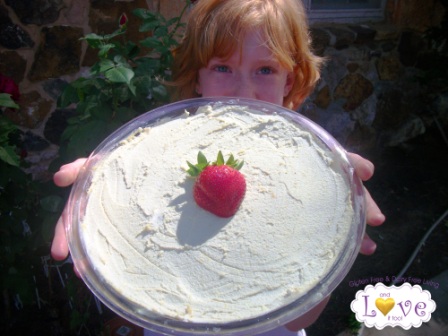 I just feel bad that when I felt I had finally nailed it well enough to share at the Boy Scout dessert auction/fundraiser held this past weekend, the winning family instead received something subpar.
Mama Howell, if you happen to come across this…I promise, I will bring this piece of perfection with me to Easter dinner!  You deserve another taste. 🙂
This Raw Vegan Lemon Cheesecake uses stevia to sweeten the tart lemons, making this dessert reminiscent of old fashioned, fresh squeezed lemonade.  By using the whole lemon, not just the zest and the juice, we increase the nutrients and fiber of the entire recipe. 
All in all, this dessert is as rich as it is nutritional.   Because there is no baking involved, once your cashews have soaked for the appropriate amount of time, the entire dish takes a mere 15 minutes to put together.
With all the taste and texture of traditional cheesecake, those who are lucky enough to have you share this with will scarcely miss the dairy and graham of the traditional version.   
Enjoy!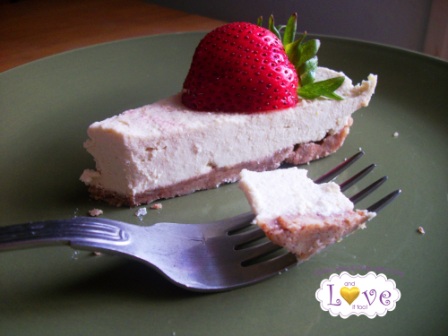 Sugar-Free Raw Vegan Lemon Cheesecake
"Cheese" Filling
3c Raw Cashews, soaked 5-8 hours
2 Whole Lemons, quartered, seeds removed, zest/peel in tact
¼ tsp Stevia Powder (or more to taste)
¼ tsp Natural Sea Salt
¼ c  Coconut Oil
6 Tbs Lemon Juice
Crust
1 ½ c Almond Flour
¼ c Coconut Oil
1 Tbs Cinnamon
Zest from ½ Lemon
Lemon juice, just enough to make crust moist
Prepare crust, mixing all ingredients together except the lemon juice.  Once fully incorporated, add just enough juice to allow the mix to stick together.  The texture should be dryer than cookie dough, wetter than cookie crumbs. 
Press mix into the base of a 9-inch pie or spring form pan, leaving just enough crust to cover half way up the sides.
Prepare filling by first blending down the lemon, rinds and all, as creamy as you can get them.  Add coconut oil, stevia and salt, blend until smooth.  Add in cashews, while in motion, slowly add in lemon juice 1 Tbs at a time until all 6 Tbs have been incorporated, taste and add more stevia if desired (1/4 tsp was perfect for us) . Continue to blend on high speed until the mix resembles cream cheese. 
Using a spatula, slowly pour filling over prepared crust and smooth down to ensure an even fill.  Allow to chill 15-20 minutes before serving.
Makes 1-9inch pie
This pie is great alone or paired with your favorite berries. 
Now that you have taken a moment to relish this wonderfully tantalizing treat, be sure to visit Dixie Chik for a fantastic Lemon-Arugula Pesto recipe!  I cannot wait to try this with my own Parmesan Cheeze—which is the only 'tweak' needed to make her dish dairy-free (it is naturally gluten-free already!).  Beautiful job, Shea!
Have a great week everyone!
This recipe is also linked to: Seasonal Sundays  and Gluten-Free Cat