I believe the best way to sabotage something like an elimination diet, especially one that you must be on for health reasons, is to forbid yourself the ability to enjoy a treat every now and then.
Especially when you are 9.
The process of eliminating Candida has not only brought my daughter and I to a new level of health, it has brought us closer in the kitchen.
We have learned to enjoy food on a new level.
She is beginning to find the sweetness in simple ingredients.
And we are learning a new love for the occasional bit of stevia.
Of all the no-calorie sweeteners on the market, natural or artificial, only green stevia is allowed on the Paleolithic Candida Protocol.
This natural sweetener is highly potent and even my youngest child has learned that just the tiniest bit will do.
Among the 100+ degree days here in West Texas, the thing my daughter and I have missed the most is ice cream.
Creamy, sweet, luscious ice cream.
While these fudgesicles are not quite ice cream, the way they coat your tongue with chocolaty goodness makes them every bit as delicious as the ice cream we desire without all of the work.
Filled with healthy fats and absolutely no sugar, we hope that you enjoy these popsicles as much as we do!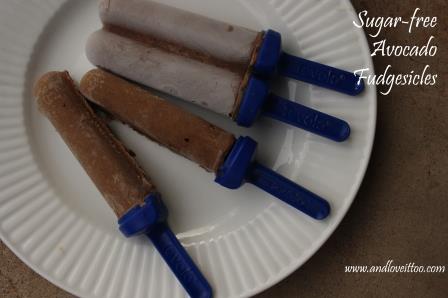 Sugar-Free Avocado Fudgesicles (ACD, Paleo, Vegan, Raw, Sugar-Free, Dairy-Free, Gluten-Free)
Ingredients
2 Ripe Avocados
½ c Raw Cacao Powder
½ c Water
½ can Whole-Fat Coconut Milk
¼ tsp Sea Salt
Stevia to taste
Instructions
Place all ingredients in blender and blend until smooth, pudding-like texture. Pour into popsicle molds, tapping to remove any air bubbles. Freeze for approximately 8 hours.
On the off chance you have any fudgy goodness leftover, feel free to eat it up! This makes a good pudding as well.
Makes 8 small popsicles or 4 large.
Copyright And Love it, Too! May not be published or duplicated without written permission.