I have some of the greatest friends in the universe.
Really.
So when my beautiful friend Shea from Dixie Chik Cooks asked if I wanted to participate in the Kitchenaid's Pass the Plate event through BeBetsy, I did not hesitate to say 'yes!' even before I knew exactly what it was.
What I have learned since is that this wonderful event not only encourages friends to share with friends, but every time one of these lovely plates is registered and passed, Kitchenaid will donate $5 to Susan G. Koman for the Cure ®.
I've yet to meet a woman who has not been touched, in some way by this disease.
For me? My dear great-grandmother, to whom I was extremely close, passed away during her second battle with breast cancer. Two of my aunts have fought and won their battle against the disease. Numerous friends and their family members have also battled this disease, some battles won, some battles lost.
…And the day Shea contacted me, one of my students came to me in tears after learning that her mother was just diagnosed, for a second time, with breast cancer; four years after she had been given a clean bill of health.
Yes, breast cancer touches us all.
So what do you do when offered such a great gift to benefit such a great cause?
Well you make some amazing cookies of course!
One dozen of these macaroons have been sent, along with the Cook for the Cure plate to my friend Heather, the Gluten-Free Cat.  I have no doubt that Heather will find the most perfect way to share the plate from here…
Like little cakes melting in your mouth, these macaroons are sure to delight anyone you chose to share them with! Filled with cancer-fighting ingredients, no doubt these cookies are the perfect way to pass this message on.
xoxo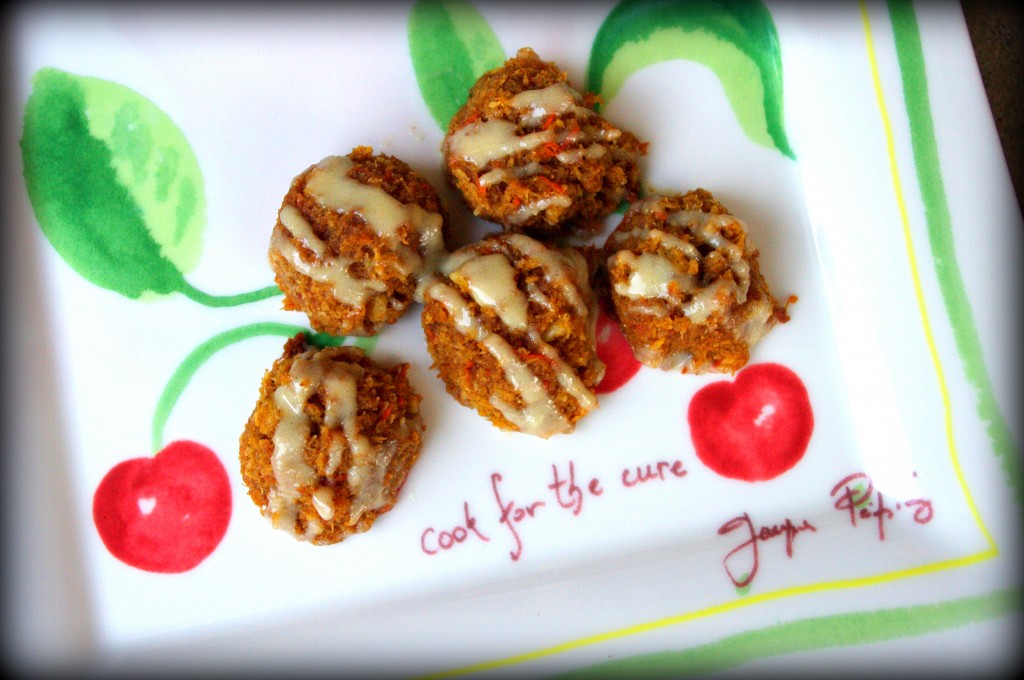 Vegan Carrot Cake Coconut Macaroons with Maple Cream Glaze
Ingredients
Macaroons

2c shredded, unsweetened coconut
1 ¼ c canned coconut milk (whole fat)
½ c finely grated carrots
½ c chopped walnuts
½ c maple syrup (honey works well, too)
2 Tbs coconut flour
2 tsp ground cinnamon
½ tsp ground ginger
½ tsp vanilla extract
1/8 tsp nutmeg
1/8 tsp salt
Maple Cream Glaze

½ c raw cashews, soaked 1-3 hours
3 Tbs canned coconut milk
¼ c maple syrup
¼ c arrowroot powder
Instructions
Preheat oven to 360f.
Using stand mixer, combine shredded coconut, 1 ¼ c coconut milk, carrots, walnuts, ½ c maple syrup, coconut flour, cinnamon, ginger, vanilla extract, nutmeg and salt.
Scoop macaroon mixture by the tablespoon onto parchment-lined cookie sheets. Bake for 18-20 minutes or until the top is lightly golden while the middle is still soft. Allow cookies to cool completely on the sheet.
Prepare Maple Cream Glaze by draining soaked cashews and placing them in your blender. Add in remaining coconut milk, maple syrup and arrowroot powder. Blend until completely liquefied and transfer to pastry bag. Cut a very small hole at the end of the pastry bag, drizzle glaze over the cookies, using a zig-zag pattern to create the look you desire. Store cookies in an air-tight container at room temperature for 48-72 hours or refrigerate for up to 1 week.
Makes approximately 36 cookies.
Copyright And Love it, Too! May not be published or duplicated without written permission.
Need more creative carrot concoctions? Check in with my fellow FoodNetwork Fall Festies for more great ideas!xoxo
Feed Me Phoebe: Root Vegetable and Black Bean Chili
Napa Farmhouse 1885: Roasted Carrots With Chile and Agave
Haute Apple Pie: Healthy Carrot Cake Muffins
Virtually Homemade: The Silver Palate's Carrot Orange Soup
From My Corner of Saratoga: Copper Pennies aka Glazed Carrots
The Heritage Cook: Maple Roasted Carrots, Apples and Onions
Made By Michelle: Carrots and Caramelized Onions
Thursday Night Dinner: Braised Carrots
HGTV Gardens: Garden-to-Table: Carrots
FN Dish: Best Carrot Sides for Thanksgiving