Baba Ghanouj (Baba Ghanoush) is a naturally gluten-free, dairy-free Middle Eastern dish that is typically served with pita bread and/or vegetables.
In our battle against Candida, I have found that dips and sauces have become more important to our daily routine.
First, kids love to dip their food.
Last night we had roasted cod fish, steamed broccoli and smashed cayenne sweet potatoes.  When I looked over at my 7 year old, she was dipping her cod fish and broccoli into her sweet potatoes. Giving her a slightly odd look she simply stated "What? This makes a really great dip, too!"
Meh. She was enjoying her food…right?
Second, when looking at new and exciting ways to introduce exciting flavors or simply make the act of eating vegetables more exciting…dips are the perfect way to do so.
This recipe includes both roasted and raw garlic for two reasons…#1, the roasted garlic gives the overall dip a smooth, creamy taste and feel while the raw garlic ensures that extra 'bite' one would look for in baba ghanouj; #2, while garlic's antimicrobial properties are fantastic at fighting bacteria, viruses and fungi (it is one of the top candida-fighters out there), heating the garlic destroys the allicin which provides all of this anti-candida magic.  So, we've chosen to use both…and it is positively delicious!
Whatever reason you choose to enjoy this recipe, we hope it brings you happiness and health.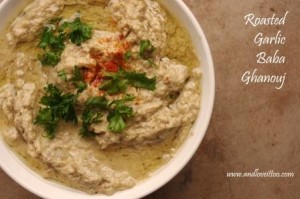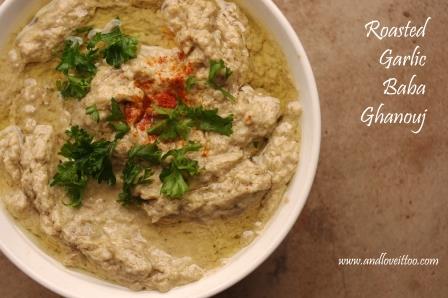 Roasted Garlic Baba Ghanouj (Candida-Friendly, ACD, Gluten-Free, Dairy-Free, Paleo, Vegan)
Ingredients
2lbs Eggplant
1 medium-large garlic bulb
4-5 Tbs Coconut Oil
2-3 Tbs Roasted Tahini
1-2 Fresh Garlic Cloves, minced
1 tsp Ground Cumin
Fresh Squeezed Lemon Juice from 1 lemon
Salt and Cayenne Pepper to taste
Extra Virgin Olive Oil to drizzle
1 Tbs Chopped Parsley for garnish
Instructions
Preheat oven to 400f.
Prepare eggplants by cutting in half lengthwise and brushing the sides with coconut oil. Place on a baking sheet, cut side down and roast until very tender.
Prepare garlic by peeling away the outer layers of the garlic bulb skin while leaving the individual cloves intact. Cut ¼ to ½ inch off the top of the cloves to expose the individual cloves of garlic. Wrap cloves in parchment-lined aluminum foil, drizzling a couple of teaspoons of coconut oil over each head while using your fingers to make sure the garlic head is well coated. Bake until tender.
Both the eggplant and the garlic cloves will take approximately 35-40 minutes to finish.
Remove from oven and allow to cool for 15 minutes.
Scoop the eggplant flesh and roasted garlic into a large bowl and mash well with fork. Combine eggplant and roasted garlic mixture with minced garlic, tahini, cumin, lemon juice, salt and cayenne. Mash until the mixture is smooth but still retains some of the eggplant's texture.
Allow baba ghanouj to cool to room temperature, season with additional lemon juice, salt and cayenne as needed. Drizzle olive oil and sprinkle with fresh chopped parsley before serving.
Serve with celery, cucumber, carrots, etc.
Makes approximately 4-8 servings.
Copyright And Love it, Too! May not be published or duplicated without written permission.
If you are looking for more ways to use your summer bounty of eggplant, be sure to visit these other FoodNetwork Summerfest posts!
Feed Me Phoebe: Grilled Eggplant with Sumac, Capers and Mint
Jeanette's Healthy Living: Eggplant Pepper Mushroom Turkey Sausage Hash
Chez Us: Baba Ghanoush
Taste With The Eyes: Cold Soba Noodles with Eggplant and Mango
Napa Farmhouse 1885: Eggplant Fritter Burgers with Sriracha Chili Mayo
Red or Green: Roasted Eggplant and Tomato Pasta with Spicy Carrot Top/Basil Pesto
Weelicious: Eggplant Parmesan Sticks
Devour: 5 Takes on Grilled Eggplant
The Sensitive Epicure: Szechwan Eggplant
Domesticate Me: Grilled Eggplant with Fresh Mozzarella, Tomatoes and Basil Vinaigrette
And Love It Too: Roasted Garlic Baba Ganouj
FN Dish: Eggplant, No Forks Necessary