I do not eat potatoes often; my body just isn't ready to process that many carbs.
That being said, Thanksgiving only comes once a year and these cheesy, delicious slices are worth a once-a-year indulgence.
One of my favorite Thanksgiving sides, I am pleased to share these with you today.
May your holiday be filled with joy.
xoxo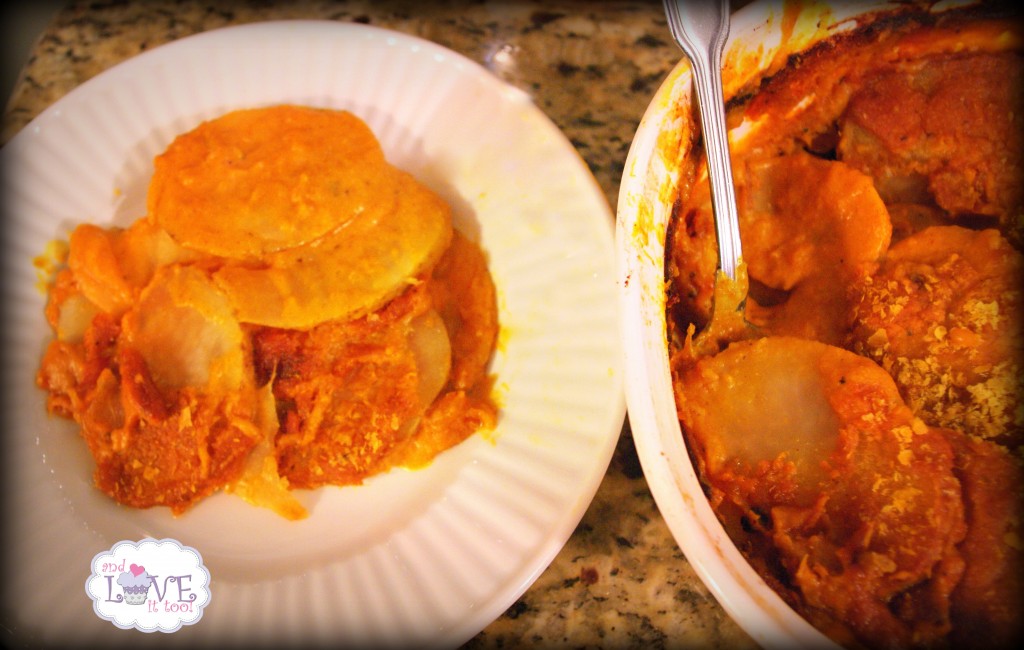 Potatoes au Gratin (Gluten-Free, Dairy-Free, Vegan Option Noted)
Ingredients
2 lbs potatoes, sliced thin
4 slices uncured, hickory smoked bacon*
2c Pumpkin Puree (I use homemade)
1 can Whole-Fat Coconut Milk
¼ c Nutritional Yeast + enough to sprinkle (I use KAL Nutritional Yeast, it's safe, vegan and delicious!)
1 tbs garlic powder
1 tbs onion powder
1 ½ tsp smoked sea salt (I purchase mine at the farmer's market, although this alderwood smoked sea salt is perfect for this dish!)
1 tsp paprika
½ tsp cayenne
Instructions
Preheat oven to 400f. In medium sized sauce pan, cook bacon until crisp. Remove bacon and reserve fat*.
Add in pumpkin puree, coconut milk, ¼ c nutritional yeast, garlic powder, onion powder, smoked sea salt, paprika, and cayenne to sauce pan. Cook over medium-high heat until sauce begins to bubble, remove from heat. Crumble bacon and stir into cheese sauce (optional).
Cover the base of a 2-quart casserole dish with a thin layer of cheese sauce (approximately ¼ of the sauce). Over this, carefully lay 1 layer of thin potato slices (approximately ¼ of the slices), then alternate cheese and potatoes, making sure the top layer is cheese. Sprinkle the top of the casserole with nutritional yeast and place dish in oven.
Bake for 45-50 minutes or until potatoes are fork-tender.
Let sit for 10-15 minutes before serving.
Makes 8-10 servings.
*If opting for a vegan version, replace bacon grease with 2 tbs coconut oil, use smoked paprika and smoked cayenne for an extra-cheesy flavor.
Copyright And Love it, Too! May not be published or duplicated without written permission.
Need more Thanksgiving inspiration?
Be sure to visit my FoodNetwork Fall Fest Friends and their delicious Thanksgiving recipes below:
Feed Me Phoebe: Five Spice Winter Squash Soup
Chez Us: Roasted Brussels Sprouts
Virtually Homemade: Brussels Sprouts Salad With Avocado and a Tangerine Vinaigrette
Napa Farmhouse 1885: Spicy Twice-Baked Sweet Potatoes
Red or Green?: Bolitas Bean Salad
Devour: Thanksgiving Yam and Sweet Potato Sides That Are Almost Desserts
The Heritage Cook: Gluten-Free Thanksgiving Cornbread Stuffing or Dressing
Cooking With Books: Rosemary and Pear Potato Salad
FN Dish: Old School Sweet Potato Soufflé