Hi there!
I know it has been a while but wanted to send a big "thank you" to everyone who has stuck by me and continued to support this site and helped my social media connections to grow, despite an extended time away.
Today, I am sneaking in under the radar to enter one of our family's favorite recipes for the 'Go Ahead Honey, It's Gluten Free' event over at Gluten Free Easily.
If you haven't heard, the founder of Go Ahead Honey, It's Gluten-Free (GAHIGF), Naomi Devlin from Straight Into Bed, Cakefree and Dried, is focusing on grain-free creations. 
Knowing this is right up my alley, I am excited to say that I will be hosting the June GAHIGF event!
What a great way to start back on the gluten-free blogging track!
For now though, Shirley, GFE-Gluten Free Easily, has dedicated May to not only grain-free foods, but also foods that are free of tree nuts or peanuts!
Wow, what a tough combo.
Back in January when I chose to do an auto-immune Whole30 elimination diet, I learned that my body is sensitive to nuts.
Nothing as severe as my reaction to dairy, and certainly not anything on the level of my celiac reaction to gluten; but my skin doesn't like it and my belly churns any time I have eaten more than one or two nuts.
So what is a pecan-loving, pistachio crazy girl supposed to do?
Fortunately, life gives us a head start sometimes.
Last August, while our school was weighing options regarding the level of control we needed to provide for our first ever nut-allergy student; I decided to take proactive steps and send my children with lunches that were naturally nut-free.
Regardless of what the school decided, there was no way I was going to let my kids, or even worse myself, be the one to create an allergic reaction in another student.
Thus, this Paleo/Autoimmune Granola was born.
First shared as an exclusive recipe during a guest-speaking appointment with Shirley's Gluten-Free Support Group, this recipe was the hands-down selection when I asked my kids which recipe I should share during a guest-spot over at Simply Gluten-Free Magazine.
Today, I am overjoyed to share this recipe with you.
Enjoy!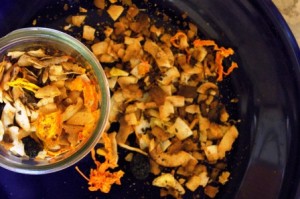 Ingredients
10 oz Unsweetened Coconut Flakes
2 Tbs Ground Cinnamon
1 tsp Ground Cardamom
1 tsp Sea Salt
2 large Carrots, sliced thin
3 c dried fruit (you pick!)
Instructions
Paleo/Autoimmune Granola
Ingredients
10 oz Unsweetened Coconut Flakes
2 Tbs Ground Cinnamon
1 tsp Ground Cardamom
1 tsp Sea Salt
2 large Carrots, sliced thin
3 c dried fruit (you pick!)
Preheat oven to 350f.
Slice carrots thin by using a vegetable peeler. Place on parchment-lined cookie sheets and bake for approximate 30 min, or until crisp. Set aside.
Pan-roast coconut flakes, 1 cup at a time in pre-heated pan over medium high heat, until golden.
In large bowl, mix together roasted carrots, coconut flakes, cinnamon, cardamom, sea salt and dehydrated fruit (I use homemade raisins, dried cherries, blueberries, mango and unsweetened coconut oil-fried banana chips)
Serve ½ c at a time.
Makes approximately 15 servings
http://andloveittoo.com/paleoautoimmune-granola/
See all of the May, 2013 Go Ahead Honey, It's Gluten-Free creations over at: Gluten-Free Easily