Growing up, my stepmother always told me she was a horrible cook.
The thing is, I loved her food.  Simple meals made at home are still homemade meals. Living in the small town that we lived in, there weren't many opportunities to run and grab take-out or fast food and so that meant that we made our food at home. In hind sight, I am forever grateful to have grown up with that reality.
She was the one who introduced me to green bean casserole. I loved every aspect of this dish. The creamy soup mixed with crisp green beans, rounded out with a crunchy zing made possible by the extra French fried onion rings she mixed in.
Green bean casserole quickly became a staple at our Thanksgiving feast. Even the year we chose to forgo the Turkey in favor of Prime Rib and Crab Legs, we still had to have our green bean casserole.
Years later, when my daughter was diagnosed with her milk allergy finding a way to make this dish safe for her was one of the first things I did.
And so green bean casserole remained a staple at our feasts, milk or no milk.
That is until I was diagnosed with Celiac.
You see, to me the best part of green bean casserole actually comes from the French fried onions.
I know these onions in a can are highly processed.
I know they are loaded with awful ingredients we should probably never eat.
But they taste so good!
Because it has taken me so long to find a way to mimic those French fried onions to their glorious perfection, my family has had to go without.
But you know what?
I did it.
I nailed a method for making fried onions that allows them to look, taste and feel like those horrible onions in the can.
Only, there is nothing bad about these.
Heck, they are even fried in healthy coconut oil.
And aren't they beautiful?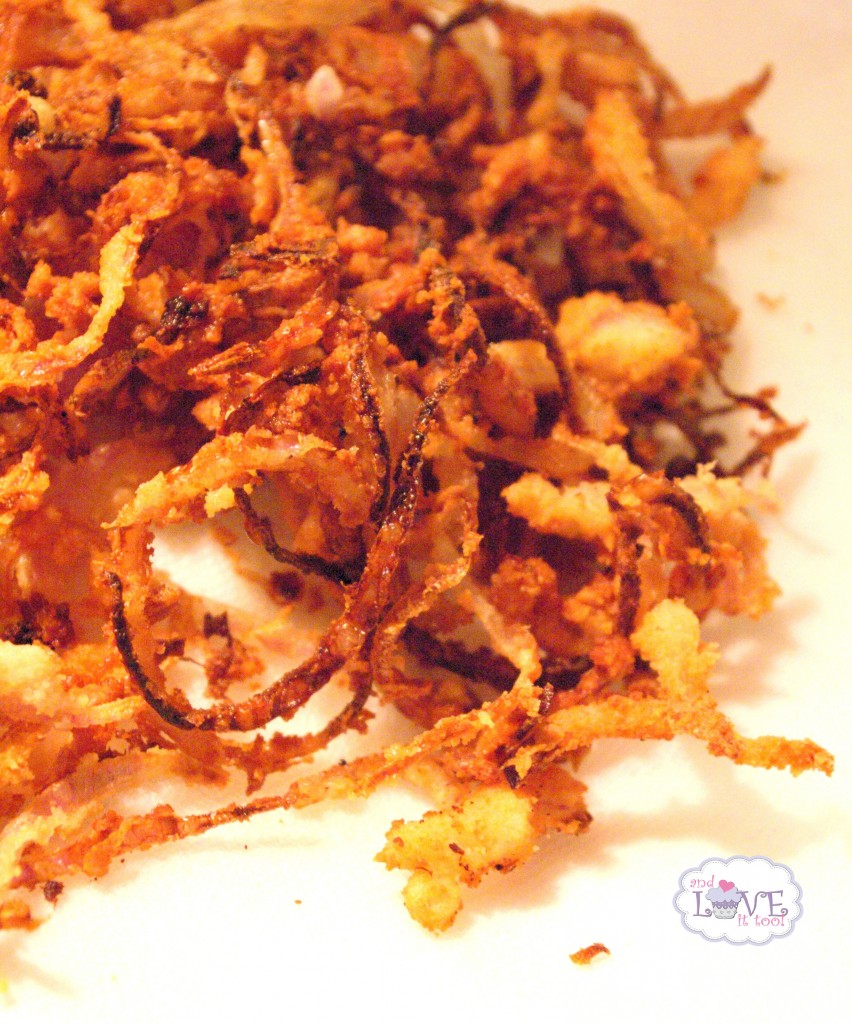 This, my Cream of Mushroom Soup and two pounds of fresh green beans = Paleo Perfection!
Nobody will ever miss the canned stuff.
My contribution to this year's FoodNetwork Thanksgiving Communal Table, I am pleased to share with you this Paleo Green Bean Casserole.
May your holiday memories be filled with joy, laughter and plenty of amazingly good, good-for-you food.
xoxo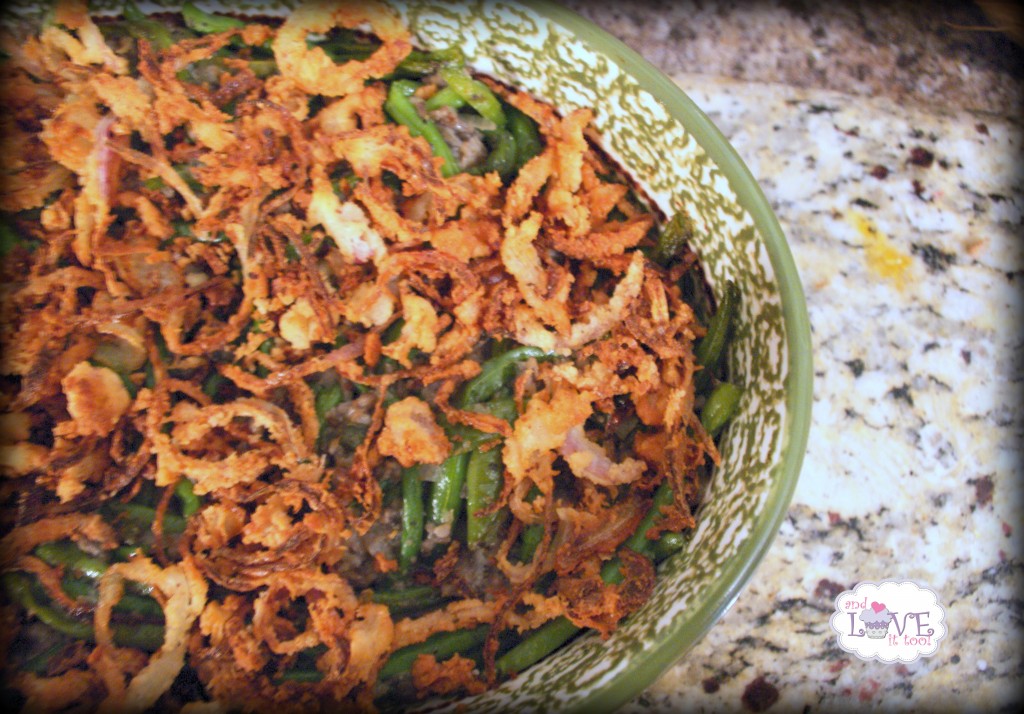 Paleo Green Bean Casserole (Gluten Free, Grain Free, Diary Free, Nut Free, Vegan)
Ingredients
Fried Onions

1 large onion, sliced very thin (I prefer red onions, yellow onions will work as well)
¼ c coconut flour
¼ c arrowroot starch
1 tsp salt
1 c coconut milk
1 c coconut oil for frying
Instructions
Please note that the cream of mushroom soup can be made up to three days in advance and that the fried onions can be made the night before. I'm all about prepping for holiday meals ahead of time…this dish goes together quickly once those two items are prepared.
In large mixing bowl, mix together coconut flour, arrowroot starch and salt, set aside. Pour coconut milk into separate mixing bowl, set aside. Once sliced, separate layers of onions and dredge each layer first through the coconut milk, then through the flour mixture doing your best to ensure even coverage.
Melt coconut oil in large fry pan over medium heat. It is ready for frying when a small piece of onion is dropped into it and the oil bubbles immediately. Fry flour covered onions in small batches, doing your best to keep each ring separate. Use a slotted metal spoon to remove rings once golden. Allow to cool on paper towel lined plate and store at room temperature until ready to use.
To prepare green beans, melt 2 tbs coconut oil in large stir-fry pan and braise the green beans until cooked through.
Using a 2 quart casserole dish, layer ½ green beans, ½ cream of mushroom soup, ½ fried onions. Finish your casserole by layering the remaining green beans, cream of mushroom soup and fried onions, ensuring that the onions cover the top of the casserole evenly. Bake in 400f oven for 15-20 minutes or until heated through and onions are dark gold, not yet brown.
Makes 10-12 servings.
Copyright And Love it, Too! May not be published or duplicated without written permission.
Now pull up a chair and join us as our friends at FoodNetwork team up with the rest of the Fall Fest bloggers to enjoy this amazing Thanksgiving Feast!
Cocktails, Appetizers, Salads and Breads:
Haute Apple Pie: Apple Jack
Cooking With Books: Spiced Couscous and Walnut Salad
Mooshu Jenne: Honey Bacon Potato Pops
Food For My Family: Roasted Beet and Lacinato Kale Salad With Lemon Vinaigrette
Big Girls, Small Kitchen: Super Seeded Cornbread
Main:
FN Dish: Black Pepper-Pomegranate Molasses Glazed Turkey
Sides:
Feed Me Phoebe: Cornbread and Wild Rice Stuffing With Hazelnuts and Cranberries
Napa Farmhouse 1885: Chorizo, Cornbread and Tortilla Dressing
Sweet Life: Apple Chorizo Cornbread Stuffing
And Love It, Too: Paleo Green Bean Casserole
Jeanette's Healthy Living: Sweet Spiced Winter Squash Casserole
Red or Green?: Corn, Peppers and Onion Saute
Simple Bites: Honey Pomegranate Glazed Brussels Sprouts
Virtually Homemade: Fresh Orange and Cranberry Sauce With Toasted Walnuts
What's Gaby Cooking: Sweet Potato Gratin
The Heritage Cook: Cauliflower Gratin
Creative Culinary: Creamy Mushroom Bake With Parmesan and Panko
Bacon and Souffle: Spicy Carnival Squash
Desserts:
I Am Baker: Pumpkin Bars in a Jar
Add a Pinch: Caramel Pie