The past two weeks have posed a difficult challenge for many bloggers.
How can we be expected to share our celebrations or post recipes that reflect the splendor which fills our table, when so many people are suffering such great pain just an ocean away?
Tonight, I will not be sharing a recipe with you.
Tonight, I will not be speaking of the many things that happened in my week. 
Tonight, I will not discuss how busy I am or how crazy my world can be…
Rather, tonight I will share with you a cause that has moved my heart. 
Just yesterday morning, in a brief moment away from my classroom, I noted a conversation happening between two of my favorite bloggers.  In this conversation, an opportunity to join forces and raise monies which will benefit the people of Japan was mentioned.  While my day did not provide me the chance to dig deeper into the opportunity being discussed, I knew whatever it was, if I had the means, I wanted to participate.
It was with urgent delight that I was able to find the event in which these bloggers spoke of.  While my submission is late in the game, Sabrina Modelle, the genius behind The Tomato Tart and this affair, graciously accepted the goodies I will share with you this evening into her event.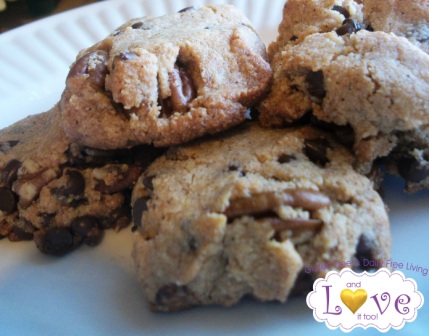 These gluten free, dairy free cookies have won recognition in local baking events where none of the competitors were either gluten free or dairy free.  Most recently, I won the golden spatula using this recipe in a local cook-off where more than a dozen other families shared their best recipes for chocolate chip cookies.
Because these cookies are best served fresh from the oven, what I am actually offering for this bake sale is not the cookie, but the cookie dough itself.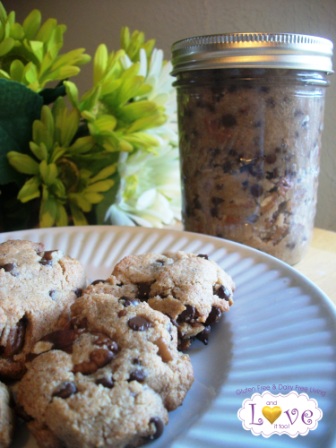 Arriving cold-pack quick ship box, this mason jar will provide you with enough dough to make up to two dozen award winning chocolate chip cookies straight away.  Cooking instructions will be included on the label.
These chocolate chip cookies are not just gluten free and dairy free, they are absolutely vegan, egg free, soy free, corn free and grain free to boot.  Loaded with rich dark chocolate and big beautiful chunks of pecan, these cookies are kissed with the slightest hint of cinnamon and nutmeg.
Ingredients for this award winning cookie recipe include: blanched almond flour, organic coconut oil, organic agave nectar, organic vegan chocolate chips, organic pecans, natural sea salt, baking soda, cinnamon, and nutmeg.
All ingredients are certified gluten free and kosher.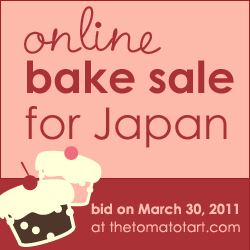 The Bake Sale at the Tomato Tart is an online bake sale featuring more than 90 bloggers, writers, bakers and professional chefs.  Coming from nine different countries on four different continents; this is an event worthy of your attention.
Please be sure to visit Sabrina's site for more information and don't forget to submit your bid this coming Wednesday, March 30, 2011. 
May you find many reasons to share your bounty with those who have suffered most.
Sincerely,
SunnyB