On Wednesday I revealed that my daughter and I have both tested positive for an overgrowth of candida.
While this diagnosis has brought relief and a solid explanation behind her life-long constipation, digestive and kidney issues; as well as understanding and a root cause behind my own thyroid, fatigue, weight gain, adrenal, migraine issues and more…treatment has meant once again refining our diet, implementing a solid essential oil and high quality supplement protocol to rid our bodies of worms, parasites and candida.
Being a firm believer in the benefits of a Paleo Lifestyle, with the help and support of my dietitian, I am combining the science and protocol behind the Paleo Lifestyle with continued candida related research through related health-food and lifestyle blogs as well as various peer-reviewed journals and books.
Because my family has been using essential oils for years, and because of my long-time passion to write and enjoy recipes that meet the Paleo Lifestyle; the largest changes for us have included the temporary elimination of all fruit (save avocado) and the increase of wild-caught fish in our diet.
I firmly admit to being a grass-fed red-meat loving American…and while we do our best to balance our diet with other high-quality meats, having a local grass-fed beef vendor makes feeding my family red meat all the easier.
To make this mild hurdle a larger issue, my 9-year-old who is on the elimination protocol with me really really dislikes fish.
So I've had to come up with a few dishes that would fall within the guidelines of the current stage of our protocol but satisfy her taste buds as well.
Fortunately, wild caught Mahi Mahi was on sale the other day. This mild tasting fish is a great way to get her in the swing of eating more fish-based proteins along the way and these lettuce wraps were the perfect treat!
Whether you are looking to eliminate candida like we are or are simply looking for a satisfying meal that will keep you on a positive health-path, these wraps are for you! Enjoy!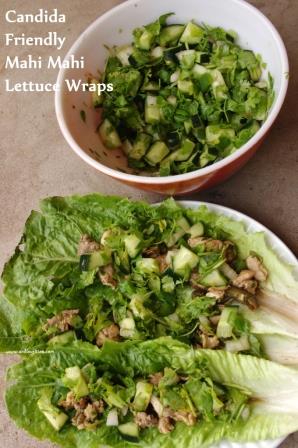 Mahi Mahi Lettuce Wraps (ACD, Candida Friendly, Paleo, Gluten-Free, Dairy-Free, Whole30, Autoimmune Alternative Listed)
Ingredients
1 Tbs Coconut Oil
1 red onion, diced
1 jalapeño, diced*
2 Mahi Mahi Fillets (about ¼ - ½ pound)
Dash of Cayenne*
Salt to taste
5-6 Large Romaine or Butter Lettuce Leaves
Two limes, quartered
Instructions
In large skillet, sauté onions and jalapeño in coconut oil over medium-high heat just until onions are clear. Season fish with salt and cayenne then add to skillet Grill for roughly 4 to 5 minutes per side until middle is opaque but not overdone. Set aside to cool.
After approximately 5 minutes, chop Mahi Mahi into large chunks. Top lettuce leaves with fish and cucumber salsa. Squeeze lime juice over each wrap and serve.
Makes 2-3 servings.
*If you are on the autoimmune protocol, simply omit the jalapeno and add black pepper instead of cayenne. Cayenne is preferred over black pepper for the candida protocol but not necessary if you are sensitive to or eliminating night shades.
Copyright And Love it, Too! May not be published or duplicated without written permission.
If you are interested in eliminating candida overgrowth using the same protocol we are, wishing to rest your system or simply jump start a better path to wellness, I will be opening an exclusive facebook group and hosting regular calls on treating candida and other ailments using this protocol as the basis. If you would like to be a part of this group and have complete access to meal calendars, exclusive recipes and more, please contact me with your name and e-mail address here.
Our first official group will begin August 1st. Because supplements and oils take time to process and ship, please contact me at your earliest convenience.
I look forward to hearing from you!
Sincerely,
Sunny