So many great things happened this week.
I planted my garden, taught my kids the basics of transplanting plants, held a brief phone conference with the college where I will be teaching children's cooking and adult gourmet classes this summer, and began diligently working towards something that will bring my blog to the next level.  🙂 Truly an exciting week.
Two of my favorite days of the year also happen to fall in this week…St Patty's Day and the first day of spring. 
Spring is my favorite time of the year.  Trees bud, flowers bloom.  The weather is perfect, mild temperatures and warm rain.  I. Love. It. 
Being ¼ Irish, St Patrick 's Day is very much a reason to celebrate my heritage.  While I haven't found a place to ceili dance, listen to Irish folk singers or watch artists weave their favorite Celtic knots into whatever medium they choose here in my new hometown…I still found reason to celebrate. 
Tonight, on this first night of spring, I would love to share with you the recipe that rounded out our St Patrick's Day celebration.  This Irish stew is traditionally made with lamb, although beef is far easier to find and in my mind just as delicious in this dish.
The luck of the Irish is truly with me as this stew happens to fit perfectly into this month's theme for Go Ahead Honey, It's Gluten-Free! The carrots, celery and parsnips featured in this stew are very much in season where I live in Texas.  A wonderfully hearty dish, this is a family favorite throughout the season.  Be sure to visit Linda from The Gluten-Free Homemaker for more sensational seasonal soups.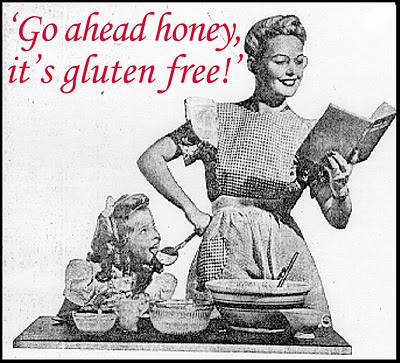 You might note that this stew is different from any others you have had, as the potatoes are not included in the pot, rather they are mashed into a creamy concoction and served along with the rich, hearty stew in the same bowl.  This is what sets this beautiful stew apart from all others, and the very reason why you will quickly learn to love this dish as well as I do.
Whether you use this stew to make your future St Patty's Day celebrations complete, or simply as a way to warm your belly when the chill has gotten to be too much, may you find many reasons to enjoy this thick, rich dish often.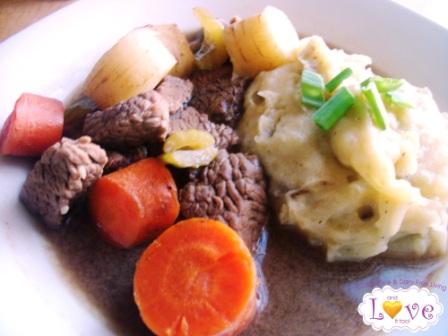 Irish Beef Stew
Stew:
1 lb Stew Meat
2 Tbs Arrowroot Powder
 ½ tsp Black Pepper
½ tsp Sage
½ Tbs Rosemary
1 Tbs Olive Oil
1 Tbs Minced Garlic
2 Spring Onions, Sliced. Greens reserved for garnish. 
2 Large Carrots, sliced
2 Large Parsnips, sliced
2 Stalks Celery, sliced
2- 32 oz Beef Stock
3 Bay Leaves
In large bowl, mix together arrowroot powder, pepper, sage, and rosemary. Add stew meat and coat with arrowroot mix. Set aside.
In large stock pot, sauté olive oil, onion and garlic.  Add coated stew meat and cook until brown.  Add sliced vegetables, stir and sweat for approximately 5-10 minutes.  Add in enough stock to cover meat and vegetables, add bay leaves.  Allow to simmer over medium heat for 2-4 hours or until meat is very tender.  Thicken stew by adding arrowroot powder mixed with water, 1 tsp at a time.  Remove bay leaves before serving. 
Mashed Potatoes
8 med Red Skin Golden Potatoes
1-32 oz Beef Stock
2 Tbs Minced Garlic
1 can Coconut Milk
Salt & Pepper to taste
Wash and dice potatoes, leaving skins on, place in dutch oven.  Cover potatoes with beef stock and cook over medium heat until spoon tender.  Remove potatoes from heat and drain stock.  Add minced garlic and 1/8 c coconut milk.  Using potato masher or hand blender, mash potatoes, adding coconut milk 1/8 c at a time until smooth (1/4 c was plenty for me).  Add salt and pepper to taste. 
Serve in shallow bowl, first by dishing heaping scoops of creamy mashed potatoes then carefully spooning stew into dish. Garnish with sliced onion greens.  Enjoy!
Serves 4-6 people.