In addition to the many things I do as a wife, mom, teacher, church-goer, so on and so forth; I recently joined a book club.
Reading is my life so gathering together with a great group of women every six weeks or so to discuss a book, enjoy some food and time away from the kids is much more of a break to me than it is just one-more-thing on my list.
That being said, because our meetings are held on Tuesdays, whatever dish I decide to bring must be quick, ready-to-go and hearty enough to feed both my family and my book group.
When we gather, we do our best to bring dishes inspired by whatever book we have just read.
Our most recent book?
One Year Off: Leaving it all behind for a round-the-world journey with our children by David Elliot Cohen.
The great part about pairing food with a book like this is that it is a free-to-choose opportunity.  I mean, they travel the world, talk about food and culture, people, poverty and riches beyond measure.
Really, truly, anything we brought would have fit.
For me though, one of the more insightful portions of their journey was related to the Cohen's family's time in India.  With extensive discussions about the meals they enjoyed, my mouth began to water for curry and vegetables. Oh to be able to scoop them up with a warm piece of naan…
Sigh.
While I have not perfected a grain-free version of naan just yet, this Crockpot Coconut Curry Vegetables and Beef dish did hit the spot.
While this may not be exactly what the Cohen family enjoyed on their trip (the meals they enjoyed in India were strictly vegetarian), this dish is easily made vegan by excluding the beef and adding in two or three more sweet potatoes to the pot.
While you may wish to cut this recipe in half, I must say this is one of those dishes whose leftovers are almost better than the original meal.  Perfect for planned-over lunches or quick heat-n-go dinners, I might recommend you keep this recipe just where it is…even if you aren't serving the army and a half that I serve every day.
As this is my entry into this month's Ingredient-Challenge Monday, I do hope you enjoy this meal as much as we have, and don't forget to enter your favorite coconut recipes on the linky tool below for your chance to be featured in next month's ICM Challenge Ingredient Announcement! xoxo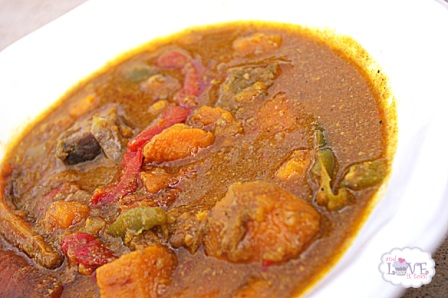 Crockpot Coconut Curry Vegetables and Beef (Vegan Option Noted)
Ingredients
Crockpot Coconut Curry Vegetables and Beef
5 large sweet potatoes, peeled and cubed
2.5 pounds Stew Meat (grass fed beef is best) (optional: replace stew meat with 2-3 more sweet potatoes for a vegan dish)
1/3 c Curry Powder
3 Tbs Arrowroot Powder
1 Tbs and 1 ½ tsp Chili Powder
2 tsp Sea Salt
¾ tsp Red Pepper Flakes
¾ tsp Cayenne Pepper
1 Large Green Bell Pepper, cut into strips
2 Large Red Bell Peppers, cut into strips
1 Large Red Onion, Diced
5 Large Carrots, cut into matchsticks
2 cans Whole-Fat Coconut Milk (I used Thai Kitchen)
¼ c Chopped Fresh Cilantro
Instructions
In a large 6-quart crockpot, layer sweet potatoes and stew meat.
In separate mixing bowl, mix curry powder, arrowroot powder, chili powder, sea salt, red pepper flakes and cayenne pepper together. Sprinkle over sweet potatoes and stew meat, mixing until evenly covered.
Layer green bell pepper, red bell pepper, diced onions and carrots over sweet potato and meat mixture; do not stir. Slowly pour coconut milk over vegetables and cook over low heat for 8 hours or high heat for 4.
Mix in cilantro immediately prior to serving.
Serve as-is or over steamed rice (for your gluten-free grain eaters).
Makes 12 servings.
Copyright And Love it, Too! May not be published or duplicated without written permission.
Ready to enter your coconut recipe?  Please link back to this post and enter the link for your recipe in the linky tool below.
Don't have a blog?
No worries!  You, too can enter to have your recipe featured in next month's ICM Challenge Ingredient Announcement!
To enter, simply leave a comment with your complete recipe here.
We do ask that your recipes stay gluten-free and dairy-free so that our family can give them a try.  If they are Paleo friendly, I will be joyously enjoying your dishes along with my family.
And yes, we do sample each and every one!
I look forward to seeing your coconut creations all month long! xoxo
This post is also connected to: Wellness Weekend