When I messaged my favorite bloggers and asked if they would be interested in joining me in a month-long series featuring healthy lunch box ideas, I was overwhelmed with gratitude at the positive response I received.

Sweet Shirley-GFE responded with a simple, "How did you know I would say yes?" 
My heart fluttered.
Earnestly, I still see myself as a small fish in a big pond. When more seasoned, well respected and very well known bloggers leave comments on my recipes, I am always filled with a sense of appreciation and astonishment.

I mean, really…they noticed ME?  AND they took the time to say something on my simple little page?  WOW!
Now to have them doing guest-posts, writing stories/recipes for my blog?  How blessed am I? 
If you are unfamiliar with Shirley-GFE, Gluten Free Easily, please take the time to visit her beautiful page now. Shirley is the queen of gluten-free living, educating the masses and
guiding the lost by making a gluten-free lifestyle, easy. 😉
Thank you, Shirley!
_________________________
"The Cagey Old Bachelor" Philosophy … A Tapas Approach to School Lunches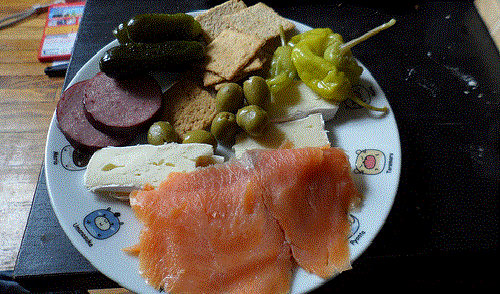 Photo credit: Flickr daedrus (easily enough for two, but shows variety in tapas
approach)
I can always make a very pleasing meal for myself out of a combination of small—admittedly, sometimes even tiny—portions. A good friend and former office mate used to chuckle when he'd see my lunch "spreads." He told me that I was like a "cagey old bachelor" making a meal out of just about anything. He went on to reference my "scraps" of food. "The Cagey Old Bachelor" is typically one who maximizes whatever food he has on hand … never throwing a scrap of food away—an approach that saves him from preparing more food, saves money, and also saves our earth. My lunches do fit the profile. A quarter of a slice of meat loaf, one chicken liver, a few bites of leftover vegetables, a potato cake (an already recycled food), some cucumber slices, a couple of almonds … you get the idea. I was surprised at my friend's remarks and chuckled. I'd never thought of my way of eating in those terms, but I finally decided that I enjoyed the analogy and considered the label to be a compliment.
You can also think of this philosophy for lunches as sort of a tapas approach. The truth is I've always been a tapas kind of girl, long before I knew what tapas even were. Of course, I know that tapas are usually considered to be small Spanish dishes served with a cocktail (and that's clearly not appropriate for school lunches) but I'm just talking about tapas in the sense that they are small bites.
Call this philosophy whatever you like, but the truth is that being gluten free lends itself well to this type of small-bite approach in general. There are times when a traditional "full" meal is not available. There are times when there's a full meal, but most of it cannot be safely consumed by us. And certainly small bites work well for school lunches with all the cool containers and lunch boxes on the market today. Long before Son and I were gluten free, we used this approach for each of our lunches.
It's a fact that children (and most adults, too) like little bites. The whole apple on the counter requires "work" and may not appeal. But half an apple sliced and ready to go; well, that's irresistible!
It's also more fun to have a virtual array of food than it is one or two large items. Therefore, some cheese on crackers, the sliced fruit, and a dollop of mom's homemade yogurt look like a delightful smorgasbord compared to one honkin' big sandwich.
Kids also like food presented a little differently. The following ideas also work well for the little bites approach. Roll-ups, fruit/veggie/meat skewers, cut outs, and the like. Zoe shared a wonderful post on food packaging and presentation for kids here as part of Diane's 30 Days to Easy Gluten-Free Living series. Note that none of these ideas should be overly
complicated or add a lot of time to the lunch prep process.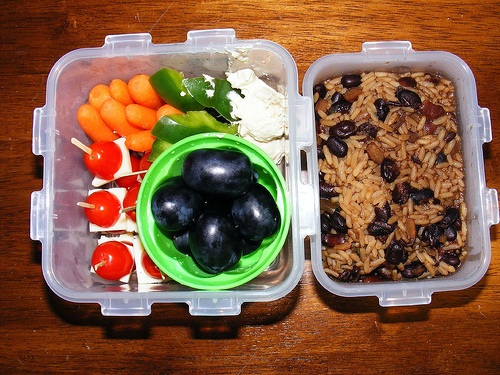 Photo credit: flickr pigstubs (again more than enough for one, but
representative)
Unfortunately, it's a fact that many children can be wasteful. They may not mean to be, but in life, especially at school with friends, there are lots of other distractions. And while we think our kids need a lot of food and shudder at the thought of them being hungry (even for a second), usually they don't need as much as is typically sent to school with them. As a former elementary school teacher (and the sister of a current elementary school teacher), I know this firsthand. Our children definitely need sustenance, but most likely they don't need a huge amount of food. (I could get into the fact that portion sizes have increased outrageously, but that's another post.) When there's only a bite or two of each food item, there's much
less likely to be waste. Plus, it's a known fact that satisfaction with food goes down the more we eat of it. That first bite or two of any food item is typically the most satisfying. Here's a brief listing of some ideas, but really feel free to pull from your "pantry."
Look for additional inspiration from my gfe's tip sheets: 50 Foods You Can Eat Today, 50 Meals That Are GFE, 50 Sweet Treats, and The GFE Pantry.
This dish below would make a great tapas type lunch. Now obviously you're not cooking meatballs and chicken wings, or making bacon-wrapped goodies daily. That's when your freezer comes into play. You can either freeze such items right after you make them (spread on baking sheet, freeze, and then transfer to another freezer container for easy removal of as many as you like) or freeze leftovers in small amounts right away. (A sheet of paper attached to your freezer with a magnet can easily serve as your inventory and be updated by adding or removing items with a quick scrawl or strikethrough, respectively.)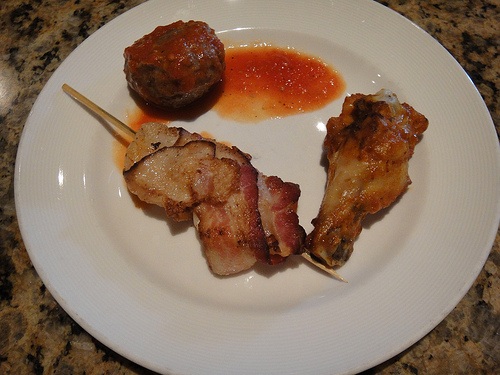 Photo credit Flickr Archangeli
While I could come up with a listing of more lunch contents ideas and share them here, the main purpose of this post is to just introduce the tapas approach. I hope you'll give it a try!
Here are some other terrific resources that can help you decide what you'll include in your kids' lunches when using the tapas approach:
Kim's Printable List of 50 Allergy-Friendly Lunchbox Ideas
Heidi's Gluten-Free and Allergen-Free School Lunch and Snack Ideas (Plus More)
Wendy's Sending Your Gluten-Free Kid Back to School includes multiple resources including many lunch ideas
Ali's Printable Chart that teaches children to pack their own lunches
Jules Back-to-School E-Boook including lunch and snack ideas