As promised, this month is going to be filled
with different ideas, tips and recipes you can use to fill your child's
lunchbox with healthy, nutritious whole-foods all year long.
Tonight's post comes from a very dear friend of
mine, Emily Truman.
Emily was kind enough to donate
her talent when Shea and I hosted an online bakesale for natural disaster
victims over at Ingredient Challenge
Monday. She has offered continual feedback and has been a visible support
since the beginning of my blogging career.
I have known Emily for more years than I care to
admit (okay…21. Twenty-one years! Emily…did you hear that?? Where has the time
gone?).
Emily is not a blogger, nor is she gluten-free
or dairy free. Even so, she is a health conscious mom who wanted to share part
of her own journey to provide healthy lunchbox solutions for her children.
Even though I cannot partake in her amazing
homemade bagel recipe…my mind is already turning towards ways I might be able
to make these for my own family.
These look amazing!
I am so happy to share this precious post with
you today. Thank you, Emily. I am so blessed to have you as a friend.
________________
I am a mom of three small picky children and I am constantly
trying to help them make good food choices.
The food tendencies are extremely varied in my house. 3 of us,
including myself, eat very little to no meat and the other two LOVE meat, but
should be limiting it due to health reasons. My challenge each day is to make
something healthy the vegetarians enjoy with enough protein and still be able
keep my meat eaters satisfied.
My other mission in the kitchen is to cut out preservatives. I
like to know what is in my food and how to pronounce it. I love to bake
homemade rolls, tortillas, cookies, etc. because I can control the ingredients,
calories, and portion sizes and there are no preservatives in my homemade food.
My contribution to the healthy lunchbox series is: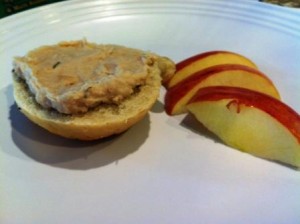 Garlic Rosemary Parmesan Bread
Machine Bagels with White Bean Hummus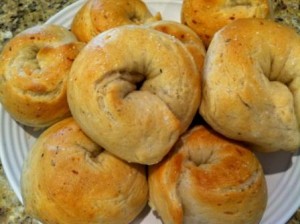 Garlic Rosemary Parmesan Bagels in the bread
maker (although this recipe could just as easily be made in a stand
mixer.)
These turned out delicious and I used herbs dried from my garden
so the bagels are extra fragrant.
My son loves bagels and cream cheese for his school lunches but
have you tried store bought bagels lately? They taste like chemicals and
preservatives so here is a homemade version with a twist on the traditional
cream cheese topping.
These bagles may be a little labor intensive but if you make a
batch or two on a Saturday, you can pop them in the freezer for the week and
pull one out each day (that is, if they don't all get eaten the day you make
them!)
Place ingredients in the bread maker according to manufacturer's
recommendations (mine is wet, dry, yeast)
1 cup warm water
2 Tablespoons honey
1 1/2 teaspoons salt
3 cups bread flour (this can be adapted by substituting whole
wheat flour for up to 1 ½ cups)
1/2 teaspoon dried thyme
1/2 teaspoon dried rosemary
1 large or 2 small garlic cloves, crushed with a garlic press
About 1/3 cup freshly grated Parmesan cheese (I would have
probably used more but I ran out)
1 1/4 teaspoon yeast
Turn to dough setting and press start.
When finished, turn out dough on a cutting board and divide in 9
equal pieces. Prepare a couple of baking sheets; you need one for the shaped
bagels and one for boiled bagels. I like to use a Silpat for both but sprinkle
the 2nd baking sheet with some cornmeal.
Take each of the 9 dough balls and roll into a snake.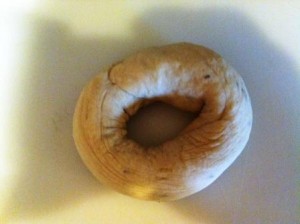 Then, form into a circle, taking care to pinch tightly (otherwise
they will come apart when boiled). Place them on the baking sheet without
cornmeal. Let the bagels rest while you fill up a pot of water and set it on
the stove to boil.
Preheat the oven to 375.
When the water is boiling, drop a couple bagels in and cook for 45
seconds, flip, and cook for another 45 seconds. Place on the baking sheet with
cornmeal. Repeat until all the bagels are boiled. Brush the bagel tops with
milk and sprinkle with a dash of salt. Bake for 20 minutes until golden brown.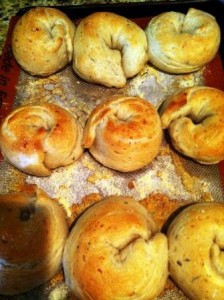 These are begging to be sliced in half and spread with cream
cheese or better yet,
white bean hummus
1 can of white beans, rinsed and drained
1 Tablespoon lemon juice
2 Tablespoons olive oil
1 Tablespoon tahini (sesame seed paste)
½ teaspoon rosemary
1 small garlic clove (or ½ large clove)
pinch of kosher salt
Blend until smooth and well combined in a food processor and
spread on bagels or use as a dip for chips or veggies.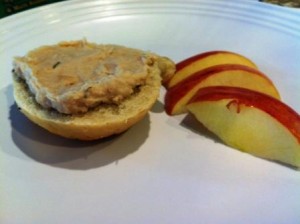 Enjoy!