You've heard me (as well as other bloggers) talk about planned-overs and how they make for great lunches.
Well, sometimes lunch needs to be a prequel.
Sometimes a meal is just too good to wait until dinner…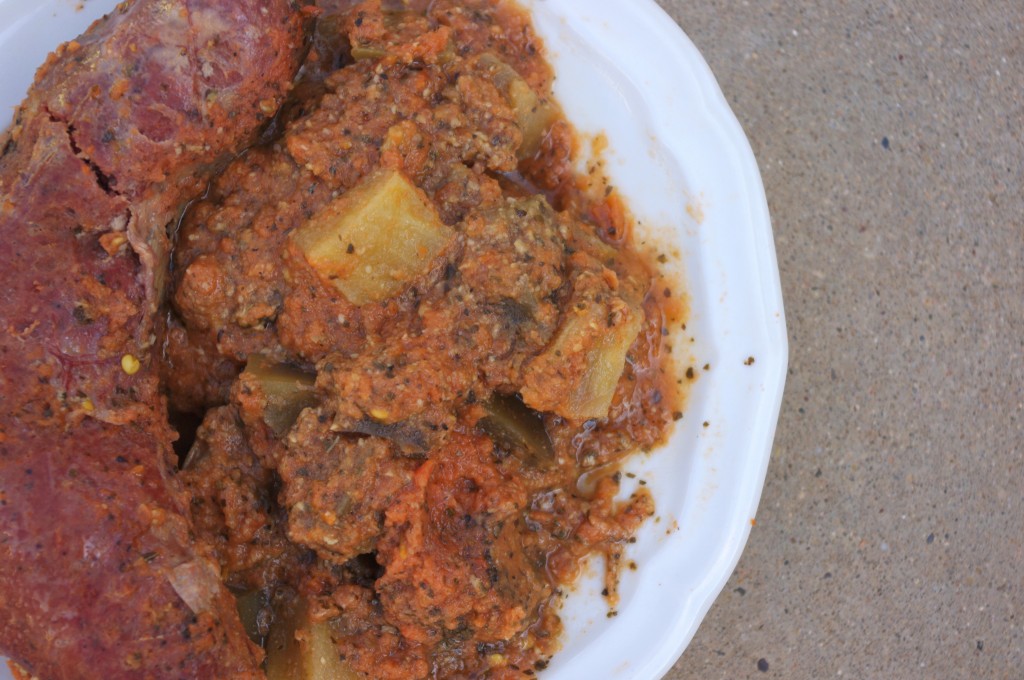 When cooked overnight in a crock and you have a thermos ready to help keep it warm…
Well, let's just say that it's okay to grab some of your favorite dishes before you rush out the door.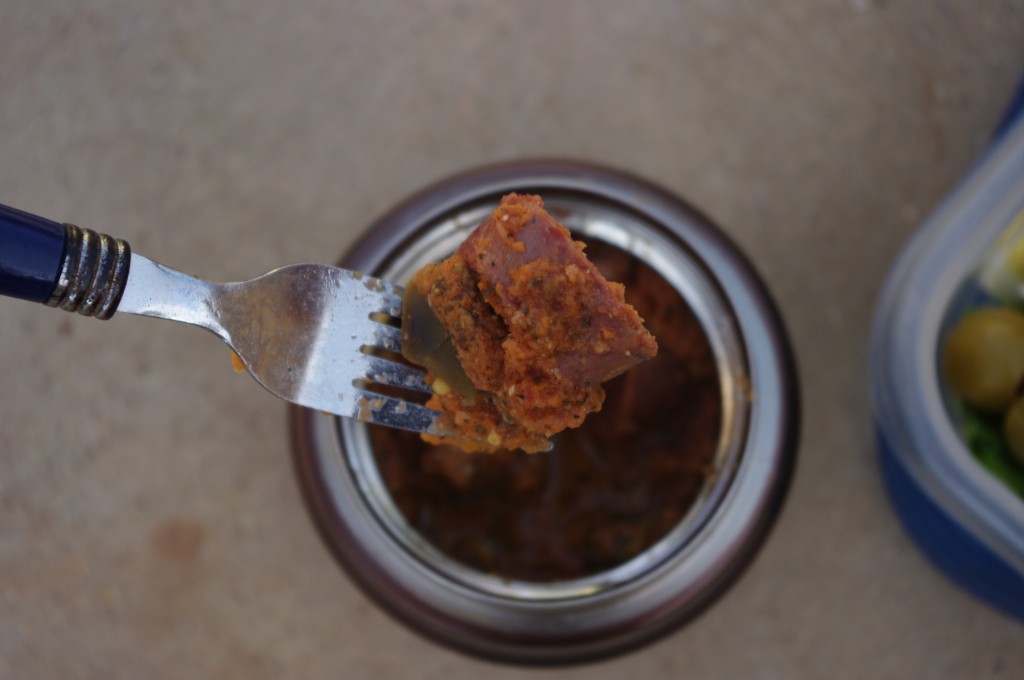 This Paleo Eggplant Parmesan is no exception.  Cooked overnight, your home will become fragrant and percolate with  the aroma of Italian herbs and spices.
Trust me, you'll want to take some with you…
And besides, you deserve a bit of comfort in your mid-day break.
Take it, love it, and savor it.
I know I did.
While the eggplant cooks nicely in the crock, but if you would like a little more crunch, feel free to lightly fry the eggplant in coconut oil before placing the cubes in the crock to finish cooking. And if you are aiming for a vegan version, simply leave out the sausage.  No matter what, this is a delicious dish!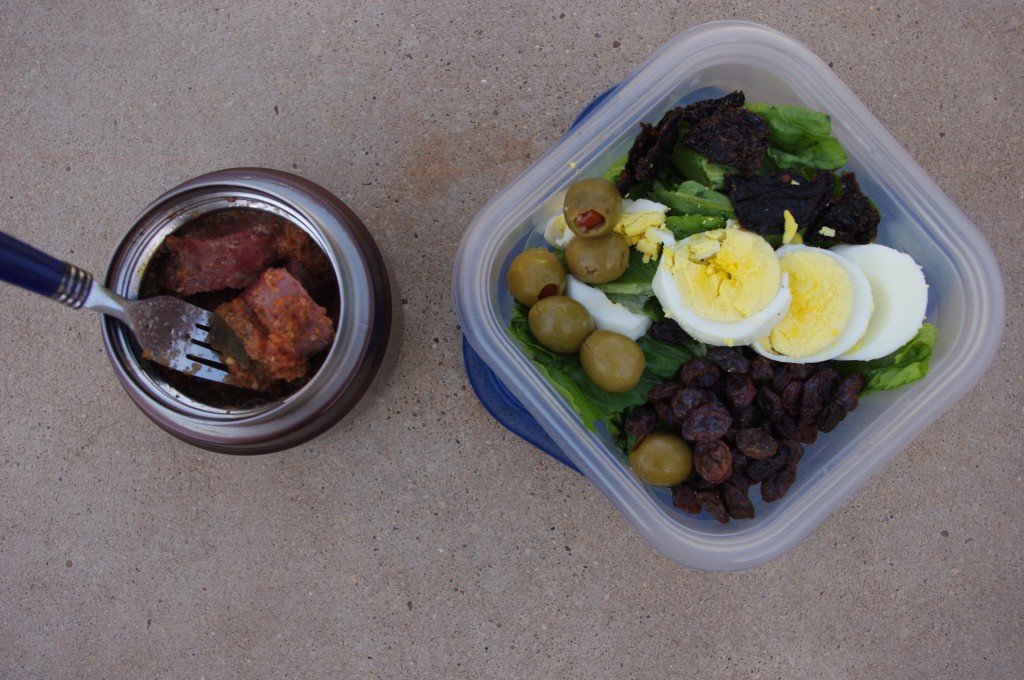 Slowcooker Paleo Eggplant Parmesan
Ingredients
Coconut Oil (just enough to grease the crock)
2 Medium-sized Eggplant (about 2.5 pounds)
2 Tbs Olive Oil
1 c Almond Flour
¼ c Italian Seasoning
1 tsp Salt
½ tsp Pepper
2lbs Italian Sausage (I buy mine from my favorite grass-fed beef vendor at the farmer's market)
Sauce

3 ½ lbs Tomatoes
1 large onion
¼ c Olive Oil
2 Tbs Garlic Powder
2 Tbs Dried Basil
1 tsp Salt
½ tsp Pepper
Instructions
Using 6-quart crockpot, grease sides and base generously with coconut oil. Set aside.
Cube eggplant and place in large bowl. Drizzle with 2 Tbs olive oil and set aside.
In separate bowl, mix together almond flour, Italian seasoning, 1 tsp salt and ½ tsp pepper.
Sprinkle almond flour mix over cubed eggplant and lightly toss to evenly coat each cube.
Pour eggplant mixture into crockpot.
Layer Italian sausage over eggplant (you can slice the sausage, but I like to cook mine whole)
Remove tops from tomatoes, slice and place in your food processor or high-speed blender. Blend until smooth. Slice oven in to quarters and carefully add this to the blended tomato. Add in olive oil, garlic powder, dried basil, salt and pepper and blend until smooth sauce has formed.
Pour over sausage and eggplant.
Cook on low for 6-8 hours.
Serve as-is or with a side salad.
Makes 10 servings.
Copyright And Love it, Too! May not be published or duplicated without written permission.
Please be sure to join the rest of the Foodnetwork Summer Fest group for more ways to enjoy your eggplant these final summer days!
Feed Me Phoebe: Grilled Eggplant Baba Ganoush
Jeanette's Healthy Living: Asian Grilled Eggplant With Soy-Sesame Sauce
From My Corner of Saratoga: Ratatouille Fresh From the Garden
Big Girls Small Kitchen: Homemade Baba Ganoush
Made by Michelle: Eggplant Zucchini Muffins
Cooking With Elise: Stuffed Eggplant
Virtually Homemade: Layered Ratatouille la Ratatouille
Napa Farmhouse 1885: Roasted Eggplant and Peppers Dip
HGTV Gardens: Garden-to-Table: Eggplant
Thursday Night Dinner: Eggplant Flatbread
Healthy Eats: Going Meatless With Eggplant
Devour: Giada's Rigatoni With Eggplant Puree
Cooking With Books: Sriracha and Honey Eggplant Rice