When most people think of muffins, they think high-carb, grain-filled, low-nutritional value item.
The last thing I want to feed my children is anything that meets that type of description.
The great thing about grain-free cooking is that a majority of flours (nut, seed and coconut) are naturally high in fabulous fiber, protein and nutrients.  Therefore, most anything I make is going to be nutritionally dense, very filling and will provide my family with enough energy to make it through the next meal.
These muffins are no exception.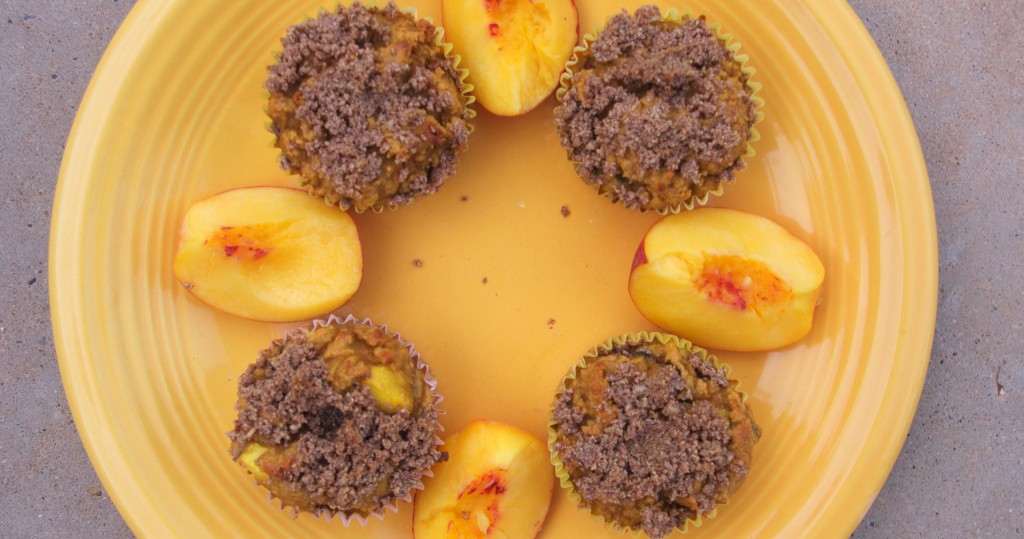 Mildly sweet and easy to transport, my children love to find goodies like this in their lunchbox.
While not an everyday food, something as nutritional as this is good enough for the main course, delicious enough for a dessert.
Because the skins turn black when they are baked, you may wish to peel yours before dicing.  My children don't seem to notice the color variation, and keeping the peel means keeping the nutrients… so we 'suffer' through the color variance and enjoy every tasty morsel.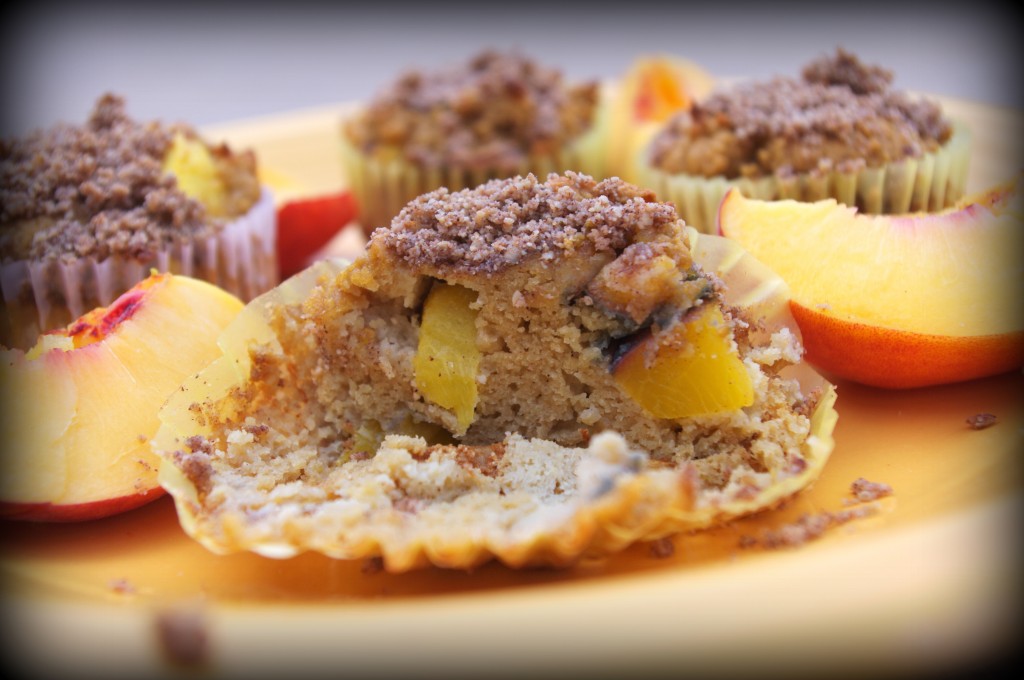 Peachy Coconut Streusel Muffins
Ingredients
8 large eggs
¼ c Palm Nectar, Honey or Agave
¼ c Whole Fat Canned Coconut Milk
2 Tbs Vanilla Extract
1 c Coconut Flour (4 oz)
1 tsp baking soda
1 tsp grain-free baking powder (I use Kelly's recipe and sub arrowroot for the potato starch)
½ tsp salt
1 1/2 c Fresh Peaches, diced (about 2 peaches)
Streusel

¼ c Unsweetened Shredded Coconut
2 Tbs Pumpkin or Sunflower Seeds
1 ½ Tbs Coconut Oil
1 tsp Ground Cinnamon
Instructions
Preheat oven to 350f. Line or grease 12 muffin tins, set aside.
In medium bowl, whisk together eggs, palm nectar (or sweetener of choice), coconut milk and vanilla extract. Set aside.
In large bowl, blend together coconut flour, baking soda, grain-free baking powder and salt.
Slowly mix in wet ingredients into dry ingredients and mix until smooth.
Fold in peaches.
Scoop batter by ¼ c into each tin.
Make streusel by grinding shredded coconut, pumpkin or sunflower seeds and cinnamon in coffee grinder until seeds are almost flour like. Add in coconut oil and mix with a fork until mix resembles large cookie crumbs.
Sprinkle an even amount of streusel onto each muffin.
Bake for 20-25 minutes or until firm.
Makes 12 muffins.
Copyright And Love it, Too! May not be published or duplicated without written permission.
My contribution to this week's FoodNetwork Summer Fest and the Healthy Lunchbox Series, I hope these Peachy Coconut Streusel Muffins bring as many smiles to your home as they do mine.
xoxo
Be certain to visit all of the perfectly peachy recipes entered in to this week's Summer Fest!
Jeanette's Healthy Living: Peach Blackberry Arugula Salad
Cooking With Elise: Streusel Topped Peach Muffins With Peach Butter
Heather Christo Cooks: Peach Coconut Pancakes
Ingredients, Inc: Easy Peach Pie
From My Corner of Saratoga: Grilled Peaches With Caramel-Ginger Sauce and Pound Cake
Dishin & Dishes: Peach Lacquered Chicken Salad
Big Girls Small Kitchen: Easy Peach Limeade
Napa Farmhouse 1885: Fresh Peach and Coconut Cake
Daily*Dishin: Caramelized Grilled Peaches
Delicious Lean: Smokey Peach Chipotle Grilled Chicken
Thursday Night Dinner: Peach Shortbread
Sweet Life Bake: Jicama Tortilla Salad With Peach Dressing
I Am Baker: Cilantro Peach Salsa
Zaika Zabardast: Donut Peach Quesadilla
Daydreamer Desserts: White Peach Margaritas
Cooking Channel: 4 Savory Uses for Peaches
Healthy Eats: What to do With Overripe Peaches
FN Dish: Peaches Move to the Big Kids' Table