I have mentioned previously about my visit to the Dallas Gluten & Allergen Free Expo in early September and how I had the opportunity to meet some amazing people and learn about some fantastic products.
Among all of the new and exciting items, there were some familiar brands and some familiar faces along with them.
One individual I had the opportunity to speak with was Dick Reed, the founder of Chebe.  In our visit I explained that while the products I have been able to try of theirs were wonderful, I earnestly had no idea that chebe had such a wide selection as the stores in my little town only carry one or two of their items at any given time.  Because I make so much of our food from scratch, and because a majority of the chebe items our town has includes dairy, I suppose I just had never taken the time to dig deeper into their product.
Dick smiled at me kindly and offered to see what he could do about getting me some samples.  Within a week, I was thrilled to receive two big boxes filled with chebe mixes.
First, things I did not realize about chebe:
All but one mix is naturally dairy free (although all of their frozen products do contain milk).
EVERY chebe product is not only gluten-free, they are also soy, potato, yeast, MSG and grain-free.
That's right…these handy dandy little box mixes are grain-free!
The main ingredient?  Manioc flour, otherwise known as tapioca flour.
To keep our samples dairy-free, I simply left out the optional 1 cup of shredded cheese and used coconut milk in place of water or milk in the basic directions as listed on the box.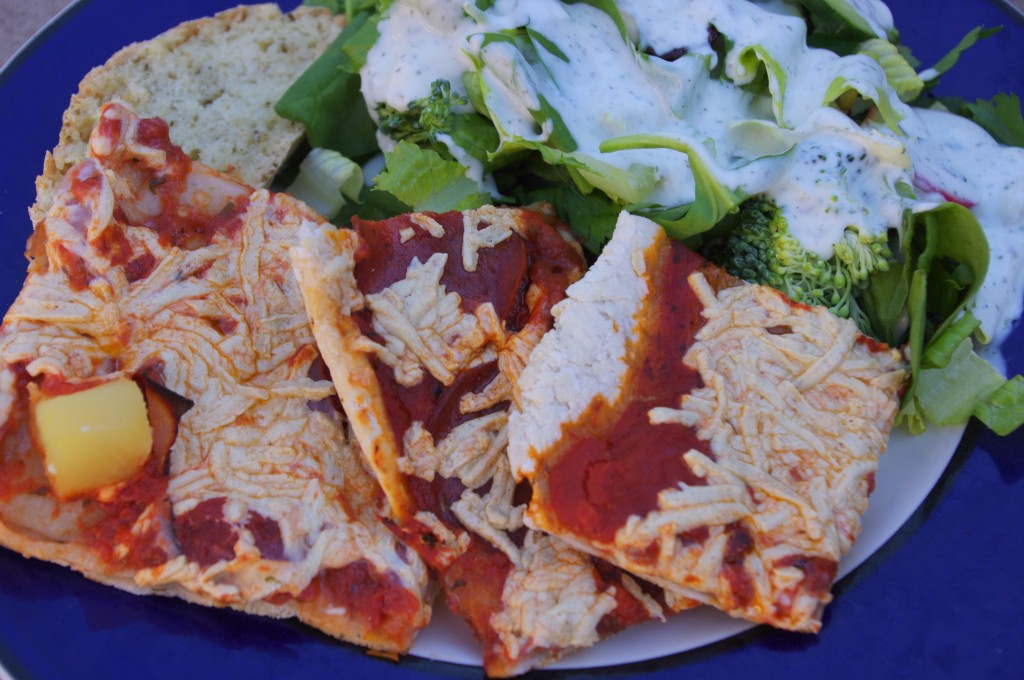 My husband raved over the pizza crust, which he says was crunchy on the outside and chewy on the inside (just like the 'real' stuff, he says.) Shown here with Diaya cheese, this is as close to take-out my family has had in a long time.
Of all the items I was able to whip up with our chebe mixes though, I do believe this Spinach Pie was at the top of everyone's favorite's list.
Because the crust is more of a calzone versus a puff pastry, I hesitate to call these spanakopita, although the taste, texture and feel of the filling is very much in line with its traditional dairy-filled cousin.
Any extra filling you may have is great as a pizza topper, as filling in an omelet or even heated and served with hot vegetable noodles.
May this recipe bring back memories of spinach pockets and fill your belly with all the joy it has brought to ours.
Enjoy!
Ingredients
'Ricotta Cheese'

1 c Raw Almonds, soaked 12-18 hours, peels in tact
1 c Water
1 Tbs Lemon Juice
1 Tbs Olive Oil
1 Tbs Dried Basil
1 tsp Minced Garlic
½ tsp Salt

Filling

10 oz Fresh Spinach, chopped
½ c diced onions
½ c fresh parsley, chopped
½ c fresh dill, minced
1 c 'Ricotta Cheese'
2 eggs

Crust

1 box Garlic-Onion Breadstick Mix (http://www.chebe.com/Products/Dry-Mixes/Chebe-Garlic-Onion-Mix.aspx)
2 Tbs Olive Oil
2 Large Eggs
¼ c Coconut Milk
Instructions
Prepare 'Ricotta Cheese' the day before you plan to serve your Spinach Pie. After raw almonds have soaked 12-18 hours, rinse and use blender to mix 1c water, lemon juice, olive oil, dried basil, minced garlic and salt. Blend on highest setting until smooth.
Pull cheese cloth or very clean pillow case taught over large bowl, securing with rubber bands. Pour 'cheese' mixture over the cloth, cover, refrigerate and allow all liquid to slowly drip off cheese for 6-8 hours or until ready to make spinach filling.
Preheat oven to 375f.
Using a large food processor, mix spinach, onions, parsley, dill, 'cheese' and eggs together until well incorporated. Set aside.
Mix together crust per the chebe standard directions on the box. Divide dough into 6 equal pieces. On parchment lined cookie sheet, flatten each ball as thinly as possible, paying attention and filling any holes that may appear.
In the center of each dough ball add approximately 1/8-1/4 c spinach filling. Bring dough edges together and secure around spinach filling.
Bake at 375f for 25-30 minutes or until lightly brown.
Makes 6 servings
http://andloveittoo.com/grain-free-spinach-pie/
Now that you know how we like to enjoy our fall spinach harvest, be sure to stop by chebe  and order your favorite dairy-free mixes (which includes all dry mixes except the Original Cheese Bread), then be sure to stop by this week's Food Network Fall Fest for more spectacular spinach splendor. xo
Jeanette's Healthy Living: Skinny Hot Spinach Dip
Feed Me Phoebe: October Evening Lentil Soup With Spinach
Cooking With Elise: Baby Spinach Salad With Cranberries, Spiced Pecans and a Maple Vinaigrette
Virtually Homemade: Three Onion Dip With Spinach
HGTV Gardens: Garden-to-Table: Spinach
Napa Farmhouse 1885: Whole-Wheat Pasta With Spicy Spinach and Peanut Butter Pesto
Thursday Night Dinner: Spinach Ice Cream
Cooking Channel: Fresh Spinach in Indian Recipes
Daily*Dishin: Spinach-Sausage Saute With Pan-Fried Gnocchi
Delicious Lean: Spinach Leaf Roll Ups
Bacon and Souffle: Baby Spinach Pizza With Sopressata and Sriracha
FN Dish: Stuff It With Spinach