When Elana Amsterdam recently asked if I would like to review a copy of her new cookbook, Gluten-Free Cupcakes: 50 Irresistible Recipes Made with Almond and Coconut Flour, I felt extremely honored and a tad bit flabbergasted…a bit like Porky Pig; tripping over my tongue in attempt to utter a simple phrase. 
Thankfully, we were conversing over the computer and not in person, so (I hope) my words were a bit more couth and reserved than what was truly going through my head in that moment. 
Even so, when my package from Ten Speed Press arrived Friday afternoon, my enthusiasm and childlike giddiness were unmistakable. 
I have mentioned my addiction to cookbooks previously, and must admit that my husband often chuckles at my tendency to absorb recipe collections as if they are novels waiting to be devoured. 
The thing that truly sets Elana's cookbook aside from the rest of my collection is her ability to explain why she chooses the ingredients she uses.  Much like the elaboration as to why she chooses to work with almond flour in her first cookbook, Elana offers great detail and tremendous insight into not only her ingredients, but also the equipment she uses to achieve superior results in her cupcake recipes.  It is through educated decisions that we make our best choices; Elana offers us the ability to make better decisions by her detail and candor throughout this delightful edition.
With many naturally dairy-free, and a number of vegan recipes included throughout the Gluten-Free Cupcakes: 50 Irresistible Recipes Made with Almond and Coconut Flour cookbook, this is surely something my family and I will turn to time and time again. 
With permission, I am thrilled to share with you one of the many recipes we were delighted to sample this holiday weekend. 
These lime cupcakes, especially when topped with vegan coconut frosting, are delightfully sweet but not overpowering in flavor.  Undoubtedly, you and your guests will sing as you enjoy, "you put the lime in the coconut and mix it all up…"
Sing with me now…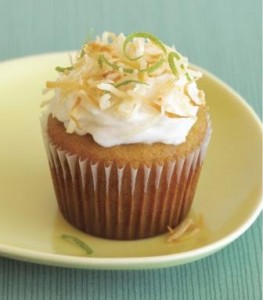 Photo and Recipe Reprinted with permission from Gluten-Free Cupcakes: 50 Irresistible Recipes Made with Almond and Coconut Flour. Copyright © 2011 by Elana Amsterdam, Celestial Arts, an imprint of Ten Speed Press, a division of the Crown Publishing Group, Berkeley, CA. Photo Credit: Annabelle Breakey
Lime Cupcakes
Makes 10
Sweetness: Medium
1/2 cup coconut flour
1/2 cup blanched almond flour
1/2 teaspoon sea salt
1/4 teaspoon baking soda
3 large eggs
1/2 cup grapeseed oil
1/2 cup agave nectar
2 tablespoons firmly packed lime zest, plus more to decorate (about 3 limes)
Preheat the oven to 350°F. Line 10 muffin cups with paper liners.
In a large bowl, combine the coconut flour, almond flour, salt, and baking soda. In a medium bowl, whisk together the eggs, grapeseed oil, agave nectar, and 2 tablespoons lime zest. Blend the wet ingredients into the coconut flour mixture with a handheld mixer until thoroughly combined.
Scoop 1/4 cup of batter into each prepared muffin cup.
Bake for 18 to 22 minutes, until a toothpick inserted into the center of a cupcake comes out with just a few moist crumbs attached. Let the cupcakes cool in the pan for 1 hour, then frost, sprinkle with the remaining lime zest, and serve.
Vegan Coconut Frosting
Makes 2 cups
Sweetness: Medium
1/2 cup coconut milk
1/2 cup agave nectar
1 tablespoon arrowroot powder
1 tablespoon water
1 cup coconut oil, melted over very low heat
In a medium saucepan, bring the coconut milk and agave nectar to a boil over medium heat. Whisk the ingredients together, then decrease the heat and simmer for 2 to 3 minutes, to reduce just slightly, stirring frequently.
In a small bowl, dissolve the arrowroot powder in water, stirring to make a slurry. Increase the heat under the saucepan to medium-high so the mixture is bubbling. Add the arrowroot slurry to the coconut mixture, whisking constantly until the mixture thickens and turns opaque and shiny, about 1 minute. Once the mixture becomes shiny, remove the pan from the heat and gradually blend in the coconut oil with a handheld mixer until well combined.
Allow to cool on the counter for 15 minutes. The mixture will not look like frosting yet—don't worry; this is okay.
Chill the frosting in the refrigerator for 1 to 11/2 hours, until the frosting fully solidifies and looks opaque white in color. Remove from the refrigerator and whip with a handheld mixer until thick and fluffy. The frosting will be sticky looking and lumps will dissolve during whipping.
Use immediately or store in a glass Mason jar in the refrigerator for up to 3 days. Allow the frosting to soften a bit after removing from the refrigerator. Stir with a flexible spatula until spreadable.
Be sure to pre-order your copy while you still have time!  Currently offered through my Amazon Shop for just $9.23, Gluten-Free Cupcakes: 50 Irresistible Recipes Made with Almond and Coconut Flour will be released on 4/26 at the full price of $16.99.  Order your copy today!