I love cucumbers,which is good since (as mentioned before) , my garden is overflowing with them this year. 
When Food Network presented cucumbers as the next ingredient for their Summer Fest, I was elated to have another opportunity to share one of my family's favorite ways to eat this delectable vegetable with you. 
This Cucumber, Mint and Watermelon Salad is a pleasant side dish or snack, and is the perfect complement to any summer picnic. Extremely refreshing, this salad is truly one of our favorite dishes and has provided the perfect pick-me-up for these hot summer days.  May you find as much enjoyment in this salad as we have.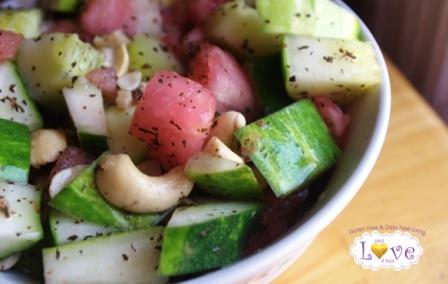 Cucumber, Mint and Watermelon Salad
2 Med-Large Cucumbers, cubed
4 c Watermelon (1 small or ½ medium), cubed
Juice from 1 lemon
1 Tbs Palm Sugar
1 Tbs Crushed Mint
1 c Raw Cashews
In large serving bowl, mix together cucumbers and watermelon. Set aside.  In small mixing bowl, whisk together lemon juice, palm sugar and crushed mint, until palm sugar is completely incorporated.  Pour lemon-mint dressing over cucumbers and watermelon, refrigerate until ready to serve. 
Immediately prior to serving, toss in raw cashews.  Serve cold.
Makes approximately 6-8 servings. 
Enjoy!
Be sure to visit all of the other Summer Fest recipes.  With so many ways to enjoy this magical vegetable, how can you resist?
Pinch My Salt: Chilled Cucumber, Kefir and Avocado Soup
What's Gaby Cooking: Cucumber-Basil Gimlet
In Jennie's Kitchen: Radish-Cucumber Crostini
Big Girl Small Kitchen: Spicy Cucumber Salad with Shallot, Ginger and Mint
Grecian Kitchen: Summer Cucumber Salad
Napa Farmhouse 1885: Cucumbers Coolers with Agave Simple Syrup
Cooking With My Kid: Cucumber Limeade
FN Dish: Summer Fest: Cucumber Recipes
CIA Dropout: Relishing Cucumbers
Healthy Eats: Cool Cucumber Soup
Food for 7 Stages of Life: Cucumber Cherry Salsa
Cooking With Elise: Green Tea Cucumber Pops
Glory Foods: Cucumber and Shrimp Boat
Virtually Vegan Mama: Fire-Roasted Tomato and Cucumber Gazpacho
Food2: When Life Gives You Cucumbers, Make a Cucumber Cocktail
Cooking Channel: Cucumbers Stuffed with Crab-Mango Salad
Recipe Girl: Bread and Butter Pickles
Taste With the Eyes: Spicy Pickled Cucumbers with Wakame and Garlic Blossoms
Virtually Homemade: Cold Thai Cucumber-Mint Soup
Add a Pinch: Cucumber Tea Sandwiches
The Cultural Dish: Ahi Tuna with Cucumber Sauce and Salad
Daily*Dishin: Cool n' Zesty Cukes: 7 Minute Summer in a Jar
Daydreamer Desserts: Cubanita Margarita
Purple Cook: Cucumber Gazpacho with Indian Flavored Shrimp Relish
Indian Simmer: Cucumber at its Best with Chaat Masala
Big Apple Nosh: Quick and Easy Homemade Pickles
Sweet Life Bake: Agua de Pepino
The Sensitive Epicure: Tzatziki with Grilled Gluten-Free Pitas and Fresh Cucumbers and Peppers
Zaika Zabardast: Cucumber Gazpacho
A Way to Garden: Cucumber-Growing Q&A and the Best Pickles
Cooking with Books: Summer Fest: Cucumbers
This recipe has also been added to: Ingredient Challenge Monday, Cucumbers