Biscuits are one of those cherished southern foods my grandfather was an expert at. Learning how to make these dairy-free proved to be a mild challenge…making them gluten-free?  Difficult to say the least.
My largest challenge came after discovering that I am sensitive to nuts.
Over the last several years I have played with dozens of gluten-free recipes, most of them grain-free but all of them containing nuts.
So when Food Network asked bloggers to post their favorite biscuit recipe, I knew I wanted to create something that was not only nut-free but also auto-immune friendly.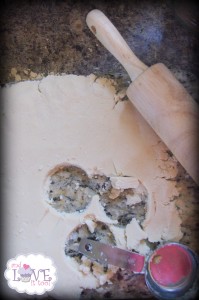 No matter the allergy, we all deserve to enjoy a flaky, golden biscuit every now and then…
Right?

Perfect with your favorite homemade jam, a drizzle of honey or even your favorite gluten-free and dairy-free gravy; I hope these biscuits fill your belly and satisfy your craving…wherever you are!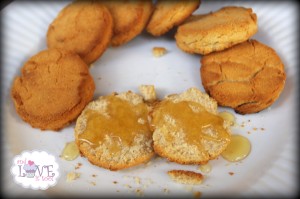 Coconut Flour Country Biscuits (Gluten-Free, Dairy-Free, Egg-Free, Vegan, Paleo)
Ingredients
1 can whole-fat coconut milk
2 Tbs lemon juice
2 c coconut flour
2 tsp cream of tartar
2 tsp baking soda
1 ½ tsp sea salt
½ c palm shortening
9 Tbs palm shortening
Instructions
Pre-heat oven to 450f.
Mix together coconut milk and lemon juice, set aside.
In a large mixing bowl, blend together coconut flour, cream of tartar, baking soda and sea salt. Cut in ½ c palm shortening using a pastry knife or metal whisk, mixing until small crumb has formed. Slowly blend in coconut milk/lemon juice blend ¼ c at a time until dough is soft and moist but not sticky. Add in remaining 9 tbs of palm shortening, folding in 3 tbs shortening at a time. Do not overwork dough. Even though there is a lack of gluten, you want the dough to remain together but somewhat flaky…if you overwork the dough, you'll end up with coconut hockey pucks instead of nice, flaky biscuits.
Roll or pat dough onto lightly floured surface until approximately 1 inch thick, or however thick you wish your biscuits to be, I generally like ours to be between 1 – 1 ½ inch thick. Cut biscuits into 2 inch circles using a biscuit cutter…or, if you have children who like to misplace your biscuit cutter like mine, whatever 2-inch metal or glass kitchen tool you have handy. My ¼ c metal measuring cup worked perfectly for us.
Place each biscuit on to parchment lined cookie sheets and bake at 450 f for 15-18 minutes or until golden brown. Serve warm.
Makes approximately 20 biscuits
http://andloveittoo.com/coconut-flour-country-biscuits/
This recipe is also linked to: Eat, Recycle, Repeat's Virtual Whole Foods Pot Luck