When Phoebe invited me to her Virtual Viewing Party and All-American Potluck, the first thing that popped into my mind was apple pie.
I mean, besides hot dogs, what is more American than apple pie?
Only, I am not a huge fan of apple pie.
Don't ask me why, I am not 100% certain; I just know that even before being diagnosed with celiac disease, apple pie was never really my thing.
What I do love though is a good apple crumble. Laced with cinnamon and just the right amount of crunch, a good apple crumble always seems to hit the spot.
This dish makes enough for a party.  Feel free to half the recipe and bake it in a smaller pan if you must (9X9 square should do), but I love desserts that can feed the crowd and this one is no exception.
Grain-free, nut-free, egg-free and refined sugar-free, you'll only find good stuff here. Eat it up! xo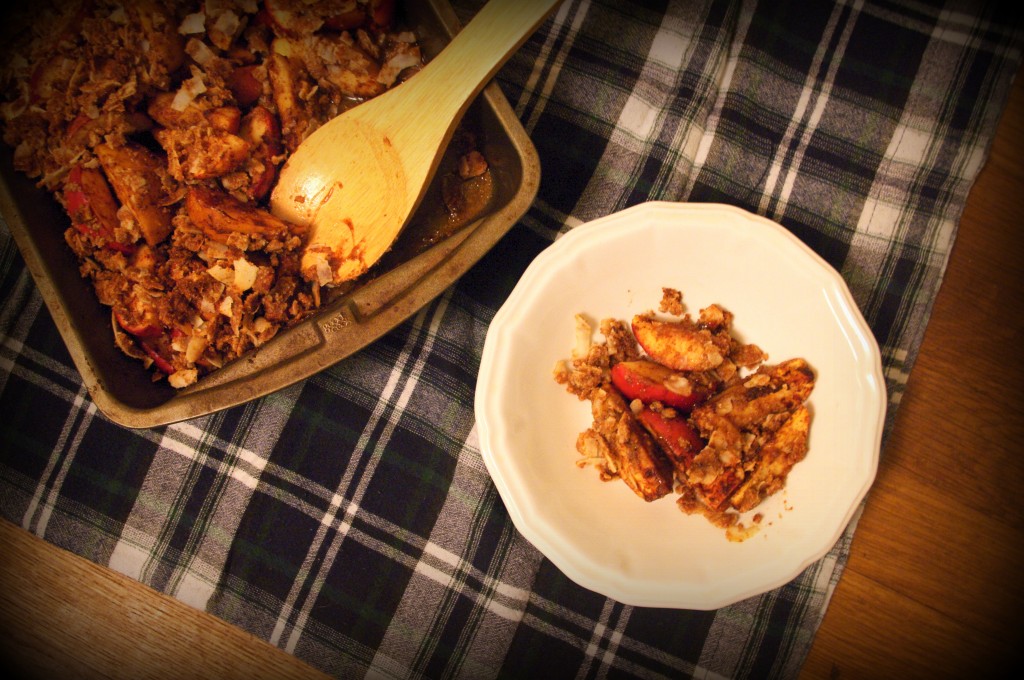 Coconut Flour Apple Crumble (nut-free)
Ingredients
Filling

3lbs Apples (organic is best, I prefer Cortland's for baking)
¼ c Coconut Oil
¼ c Palm Syrup (Honey, Agave or Maple Syrup would work well, too)
1 Tbs Cinnamon
½ Tbs Nutmeg
½ tsp Cloves
¼ tsp Sea Salt

Topping

½ c Coconut Flour
1 c Coconut Flakes
½ c Palm Sugar (Turbandino or other non-refined dry sugar, just not in liquid form)
½ c Coconut Oil
1 tsp Cinnamon
¼ tsp Sea Salt
Instructions
Preheat oven to 350f.
Prepare 13x9 in baking pan by greasing generously with coconut oil, set aside.
Prepare apples by washing, coring and slicing each, placing wedges into large mixing bowl. Carefully drizzle ¼ c coconut oil, palm syrup, 1 Tbs cinnamon, nutmeg, cloves and sea salt over apple slices, mixing with hands to ensure even coating throughout.
Spread slices evenly throughout pan, set aside.
Prepare topping by mixing coconut flour, coconut flakes, palm sugar, coconut oil, cinnamon and sea salt in medium sized mixing bowl, stirring until an easy crumb is created.
Sprinkle topping evenly over seasoned apple slices.
Bake at 350f for 20 min or until slices are lightly tender and the topping is golden brown.
Serve as-is or with your favorite non-dairy vanilla ice cream.
Makes 8-10 servings
http://andloveittoo.com/coconut-flour-apple-crumble-nut-free/
Be sure to join the rest of this All-American Potluck and enjoy these amazing dishes:
Feed Me Phoebe: Kitchen Sink (Gluten-Free) Mac n' Cheese
Cooking With Books: Apple Pie Shortcake
The Naptime Chef: Baked Mac & Cheese with Marinara
Creative Culinary: Spiked Apple Crisp
Sarcastic Cooking: Grilled Cheese Sandwiches with Bacon and Tomato
Umami Girl: All-American Macaroni and Cheese
Flavia's Flavors: Pumpkin Doughnut Holes
The Promise 365: Grandma Mary's Baked Beans
Women on Fire: Red, White, and Blue Muddle Sunrise
One Hungry Mama: Dulce de Leche Apple Pie
Mother Would Know: Basil, Sundried Tomato and Goat Cheese Pasta
Ronaldo's Cucina: Cuban-Inspired Ground Beef
Chef Pippa Calland: Deviled Eggs
Stan Frazier: Shrimp Scampi
Sweet Dreams LA: Fuji Apple Bread Pudding with Southern Whiskey Butter Sauce
Chef Robin Bodwin: Bread and Butter Jalapenos
Rawstachio: Elvis Sandwich 2.0
Chef Cody Utzman: Grilled Rib Eyes with Olive Oil Smashed Potatoes and Sweet Corn Salad
This post is also being shared with: September 2012 GFE Virtual Gluten-Free Support Group