Sometimes in life we just need a brownie.
Sometimes we really want a nice, fluffy piece of cake.
Other times, we want something that meets both of these desires but in a way that won't completely throw our eating plan off track.
These Carrot Cake Blondie's with Cinnamon Coconut Butter Frosting are the perfect fit for all of your decadent desires.  Filled with high protein, high-fiber ingredients, no refined sugar and plenty of flavor, this addition to this week's FoodNetwork Fall Fest is just one more way to have your cake and love it, too! 😉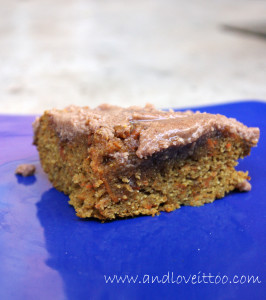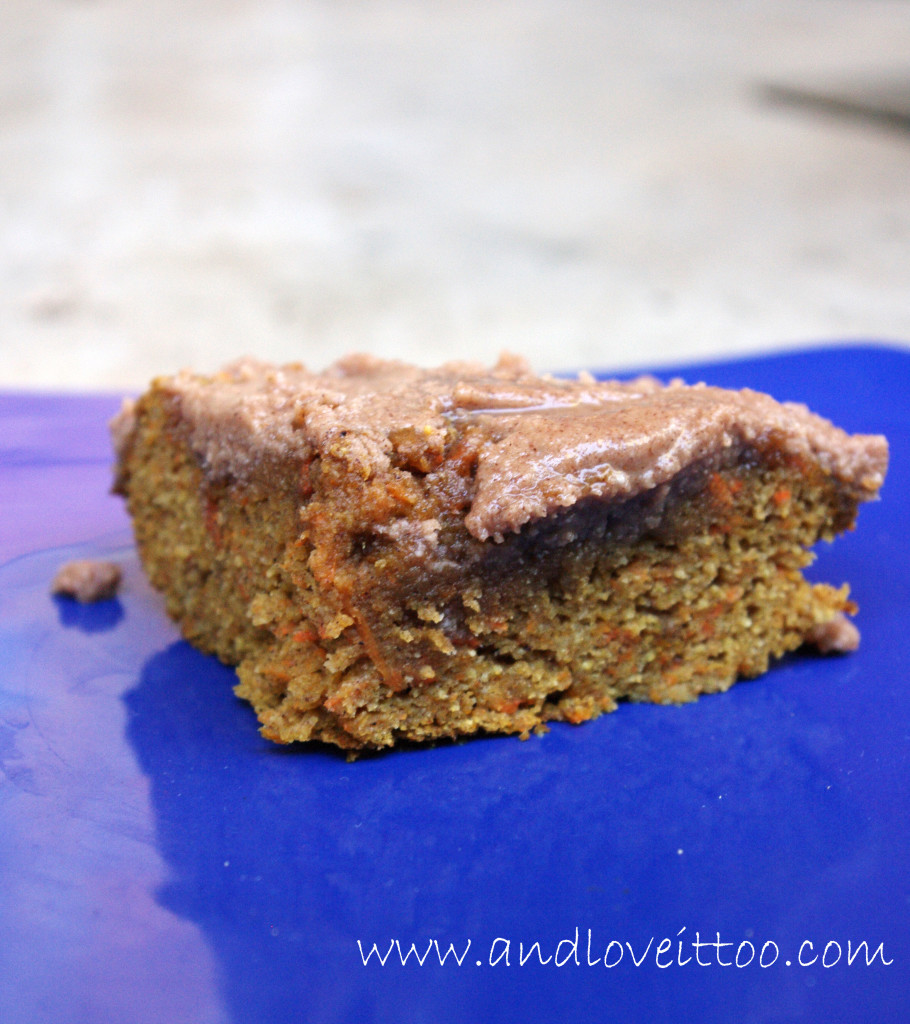 Carrot Cake Blondie's with Cinnamon Coconut Butter Frosting (Gluten-Free, Dairy-Free, Nut-Free, Paleo, ACD Friendly)
Ingredients
Blondies

1 c coconut flour
2 tbs arrowroot powder
1 tbs cinnamon
1 tsp baking soda
½ tsp sea salt
¼ tsp ginger
¼ tsp nutmeg
¼ tsp cardamom
1/3 c coconut oil, melted
1/3 c raw honey
8 eggs
1 tbs vanilla extract
1 ½ c shredded carrot
Cinnamon Coconut Butter

3 c unsweetened coconut shreds
1-2 tbs coconut oil
1 tbs cinnamon
Instructions
Preheat oven to 350f. Generously grease an 8x11.5 inch pan, set aside.
In large mixing bowl, combine coconut flour, arrowroot powder, cinnamon, baking soda, salt, ginger, nutmeg and cardamom. In medium mixing bowl, combine melted coconut oil, honey, eggs and vanilla extract.
Pour wet ingredients into dry ingredients can combine thoroughly. Gently fold in shredded carrot and transfer to prepared pan, spreading evenly.
Cook at 350f for approximately 35-40 minutes or until a knife can be inserted into the center of the cake and removed cleanly.
Allow to cool 15-20 minutes.
Make cinnamon coconut butter by blending 3 cups of coconut shreds until smooth. If needed, add in coconut oil, 1 tbs at a time to allow shreds to blend more evenly. Add in cinnamon and blend until combined. Spread coconut butter over blondie's, serve and enjoy!
Makes approximately 12 servings.
Copyright And Love it, Too! May not be published or duplicated without written permission.
For more decadent and delicious carrot delights, be sure to check out these other dishes from these FoodNetwork Fall Fest Bloggers!
Feed Me Phoebe: Carrot Cake Pancakes
Napa Farmhouse 1885: Fresh Carrot, Banana and Peach Smoothie
Red or Green: Honey Glazed Roasted Carrots with Cayenne Pepper
And Love It Too: Carrot Cake Blondies with Cinnamon Coconut Butter
Virtually Homemade: Easy Carrot Torte
Made By Michelle: Carrot Apple Bread
In Jennie's Kitchen: Carrot Persimmon Cake
Devour: Roasted Carrots with Cumin and Coriander
The Sensitive Epicure: Chimichurri Carrots
Domesticate Me: Carrot Cake Whoopie Pies with Maple Cream Cheese Frosting
The Heritage Cook: Roasted Maple Dilled Carrots and Shallots
FN Dish: 10 New Ways to Devour Carrots