This past Monday, I announced on my Facebook page that I had a busy week in store.  Little did I know just how busy this week would become.  While I normally aim to have a new recipe up no later than Wednesday, the happenings of this week simply made that impossible, for that, I am sorry. 
But you know what?  Everything happens for a reason.  My recipe tonight will prove exactly that.
My original plan for this week was to post a decadent chocolate glaze covered, gluten free, dairy free chocolate cake garnished with luscious chocolate dipped raspberries. This cake also happened to be what I planned to bring to the dessert auction my church had Thursday night to benefit the Young Women's Program in our ward.   To this point, I am not 100% certain what happened, but what I do know is that instead of the nice, fluffy, tender cake that has always resulted from the Chocolate Cake recipe mentioned below, I instead ended up with a crumpled mess. 
Somewhere between releasing from the pan and landing on the service platter where it was meant to be decorated, my beautiful chocolate cake decided to fall apart.  Keep in mind I have been baking cakes for many years…the Chocolate Cake recipe from Elana Amsterdam's Almond Flour Cookbook is by far one of my favorite gluten free recipes and, even though I have only had her cookbook for five months now, I have made this cake nearly a dozen times already, and every time..well, every time but this time, it has turned out perfectly. 
Somehow this crumpled mess that lay before me seemed beautifully moist and tasted wonderfully delicious, regardless of its pitiful condition.  I simply could not bear to throw this delicious cake away and decided I needed to save it for something I have been longing to try…Voila!  Cake Pops!
Have you noticed the strange things people are doing with cakes these days?  With shows like Cake Boss and Ace of Cakes, bakers are being inspired to stretch their imagination in ways our grandparents would have never fathomed.  While my little Cake Pops might not be as imaginative or decadent as the creations these shows bring, to my children, these were dubbed "Mommy's greatest invention ever!"  🙂
Though I wish I could take full credit for this idea, I was actually inspired after viewing the photographs from a friend's recent wedding.  When her Candy Shoppe themed reception reviled pictures of different colored cake pops, my mind began to run with ways to accomplish this beautiful desert in a way that would meet the needs of my family.  After quite a bit of trial and error, I am pleased to present you with the beautifully tantalizing treats below.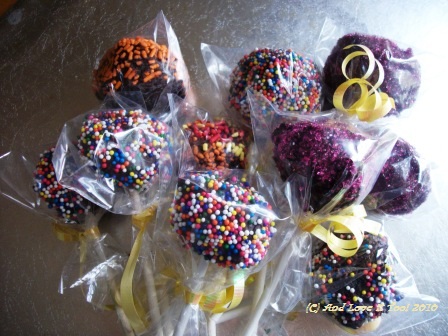 Cake Pops
1 Chocolate Cake (I used the one from the Almond Flour Cookbook, but feel free to do this with your favorite chocolate cake recipe/mix)
1- 10 oz bag Gluten Free, Dairy Free Semi-Sweet Chocolate Chips, melted.
Sprinkles, Chopped Nuts, Shredded Coconut or Sugar Crystals
24 large (6-8 in) lollipop sticks
1 large, flat Styrofoam rectangle
24 large lollipop bags
Curling Ribbon
Allow cake to cool completely.  To form balls needed for the cake pops, knead 1-2 Tbs cake until you are able to roll dough into a play-doh like ball.  For the balls to hold to the lollipop stick effectively, the ball must feel somewhat firm to the touch.  If you find the ball is crumbling too easily, either remove some dough before kneading and rolling again or simply continue to knead until the appropriate texture is achieved (play-doh is the best definition I can give for the texture needed.  The dough will not be as gooey as play-doh, though you should note that it becomes obviously moist and holds more firmly in this process).  The ideal size for these cake pops is between ½ – ¾ inch, anything larger seems to have a difficult time holding together through the remaining steps. 
Melt chocolate however you are most comfortable.  I must note that no special contraptions or double boilers are required to melt chocolate effectively.  I do not, however, recommend melting chocolate on the stove unless you are using a double boiler to do so.  For time and efficiency, I melted the chocolate for these pops in the microwave.  To do so, simply set the timer for 2 minutes.  Stir the chocolate every 30 seconds for the first minute, every 20 seconds for the second minute or until the chocolate is completely melted.  If the chocolate cools too quickly, return bowl to the microwave and warm for just 20 seconds until the mixture is smooth once again. 
Lay a thin layer of toppings (sprinkles, chopped nuts, shredded coconut or sugar crystals) in a shallow dish large enough to hold three or four pops at a time, set aside.
Carefully roll 1 cake ball at a time in the melted chocolate, use a fork to help coat the cake ball completely while being careful not to crumble or break the ball in this process.  Remove chocolate coated cake ball from the melted chocolate and place in shallow dish with the desired toppings.  Repeat this process with only 3 or 4 cake balls at a time so as to prevent the chocolate shell from becoming to firm for the remaining steps.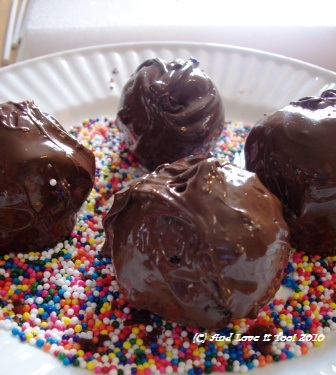 Insert lollipop stick to approximately ½ the depth of the cake ball.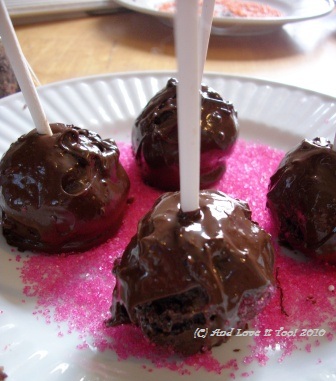 Carefully lifting the cake ball, cover the remainder of the ball with the desired topping, turning slowly to cover all ends. 
Place each sprinkle covered Cake Pop onto Styrofoam rectangle, ensuring enough space between each pop to prevent from sticking to each other.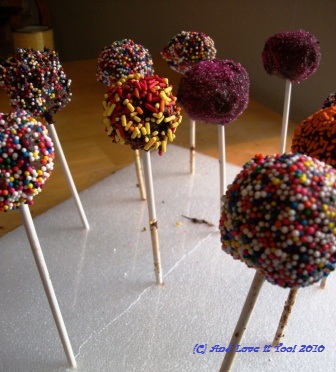 Repeat this process with each cake ball until all have been covered and placed onto the rectangle to cool. 
Place pops, still cooling in the rectangle, into the refrigerator for approximately 10 minutes, or until chocolate shell has become solid. 
Once solid, place each pop into large plastic lollipop bag and tie with curling ribbon or metal wire to secure.  Clean lollipop sticks with warm wet paper towel, being careful not to get any water into Cake Pop bag. 
Makes approximately 2 dozen Cake Pops.
Enjoy!
I must admit, this was one of my messier projects; messy enough to keep my kids out of the kitchen hoping to prevent complete disarray.  Regardless, the end result is such a delightful presentation that I very much look forward to repeating this process as a planned dessert for future gatherings.  I can only imagine the joy these would bring to baby showers (think white cake with white chocolate instead of the dark chocolate here, topped with pink, blue or yellow sugar crystals… or the great twist they would bring to the cake walk at this year's Halloween festival!) 
No matter what occasion you decide to make these for, I can tell you from the reaction of the people I have shared these with, no one will ever guess that what they are eating is gluten free or dairy free…in fact, the only thing they are likely to notice is how simply delicious your creations are. 
🙂 Given that I shared my original creation for the desert auction failed, I promise to share with you tomorrow what I ended up bringing instead. 
Please remember to click the "follow" option above, "like" my Facebook page and share this link and the creations found here with your friends and family.  I appreciate all of the support and feedback already received; together we will make this journey wonderfully delicious.
If you have not invested in the Gluten-Free Almond Flour cookbook mentioned above, I highly recommend doing so right away!  Elana is truly an inspiration.  A majority of the recipes found in this book are not only gluten free, they are dairy free as well (Elana also has a child with a milk allergy).  For more information on this book, you can purchase a copy here or visit Elana's website at: www.elanaspantry.com. 
Take care!