Recipe development is an interesting thing.
No doubt we all go about it in our own way, but for me it starts with a memory, a craving or a challenge from a friend or follower.
Yep, I have been known to turn my kitchen upside down to help someone reconnect with an old food love in a new, healthier, gluten-free/dairy-free way.
Have ideas? Send them my way!
Sometimes, especially when I am just trying to satisfy a food craving, I simply gather up ingredients based on past experience, throw them together and continue to play and tweak until everything seems 'just right.'
The problem with this?
When I hit the nail on the head, I may know what I put in it but I am left with no clue as to how much so when it comes time to write the recipe down, I might as well be starting from scratch.
This happened with the recipe I am sharing today.
The creamy, nut-free mozzarella topping was developed when I decided to whip up some baked spaghetti for my family.
While I use this in its liquid form for this recipe, I can tell you that the mozzarella refrigerates well and becomes solid as it does. It is shredable and meltable, but what I love best about using it on this baked spaghetti with zucchini noodles is the fact that it browns and bubbles so nicely.
Not stretchy like traditional mozzarella, the flavor combination of this sauce with the tomato sauce is so wonderful, you'll appreciate it all the same!
If you are in need of a completely autoimmune friendly version, I strongly recommend checking out this tomato-free marinara sauce.  Heidi's recipe was a god-send when I was doing a nightshade elimination and works wonderfully as a meat sauce.
If you are looking for a vegan version, simply leave out the meat! So much goodness packed in already, one doesn't require the meat to make this a meal.
Want to change things up? Leave out the meat sauce altogether. The mozzarella sauce makes a mean alfredo and is perfect when paired with chicken and broccoli.
Also, while I use my handy dandy vegetable slicer to turn my zucchini into noodles, you can just as easily make noodles by slicing your zucchini in to strips either by hand or by mandolin. Whatever you do, have fun!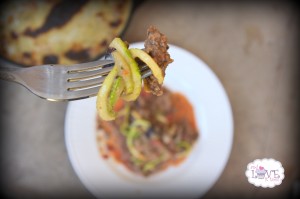 Hungry yet?
Enjoy!
Baked Spaghetti with Zucchini Noodles
Ingredients
noodles

1 med-large zucchini or two med-small zucchini
meat sauce

1 lb ground beef*
1 Tbs coconut oil
3 cloves garlic, minced
1 small onion, finely diced
¼ c basil (fresh is best)
¼ c oregano (fresh is best)
1-28 oz can organic, fire-roasted crushed tomatoes
Salt and Pepper to taste
mozzarella topping

½ c shredded coconut, unsweetened
¼ c unflavored gelatin*
2 Tbs lemon juice
½ tbs onion
½ tbs garlic
1 tsp oregano & basil
2 c filtered water
1 tsp smoked sea salt (to taste)
Instructions
Prepare noodles by slicing zucchini to desired shape. Dry-roast these to help remove some of the liquid from the plant. Be careful not to caramelize the zucchini, just sweat them enough to remove some of the liquid. Drain if needed.
Prepare meat sauce by sautéing the garlic and onion in the coconut oil until lightly caramelized. Add in ground beef and cook until brown. Toss in oregano and basil and then stir in crushed tomatoes. Salt and pepper to taste.
For the mozzarella topping, combine all remaining ingredients in blender. Blend on high-speed until completely smooth.
Set oven to broil.
Layer meat sauce over noodles and pour mozzarella topping over meat sauce, gently spreading to ensure even coverage.
Broil in oven for 4-5 minutes or until topping is lightly golden (I like mine a little darker).
Slice through the dish like lasagna and serve warm.
Makes 4-6 servings.
*To make vegan, omit the beef and replace gelatin with agar agar. While I have not tested measurements on this recipe, generally speaking 1/4 c gelatin = 3 tbs agar agar powder or 1/2 c + 2 Tbs agar agar flakes. If you do a vegan version of this, please let me know what measurements work for you!
Copyright And Love it, Too! May not be published or duplicated without written permission.
Looking for more comfort food ideas? Be sure to change out the gluten as appropriate, but there is plenty of comfort food inspiration in this weeks Comfort Food Feast!
The Cultural Dish: Pasta Carbonara
The Sensitive Epicure: Individual Goat Cheese Mac & Cheese (Gluten-Free, Lactose-Free)
Feed Me Phoebe: Green Eggs and Ham: Pasta Carbonara With Zucchini and Crispy Prosciutto
Red or Green?: Spicy Italian Sausage and Peppers Pasta
Napa Farmhouse 1885: Pasta With Apple-Sage Sausage, White Beans and Greens
Jeanette's Healthy Living: A Healthier Crock-Pot Meat Lovers Pasta Sauce
Dishin & Dishes: Skillet Gnocchi
The Heritage Cook: Macaroni and Cheese for Everyone
Devour: Low-Key Lasagna
Virtually Homemade: Gluten-Free Macaroni and Cheese With Crispy Bacon
Cooking With Elise: Scallops and Linguini
Big Girls, Small Kitchen: Swiss Chard Lasagna
FN Dish: The Most Satisfying Pasta Dishes