The calendar tells us that autumn has arrived!
The weather where you live may or may not agree with that.
While we enjoyed temperatures down in the 70's and 80's last week (prefect West Texas autumn temperatures), this week we are back in the mid to high 90's.
Meh.  That's West Texas craziness for you.
Even so…with autumn produce sneaking into the last of the summer harvest, I am so ready to start enjoying the fruits of the season!
Growing up in Southern California, the beginning of autumn meant fresh apples, apple pie, caramel apples and apple cider.  We would take a trip up to the heart of Southern California Apple Country, Julian, and waste the weekend away basking in beautiful apple glory.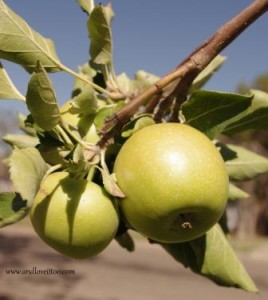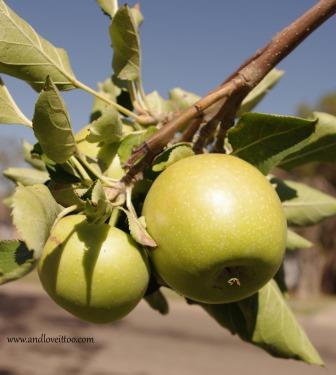 While my daughter and I are at a point in our Candida Elimination Protocol where we have reintroduced some low-sugar fruits and raw honey; we still have to be careful about how much of these sweet goodies we enjoy.
Luckily, the golden delicious and granny smith apples growing in our front yard are the perfect apple for the stage we are in.
And these cookies?  Perfect solutions to give us just a bit of honey and fruit but a whole lot of flavor and satisfaction!
Because we have many friends who cannot have nuts, I chose to use finely ground sunflower seeds to make this safe for those who can't.  And while we chose to use finely ground sunflower seeds, any nut-based flour should work for this recipe.
Use the leftover jam for future batches of cookies, as a topping to your favorite grain-free bread or straight off the spoon.  It is delicious and easy to make! Something worth keeping on hand.
However you choose to enjoy these, we hope they bring the beauty of the season in to your home as they have done for ours.
Enjoy!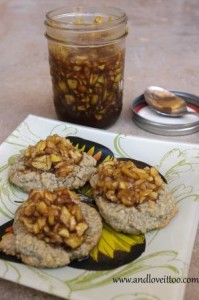 Apple Pie Cookies (Gluten-Free, Dairy-Free, Refined Sugar-Free, Nut-Free, Egg-Free, Paleo, Vegan Option Noted)
Ingredients
Apple Pie Jam

2 large or 5 medium organic apples, peel intact*, cored and diced (about 2 cups)
½ c raw honey (palm syrup for vegan alternative)
3 Tbs water
1 tsp cinnamon
¼ tsp nutmeg
1/8 tsp cardamom
1/8 tsp clove
Sunflower Cookie

3 ½ c ground sunflower seeds
¼ tsp sea salt
¼ tsp baking soda
½ c melted coconut oil
4 Tbs raw honey (palm syrup for vegan alternative)
1 Tbs lemon juice
1 Tbs pure vanilla extract
Instructions
In large sauce pan, bring diced apples, raw honey, water, cinnamon, nutmeg, cardamom and clove to a light boil over medium high-heat. Drop heat to low and simmer until mixture becomes thick. Remove from heat and carefully transfer jam to pint-sized mason jar. Refrigerate and store for up to 10 days until ready to use. Jam will set when completely cool.
Preheat oven to 350f.
In large mixing bowl, mix together ground sunflower seeds, salt, and baking soda. In separate bowl, whisk together coconut oil, honey, lemon juice and vanilla extract. Blend the wet ingredients in with the dry ingredients until completely blended. Scoop by heaping spoonful's on to parchment lined cookie sheet. Using your thumb, gently press the center of each cookie to make a 'bowl' that will be used to hold the jam after cookies have cooled. Once each cookie has the proper dent, bake for 10-12 minutes or until bottoms are golden brown. Remove from oven and allow to cool on the cookie sheet until ready to serve.
When ready to serve, scoop approximately 1 tsp of apple pie jam onto each cookie. Serve immediately.
Makes approximately 24 cookies
*I recommend using organic apples always, but especially for this recipe because the pectin in the peel is essential for the jam to thicken properly. Removing the peel will likely impede the ability of the jam to set.
Copyright And Love it, Too! May not be published or duplicated without written permission.
Ring in the new season with more apple recipes from all of these amazing FoodNetwork Fall Fest Bloggers:
The Lemon Bowl: Whole Grain Pancakes with Warm Apple Topping
In Jennie's Kitchen: Homemade Apple Breakfast Bars
Jeanette's Healthy Living: Almost Crusted Cinnamon Apple Grilled Cheese
Dishing With Divya: Fresh Apple Salsa
Virtually Homemade: Potato Apple Gratin
Weelicious: Apple Almond Cake
Dishin & Dishes: Kale Waldorf Salad (A Healthy Recipe Redo)
Domesticate Me: Apple Cinnamon Baked Doughnut Holes
Napa Farmhouse 1885: Applesauce with Maple and Cinnamon
Red or Green: Apple and Green Chile Crustless Pie
The Sensitive Epicure: Toaster Oven Cinnamon Apple and Walnut Muffins with Almond Flour and Maple Syrup
And Love It Too: Apple Pie Cookies
Taste With The Eyes: The Culinary Legend of Apple Tarte Tatin
The Heritage Cook: Gluten-Free Apple Crisp
FN Dish: Early Morning Apple Recipes