I am blessed.  Truly, completely blessed. 
My home is filled with amazing children who make me laugh and fill my world with reasons to celebrate every day.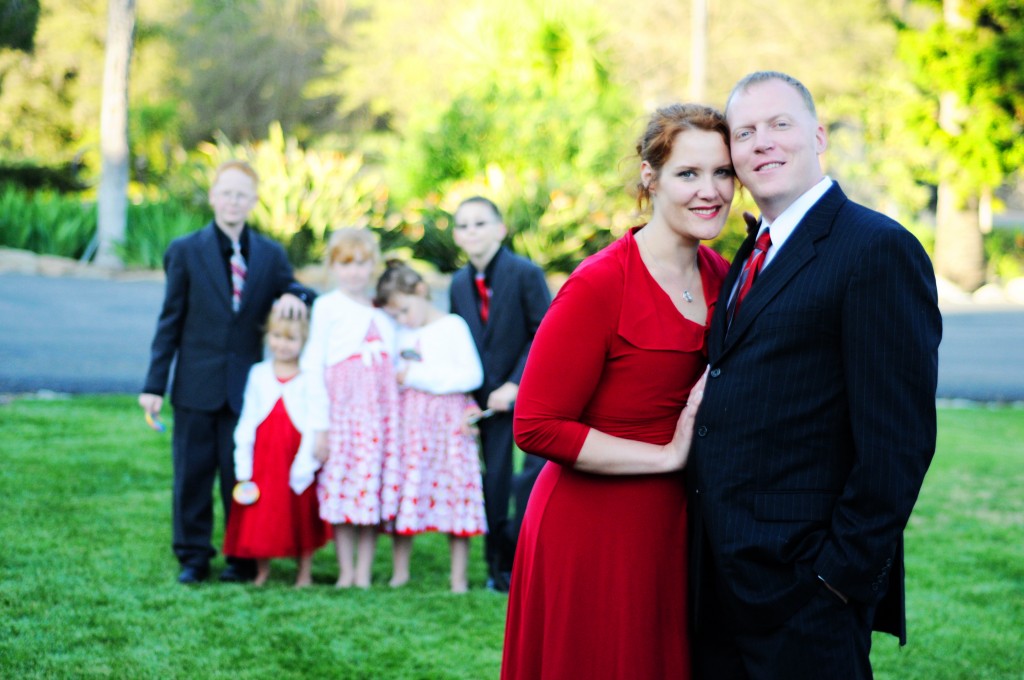 I have a husband who works hard for us and would do anything he could to give his family all they need.
In my home, I also have have a mother-in-law who helps me keep my head level at times, drives me crazy in others; but who loves me very much and would not trade me for the world (and sometimes, she even tells me so!). 
I have three dogs.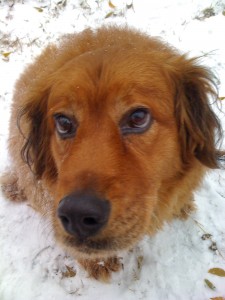 One who is a devoted protector and surrogate child to my MIL.  He is loving and kind with the sweetest teddy bear eyes you have ever seen.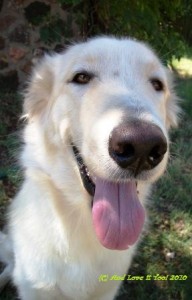 One who officially belongs to my eldest daughter, but spends more time with me and is a constant reminder that I need to take time to slow down and pet the dog (forget smelling the flowers ;)).  She also has the keen ability to know exactly how to drive me insane…so much so, that she earned her own spot in my blog last year, discussing exactly how batty she can drive me. Even so, I really do love her.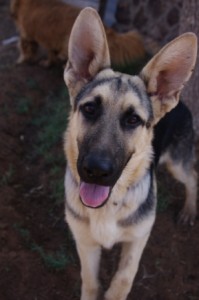 Our third dog is the newest addition to our family.  He found us.  Having sought his original owners, doing all we could to have his pictures posted throughout town, getting him scanned more than once or a chip (since he has no tags), praying his family would find us yet receiving no response for our efforts…well, we have accepted that he is likely to be with us for good.  I believe this one will truly be mine.  He follows me most everywhere. He is silly and sweet, playful and loving, and he makes me smile.
🙂 Enough about my dogs…
Of all the blessings in my life, one of the most bountiful can be found in our backyard.  My little garden takes up just a small percentage of our fenced in property, yet provides for us in abundance.  When you have 8 people in your home, being able to grab fresh produce from your own yard means more than I can express.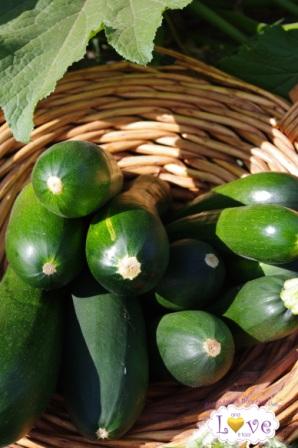 I understand that not everybody has the same opportunity. 
When I lived in apartments or condominiums though, I always managed to have some sort of potted garden growing on our patio. Marci Gilbert posted a few beautiful photographs of her own potted garden today. Tomatoes, bell peppers, fresh herbs…there are endless possibilities when you decide to take your produce into your own hands, no matter where you live! 
If you are not up to growing your own, check in with your local Community Supported Agriculture (CSA). CSA's offer locally grown, organic fruits and vegetables for a fraction of the cost you would pay at your local grocery store.  A great way to support local farming, CSA's also offer the opportunity for you to try something new, something healthy and to really feel great about what you are feeding your body.
There are ways to bring organic goodness to your home, no matter where you live.
Tonight, I would love to share with you a recipe inspired by the gigantic zucchini we have harvested from my garden.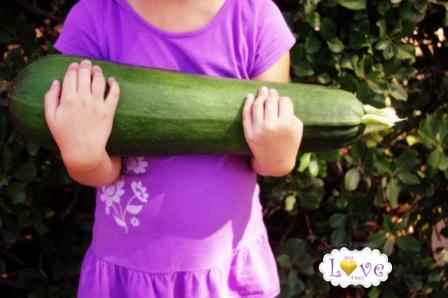 Any gardener who has grown zucchini of their own will tell you several things about these big, beautiful plants.  #1. They are really easy to grow.  #2. Don't let the baby zucchini fool you, turn around for two seconds and you will have a monster zucchini on your hands (which is how we ended up with the monster zucchini pictured above).  #3. Eat the blossoms.  They are good for you, they taste really great in your salad, stuffed with Italian seasoned almond ricotta cheeze, or simply battered and fried.  Plus, if you find you have more zucchini than what you know to do with (which happens very quickly, I might add), this is a great way to naturally cut back on your production while benefiting your family with a wealth of flavor and nutrition.
Recently, on my other blog site, we placed a challenge to post your best zucchini recipe.  Admittedly, I use this vegetable in almost everything; but one of my favorite ways to use zucchini is as a fiber rich, nutrient dense and as low calorie replacement for pasta. 
With only 20 calories per cup and the ability to soak in the layers of flavors that accompany this dish, zucchini provides the greatest grain-free medium I know to make this lasagna over-the-top delicious.
This dish makes a lot of lasagna.  My family of 8 was able to enjoy seconds for dinner and still have some leftover for lunch the next day.  While I am going to give you the ingredient list I used in full, you may want to attempt to half this recipe for your own use.  I have not made it any other way, so I cannot promise results or cooking time…just know that even if you do have lots of leftovers, this is one lasagna you won't feel guilty enjoying day after day.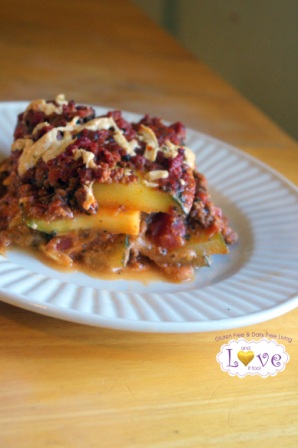 Zucchini Lasagna
2lb lean ground meat (I like ½ 97/3 turkey and ½ 97 beef)*
2 Tbs Dried Basil
2 Tbs Minced Garlic
5lb Zucchini, washed and sliced very thin, lengthwise
2-32 oz Jars of Marinara Sauce
2 c Water
1 batch Italian Seasoned Almond Ricotta Cheeze
8 oz Cheddar Daiya Cheese
Heat oven to 350f.  In large fry pan, cook lean ground meat with basil and garlic until cooked thru.  Add marinara sauce.  In each jar of marinara sauce, add 1 c water, shaking jar to obtain any lingering sauce and then add liquid to the meat sauce mixture. This added water will help tenderize the zucchini. 
In the bottom of a 15x11x4 inch lasagna pan, pour a thin layer of meat sauce (about 1/3 the total sauce) and spread over the base of the pan to ensure even coverage.  Over this, layer zucchini evenly, as you would lasagna noodles.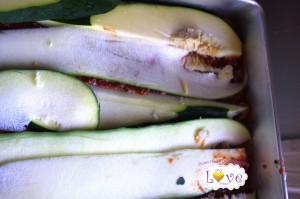 Then layer almond ricotta cheeze.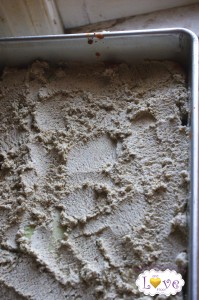 Then more zucchini, then 1/3 meat sauce, cheddar daiya cheese, zucchini, topping with the remainder of the meat sauce, saving the remaining daiya cheese for the final 10 minutes bake time.
Bake at 350 for 55-60 minutes, or until zucchini has become tender.  Add pepper jack daiya cheese (mozzarella would work well here, my supplier was out when I last placed my order and the jack cheese has an incredible flavor that simply added a whole new level to this dish).  Bake for 10 more minutes, or until cheese has begun to melt.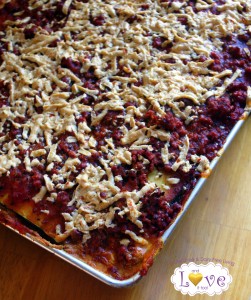 Serve warm.
Makes approximately 18 servings
*For a vegan option, simply omit ground meat and add 2 more 32 ounce containers of marinara sauce…make sure you have enough sauce to cover each layer as needed.
While you are working diligently on this wonderfully healthy dinner option, please do not forget to check in with our Ingredient Challenge Monday bakesale to benefit natural disaster victims.

100% of the winning donation goes towards the American Red Cross and their relief efforts, world-wide.
You will find several naturally gluten free options at this bakesale, including two which will be hand made especially for you-by me.
Additionally, if you have a brilliant blueberry recipe, now is the time to share!  You have until Sunday to link up to this challenge…do not let it pass you by! Get your linky tool, and stop to see all the brilliant blueberry recipes received so far, here. 
Finally…before I go…I am excited to announce the next challenge-ingredient!!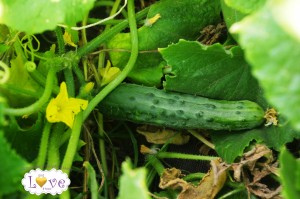 Cucumbers!
Speaking about gardens…did you know that cucumbers are one of the easiest things to grow?  Knowing that they are related to squash, zucchini and watermelon (which are all very easy to grow), it makes a lot of sense that these crisp vegetables would multiply the way they do. 
Listed as one of the World's Healthiest Foods, one cup of cucumbers will cost you just 13 calories yet are rich in fiber, vitamin c, silica, potassium and magnesium. 
Silica is an essential component of healthy connective tissue, including muscles, tendons, ligaments and bone. Silica can help to improve the complexion and health of the skin, and help reduce swelling…which is why expensive spa treatments often include slices of cucumber over each eye!  What a great way to reduce swelling under the eyes!
Use cucumbers for swollen eyes; find relief for your sunburn and as a way to decrease the swelling/irritation from dermatitis. 
Check back on Monday to see what Shea and I  have done with our cucumbers, and be sure to link in your favorite recipe that day as well! 
We look forward to hearing from all of you and wish you a happy Independence Day weekend!
xo,
SunnyB